Maximising digital transformation benefits via an integrated end-to-end solution for accessing patient files
Customer Success Stories
A case study describing how by digitising patient records an NHS Trust maximised digital transformation benefits via an integrated end-to-end solution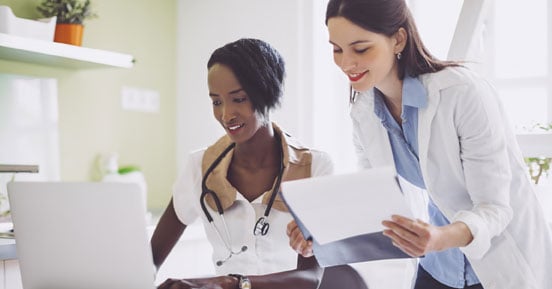 CHALLENGE
This large NHS Trust wanted to digitise 184,000 patient records, optimising clinical efficiency and administration while creating a future capability for patients to view their records online.
SOLUTION
Delivering a fully integrated end-to-end EDMS and digitisation solution, Iron Mountain provides file collection, indexing, imaging and access to patient records via a secure platform that is fully integrated into the Trust's EPR system.
RESULTS
Along with time and space savings and decreased risk of loss or inadvertent disclosure the Trust can drive more value from patient data through integrated case management, better decision-making and efficient digital workflows. Patients will also eventually benefit from remote access to records.
ENABLING A TRUSTWIDE EPR SYSTEM WITH POTENTIAL FOR FUTURE PATIENT ACCESS
"The immediate goal was to digitise 184,000 paper files, with an eye on the future for patients to securely access their own care plans and medical records online."

STRATEGIC RESET DURING COVID-19
Building digital services around patients
With a busy hospital campus, outpatient clinics and various outreach services, the Foundation Trust provides care for more than 250,000 local residents. That means efficiently handling over 265,000 clinical appointments and 83,000 accident and emergency attendances annually.

Over the last five years, the Trust had been building digital capabilities, placing people at the healthcare system's centre so they receive the right care at the right time. Those efforts further improved quality and patient safety, while stabilising the Trust's financial position and achieving cost reduction targets. As with many NHS organisations, the strategy gathered pace as the pandemic took hold and priorities shifted to keeping staff and patients safe from COVID-19 through measures such as enabling remote working.


Online access to care plans and records
With the additional pressures on top of all the usual challenges of locating and pulling patient records from overflowing archives, the Trust began looking at scanning options. As COVID-19 cases eased during the first national lockdown those requirements were swept into a wider transformation programme to create a community-wide integrated electronic patient record (EPR) system. The immediate challenge was to digitise and provide access to 184,000 paper files, with an eye on the future for patients to securely view their own care plans and medical records online.

The search was on to find a complete end-to-end solution, delivering efficient file collection, indexing, imaging and destruction with an intuitive electronic document management system (EDMS) and a fully secure audit trail throughout.


FULL END-TO-END DIGITAL SOLUTION
"Hard-copy records are made available digitally in advance of appointments using sophisticated tracking technology which fully integrates with the Trust's Patient Administration System."
MAXIMISING INNOVATION AND EXPERTISE
Intuitive user experience
Following a public tender, the Trust chose Iron Mountain® based on a successful solution demonstration, intuitive user experience and the organisation's expertise in information governance.

As part of the service specialists collect boxes from site. Every document is carefully indexed and put through a high-complexity scanning preparation process. The files are given individual barcodes for tracking. After scanning, the paper originals can be securely destroyed with a full audit trail when authorised by the Trust.


Viewable instantly on any device
Once scanned the records and associated metadata are uploaded to the EDMS and presented in a format familiar to clinical end-users. Information is easy to find with customisable navigation and search options.

The EDMS is designed in HTML5 from the ground up and works with any device, including tablets and handhelds. Patients' medical records are made available on the system in advance of appointments and delivered safely and securely into the EDMS via secure file transfer. The records are accessible via the Trusts' host EPR in true context launch ensuring the minimal number of clicks.
Elevate the power of your work
Get a FREE consultation today!