Curing healthcare challenges with technology-based innovation
Blogs and Articles
Healthcare organisations are turning to four digital capabilities to hasten innovation, solve organisational challenges, and, ultimately, improve patient outcomes.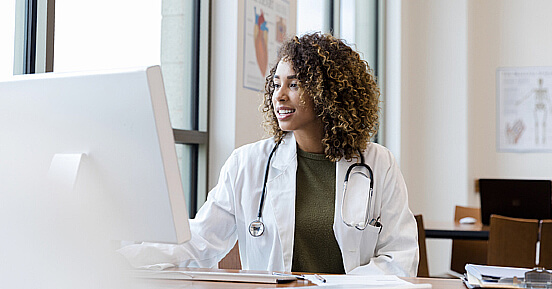 Emerging technologies have the potential to solve some of the most pressing issues in healthcare, including patient access and education, staffing shortages, and infrastructure costs. Historically, the healthcare industry has been slow to adopt new technologies due to concerns about regulations, costs, the complexity of integrating the technology with existing processes and systems, and data privacy and security. Now, as more evidence emerges about how technological advancements are improving patient outcomes and reducing costs, the industry is more open to adopting digital capabilities.
New technologies elevate the importance of data, placing it at the heart of patient experience, quality of care, and a healthcare organisation's success.


To better understand trends among enterprise decision-makers regarding technology adoption and use cases in healthcare and life sciences, Iron Mountain sponsored research using digital listening techniques.
Here is a summary of our top findings.
Leading with Patient Outcomes. Our digital listening revealed that healthcare organisations are focused on personalised care as a major factor to improving patient outcomes. In pursuit of that goal, we heard five priority areas in healthcare, all underpinned by technology.
Telehealth. The pandemic forced medical professionals to rethink how care is administered, using video and extended reality technology to meet with patients virtually. That capability is being used to further extend healthcare while increasing patient convenience.
Mental Health. As the physical impact of the pandemic lessens, mental health issues have risen. Consequently, medical professionals are seeking new ways to research and treat people suffering from mental health disorders. Technology is helping address mental health via innovative care and medicine.
Wearables. Wearable health trackers ( for example, Apple Watch, and Fitbit) are giving consumers more information about their health without going to the doctor, including the ability to take EKG readings.
Artificial Intelligence (AI). Healthcare institutions are developing applications for AI in all parts of the care process, including improvements in operational efficiency, patient diagnosis, and personalized care.
Messenger RNA (mRNA) and DNA Technology. Scientists are excited about the future possibilities of mRNA technology after the success of COVID vaccines.
Technology-Based Capabilities Power Innovation
Innovative healthcare breakthroughs are empowered by emerging technology-based capabilities. We heard industry leaders discussing AI, blockchain, robotics, and the metaverse. Of these topics, AI conversations dominated. But all technologies are playing a role and elevating the importance of data and data management in healthcare organisations. Here's how these new technologies are being used to enhance healthcare.


Artificial Intelligence (AI)
Conversations about healthcare and AI use cases tend to focus on:
Medicine Development: Pharmaceutical companies are excited by the potential for AI to assist in creating new vaccines and other drugs.
Data Analysis: Medical practitioners hope to use AI to help interpret patient data and make diagnoses, including cancer screenings.
Data Collection: New wearable technology and other devices capable of collecting physiological indicators will help provide the data required to feed these massive algorithms and could potentially be used for predictive care (e.g. detecting the signs of a stroke before physical symptoms present).
Organisational Efficiency: Outside of medical applications, healthcare professionals expect AI to contribute to improvements in the supply chain and operations of care facilities.
As healthcare organisations adopt AI, thought leaders are simultaneously sensitive to the potentially negative impacts of automation in healthcare (such as bias and misdiagnosis) and are encouraging the industry to adopt the technology responsibly.
Blockchain
Blockchain storage is being explored to give patients more ownership and control of their own data. Applications include digitizing health records, authenticating prescriptions, processing payments, storing personal data, building smart contracts, and more.
Security remains a top priority in healthcare due to the risk hackers pose to hospital operations and patient data. Blockchain technology comes with its own security and privacy risks that are yet to be fully addressed.
Robotics
Robotics are extending healthcare and accelerating treatment. For example, precision robotic surgical tools, together with virtual reality technologies and high-speed connections, are expected to enable doctors to perform surgeries around the world. In another example, robotics startups are experimenting with microscale devices that can be guided through blood vessels to fight cancer and other diseases.
Metaverse
In healthcare, metaverse applications include areas such as visitation and consultation, training, education, conferences, research, and health monitoring. However, healthcare is more focused on the development of augmented reality/virtual reality (AR/VR) telehealth and surgical assistance technologies independent from metaverse.
Toward a Healthier Future
When it comes to patient health, every innovation counts. We heard that healthcare organisations are using a portfolio of technology-based solutions–AI, blockchain, robotics, and AR/VR. These data-dependent technologies are hastening innovation to help organisations:
Reduce costs and gain efficiency through digital operations.
Integrate valuable information across multiple formats and systems to improve patient outcomes, support virtual care, and enable AI initiatives.
Protect sensitive information from evolving data and cybersecurity risks while ensuring ready access that patients and providers require.
As healthcare organisations deploy these technology-based solutions, they must simultaneously elevate the importance of their data, data management, and data security. Having a comprehensive foundation of information lifecycle services and solutions paves the way for the adoption of innovative technology in healthcare. Learn about embracing change to realise data value and achieve healthcare goals.
About the research: Quadrant Strategies used digital research tools to study public online conversations about key innovative technologies in specific industries from January 2022 to December 2022. Top technologies flagged on Twitter cover the period January 2021-December 2022. Iron Mountain sponsored this research.
Featured services & solutions
Elevate the power of your work
Get a FREE consultation today!