How secure Document Scanning Services can streamline your operational workflows
Blogs and Articles
Outlining the benefits of transitioning to a digital workplace, and showcasing how document scanning services can streamline your organisational workflows.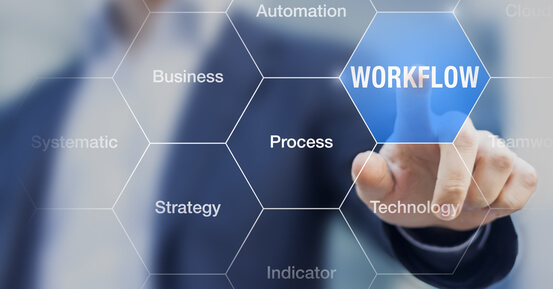 Electronic and digital documents are increasingly becoming the standard data source for Australasian businesses. Consumers and organisations alike are digitally native, and the fast-paced nature of today's business environments can no longer wait for paper-based processes.
A secure document scanning service can help your organisation transition the remainder of your analog workflows to a digital architecture, so that you can capitalise on the efficient benefits of today's technology. By outsourcing this responsibility to a trusted provider, your employees won't lose any productive time transitioning your old documents to e-files. What's more, your newly automated workflows will unlock new insights and opportunities for your business.
This article will examine how a secure document scanning service can help you future-proof your business and embrace the digital frontier.
How digitising your workflows can benefit your business
Iron Mountain offers a complete solution for document scanning and digital storage, regardless of the size of your enterprise. Whether your business is looking to begin the conversion of their new paper- based data, or transform their archives onto a cloud-based repository, we've got a solution that can effectively transform your physical documents into electronic records.
Your documents will be scanned and delivered through a secure online network that offers the ability to separate, consolidate, modify and import your information at any time – even during the conversion process.
Let's take a look at the ways your newly-digital data can augment efficient workflows:
Securely access company data anywhere, whether working remotely or in the office. The rise of the hybrid and remote capable workforce means you need to be able to get mission- critical information to staff who may be located off-site. A digital archive of pertinent company information can be shared instantly over your secure network.
Identify, understand, and extract insights from digitised information across departments. Cross-departmental collaboration is enhanced if the same information can be shared and updated by multiple personnel at one time. This is impossible with physical records, which each department has to wait for before acting.
Streamline complex workflows to improve customer and employee experience. With a digital architecture, data can be coalesced in real-time with the insight of several departments contributing to business solutions.
Respond quickly and make informed decisions. Sourcing the answers from physical documents can slow productivity. Imagine searching file cabinets for the correct record versus entering a keyword to have the information digitally sourced. The ability to find the right information – fast – can give your business the competitive edge.
Increase day-to-day productivity thanks to automated workflows that eliminate tedious manual-input processes. With Iron Mountain's Digital Mailroom solution, your inbound mail can be redirected to one of our secure offsite facilities. It's instantly converted to an electronic format and sent to the correct recipient, saving your staff the time and energy associated with tracking them down.
Automating several of your operational processes will streamline your day-to-day workflows.
The flexible processing pipeline – how Iron Mountain transitions your paper-based documents
Once you've taken your business processes digital, you need to sort and source your new information effectively. After all, electronic documents can be just as confusing and messy as paper documents – and an online repository is only helpful if your staff can get the information they need quickly. The Iron Mountain InSight® platform uses machine learning (ML) and artificial intelligence (AI) to enrich your digital content.
By adding structure, context and metadata to your information, your workforce can efficiently access the data they need to complete their objectives. Data enrichment is a key benefit of deploying a digital strategy for your business –with Iron Mountain InSight®, your digitised documents are always a few keystrokes away.
You might be asking yourself, how can Iron Mountain take years of physical documents, records and data, and transform all of this disparate data into a platform that offers a comprehensive document management system?
Iron Mountain will arrange the pickup of your physical documents, and safely deliver them to one of our secure processing facilities. Once on-site, we'll scan and index your documents, while providing quality assurance oversight in order to maintain the optimal integrity of your new e-records.
During the process, we'll align your data with relevant retention policies, and ensure regulatory compliance for every document scanned. Thanks to an online dashboard, you'll enjoy complete visibility into your confidentiality retention schedule– eliminating the worry associated with trying to keep track of when to dispose of your end-of-term data.
Speaking of disposal, are you aware that, on average, only 42% of an organisation's physical documents need to be digitised? Iron Mountain will securely dispose of unneeded data, ensuring your new platform is free of the clutter that burdened your paper-based processes.
The safety and security of your scanned documents
Investing in digital transformation or acceleration allows your business to jettison unwanted information, whilst protecting the sensitive documents that are essential to your operations.
After your files are scanned, Iron Mountain will continue to protect your information. Our priority will be to keep your documents safe and protected from any data leaks. If you're amongst the decision makers emphasising the importance of insulating your mission-critical documents against the possibility of a data breach, you're not alone.
As detailed within our collaborative research report Resilience Reimagined, 611 senior executives in four highly regulated sectors (financial services, healthcare and life sciences, energy and the public sector) were surveyed regarding the importance they're placing upon data governance. An astounding 82% of business leaders are placing new levels of priority on protecting their information as part of a digital transformation strategy aimed at augmenting their operational resilience.
Iron Mountain will house your data in our secure offsite storage facilities once your physical documents have been digitised and uploaded. If you ever need to access these original files, we can retrieve and deliver them at any time with a simple request.
Take a look at how we've guaranteed document security for a company in the mining industry. When a litigation process arose, this Australian Resource company needed to send highly confidential files to lawyers thousands of kilometres away.
The business trusted Iron Mountain to convert and protect their records during the electronic delivery process. The documents were processed and digitally delivered with a quick turnaround, satisfying the precise and highly confidential requirements of litigation.
The client did not have to move documents from its offices to the court located thousands of kilometres away, substantially reducing the costs involved and ensuring optimal security.
By partnering with Iron Mountain, you're trusting the security of your private and confidential business data to the industry standard bearers. We've successfully guided hundreds of organisations through the process of converting their paper-based documents to digital files. As more businesses leverage the power of a digitally native infrastructure, now is the time to transform your physical documents into versatile digital assets.
Iron Mountain secure document scanning solutions
According to IT Brief Australia, 65% of APAC GDP will come from digital services by end-of-year 2022, with over US$1.2 trillion spent by 2023. The unprecedented growth stems from digital transformation, signalling a mass adoption of online platforms. Iron Mountain's April 2022 research with a third-party provider reveals that 74% of organisations are planning to eliminate paper records altogether in the next five years – is your business keeping pace?
The move to digital and new technologies affects organisations of all sizes, across all industries. By restructuring the landscape with which employees and consumers operate, the time is now for your business to go with the (digital) flow.
With this in mind, Iron Mountain understands that the imperative isn't simply adopting a digital transformation – it's how to accelerate the deployment of your new digital architecture.
When you're ready to future-proof your business by swapping paper workflows for something more worthy of your ambitions, contact Iron Mountain.
Elevate the power of your work
Get a FREE consultation today!