Data that doesn't cost the Earth: embodied impact
Blogs and Articles
In the last blog, in this series we looked at the use of renewable power in the data center, how it has helped cut emissions and its potential to reduce environmental impact. Now we would like to explore the "˜last lap' on the road to zero carbon "" embodied impact in the data center.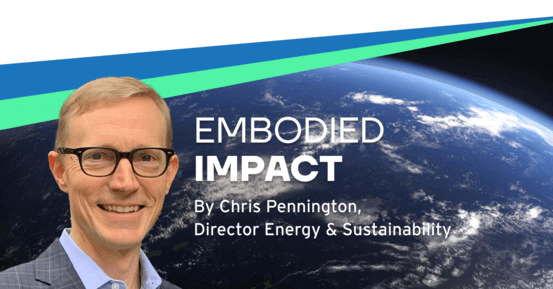 In the last blog in this series I looked at the use of renewable power in the data center, how it has helped cut emissions and its potential to reduce environmental impact. Now I would like to explore the 'last lap' on the road to zero carbon – embodied impact in the data center.
Chris Pennington, Director Environmental Sustainability, Iron Mountain Data Centers
NEXT IN LINE
Carbon reduction is the de facto measure of sustainability, so accuracy and completeness of carbon measurement is the key to credibility, transparency and identifying areas where improvements can be made. This is the only effective way to communicate reduction in overall environmental impact.
Most organisations have covered - or are in the process of covering - their Scope 1 and Scope 2 emissions. Scope 3 - embodied carbon from supply chains and use of products – is now in the spotlight. But until very recently there was no universal labelling system or mechanism to measure embodied carbon. This is the next big challenge the industry faces in maintaining credible claims for delivering a sustainable digital future.
For data center operators, embodied carbon includes all the materials used in the data center, from construction through operations and then final disposition. It is vital to acknowledge the huge amount of carbon embodied in the buildings we operate. Cement and steel are very high in carbon, and computers have a material footprint considering their relatively short lifespan of only three to five years.
On average, a ton of cement produces 1.25 tons of CO2. Buildings are responsible for around 40 percent of annual global greenhouse gas emissions and 40 percent of all raw material consumption.
[source: DCD]
COUNTING CARBON
Progress in this area has been recent, but fast. Measurement is now underway thanks to the iMasons Climate Accord. What the iMasons (originally Infrastructure Masons) are pursuing for the industry is a bit like a nutritional label for the carbon embodied in data center buildings and equipment. As Dean Nelson, Chairman and Founder, put it, "we established iMasons to unite the builders of the digital age." IMDC was a founding signatory to this accord at the beginning of 2022, and now there are nearly 200 signatories and counting.
iMason's carbon labelling is clearly leading the field, and is founded on international standards such as the ISO 14060 family, which provide clarity and consistency for quantifying, monitoring, reporting, and validating greenhouse gas emissions and removals. Once successful, the data center industry will have unprecedented transparency into the carbon footprint of the full lifecycle of services the sector provides.
Knowing embodied impact is all about communicating with your supply chain. For example, in constructing our new BREEAM data centers we work with Longevity Partners, our sustainable construction partner, and request that information. It's a long and complex chain, but it is manageable. The sort of information which needs to be found goes deep into the supply chain from lead contractor down to PCBs, switches and cables.
GREEN BUILDINGS
Standards such as the iMason labelling campaign work well with green building standards such as LEED (Leadership in Energy and Environmental Design), and BREEAM (Building Research Establishment Environmental Assessment Method) as they help operators make the best possible selections in terms of low impact materials and construction processes.
BREEAM is considered by many sustainability experts to be the most comprehensive certification. And it can also be complex. In April 2021 IMDC earned the BREEAM design certification for its Phoenix AZP-2 data center, the first facility in North America data center to achieve this. It involved detailed energy use simulations and designs that reduce water consumption and support local flora and fauna. It also impacted materials, resulting in 38.8% of the high grade aggregate used in the build to be from recycled content, for example.
We have already started work on new LON 2 (UK) and AZP-3 (Phoenix) data centers to BREEAM standards. BREEAM certification affects everything from site selection and materials to energy use and the well-being of future occupants. In May 2021 we pledged to make all new construction of multi-tenant data center facilities certified to the BREEAM Green Building Standard by 2025.
EQUIPMENT LIFECYCLE MANAGEMENT
Then there are the computers. We're not just talking about millions of big buildings (7 million in 2021 according to one estimate). Every data center is also full of servers which are constantly being upgraded or replaced.
The average embodied impact of a single server is around 922 kg CO2e.
[source: Techbuyer]
Most businesses have a server refresh cycle of three to five years. This means that some businesses buy millions of servers a year. When it comes to IT equipment, businesses need to tread a careful path between using the latest, fastest and most energy-efficient machines and wasting energy by using out-of-date equipment. The correct management of this challenge is called IT Asset Lifecycle Management (ALM).
We have invested heavily in ALM recently. Iron Mountain's ALM business not only manages that lifecycle analysis to optimise efficiency, It also decommissions data centers and recycles IT assets, promoting a circular economy – a closed loop system that provides a longer life for IT equipment by recycling, certifying and remarketing it for the needs of enterprises, cloud service providers and system builders. I believe this type of service will grow because it makes financial and environmental sense, and conserves the valuable materials that go into our growing Internet economy. These services will help customers save money and optimize performance at the same time as achieving critical sustainability benefits.
Iron Mountain's investment in this business has accelerated the uptake of the services and circularity has become a pillar of the IMDC business. ALM for equipment combined with recertification and remarketing has a major environmental impact: not only can it lower TCO by 24% or more; it can also decrease GHG impact (measured in equivalent carbon dioxide, or CO2e) by over 24%.
MAKING A START
There is a long way to go in this area. Very few organizations currently communicate their scope 3 embodied impact emissions, but this will change. The most ambitious sustainability targets now cover historic embodied impact as well as operations. Microsoft, for instance, is aiming to zero their entire corporate carbon emissions dating back to the founding of the company. It seems likely that, as in other areas, where the hyperscalers lead others will follow.
As with operations, regulations will soon roll out to cover embodied impact, as the data center is a single and highly visible big ticket item. Already, in some countries in Europe, new builds have to set out their scope 3 content at the planning stage. With the current geopolitical tensions, computers and the raw materials and supply chains that help build them are also under close scrutiny.
If you want to assess your embodied impact there are many options, but the key thing is to make a start. There are numerous applications available that can give a reasonable estimate. Some, for instance, use an accounting-based approach where you estimate carbon impact per category of purchase. This is as good a starting point as any, but it will undoubtedly give way to more accurate assessment over time.
In the next blog I will look at turning research and planning into practice - and the resources and support data center users should look for as they navigate their path to sustainability.
I hope you have found this useful. Please don't hesitate to get in touch if you have any questions.
Elevate the power of your work
Get a FREE consultation today!