How to bring your business clouds down to earth
Blogs and Articles
A lot of businesses are at a crossroads on their path to digital transformation. While momentum is still shifted towards public virtual infrastructure, public cloud skepticism is on the rise. Read our latest enterprise blog for more info.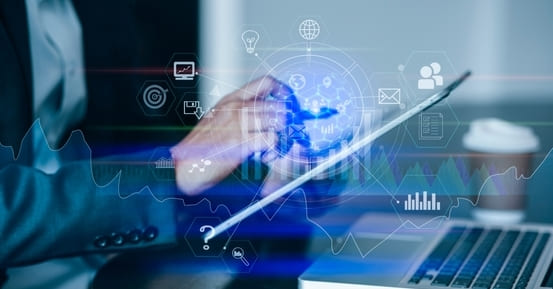 A lot of businesses are at a crossroads on their path to digital transformation. While the overwhelming momentum is still towards public virtual infrastructure, and it is clear that the age of in-house infrastructure is passing, public cloud scepticism is on the rise, driven by price, complexity and increasing choice. Picking the right physical platform that can accommodate private and legacy systems needs and multi-cloud aspirations will put CIOs, CTOs and CDOs in the driving seat as they navigate the next phase of transformation.
Mushrooming Cloud
There is no turning back on the cloud journey. According to Gartner, public cloud services now account for around $500 billion, or just over 10% of global corporate IT outlay - up from 4% in 2017, with IaaS and PaaS the fastest growing segments.
And private clouds are growing as fast or faster, valued at $130 billion in 2022 with CAGR of 29.6%. Microsoft predicts that over 95% of new digital workloads will be deployed on cloud-native platforms by 2025, up from 30% in 2021.
Something Old, Something New
Freedom to upgrade legacy systems at your leisure while moving in and out of different clouds – both private and public - is the key to the next stage of the journey:
On the legacy side, mainframes still drive a significant portion of mission- critical workload for big business - for 44 of the top 50 banks, 10 of the top 10 insurers, and 18 of the top 25 retailers, according to IBM. The process of migrating and integrating these platforms with new cloud-native services is a slow and delicate one, with security concerns uppermost.
On the cloud side, companies want to use different clouds for specific components and will no longer put all their new workloads in the hands of a single provider. Expense and complexity are also creating some pushback against public cloud, as organisations come up with new ways to orchestrate their data, including in-house cloud native DevOps using low-code/no-code tools like Zapier or the Microsoft Power Platform. According to one recent survey 80% of users believe the cloud is expensive or getting more expensive, and 20% are in the process of rolling back cloud workloads onto owned infrastructure.
A Place to Stand
It is clear that whatever physical platform organisations choose at this stage in their transformation, it needs to be a hybrid architecture – somewhere for legacy and cloud-native applications to meet. In-house data centers will gradually dwindle. And the cloud is – both by definition and because it is a fast-evolving third-party marketplace – too nebulous for core processes.
A private cloud in a connection-rich colocation facility that can have core legacy workloads rolled into it fits the bill. Capex can convert to Opex, old can be converted to new (systems, facilities, servers) and, due to advances in design and economies of scale, savings can be made in the process.
Components of Trust
If you do choose the colocation route, the only basis on which all of these benefits apply is if you build a longer relationship, and that means finding a provider you can trust. Besides the universal factors such as customer satisfaction, pricing guarantees, SLAs etc. the key components to add to your checklist are:
Ecosystems: Your service provider needs to be carrier-and-cloud-rich and needs make that wealth of partners and providers easily available. According to IDC, 75% of enterprises with over 1000 employees see a vendor's ecosystem of ISVs and managed services partners as one of their most important digital infrastructure and cloud services selection criteria. A thorough ecosystem analysis should always feature in the colocation selection process.
Efficiency: Colocation is generally far more efficient than in-house due to economies of scale. But also look for third-party accreditations that make it more secure and easier to work with your new partners: ISO 27001, SSAE18 SOC 2 (Type II)/SOC 3*, PCI-DSS and ISO -50001. Region-specific certifications are also key for multi-region businesses; in North America, NIST SP 800-53*, FISMA HIGH, FedRAMP and HIPAA (Type I); OSPAR in Asia; ISO 450001 and 9001 in EMEA.
Environmental Impact: Year-on-year efficiency improvements are the basis for any reductions in impact; Demand ISO 50001 Energy Management and ISO 14001 Environmental Management certifications. Look for BREEAM or similar certifications for minimal embodied impact. Demand 100% renewables, any provider that cares about sustainability should be able to offer this by now. And go a step further if possible. Look for a carbon credit scheme like Iron Mountain Data Centers Green Power Pass which passes on credit for renewables which you can then share with customers.
If you are satisfied on all of these fronts, and the footprint fits your market ambitions, you will be optimally placed to tackle the challenges of the next round of digital transformation.
More: 'Trustworthy Transformation'
A new Iron Mountain Data Centers enterprise customer solution brief goes into more detail on this – particularly key drivers and a more detailed platform architecture. To find out more read "Trustworthy Transformation: An overview of the current challenges, drivers and opportunities for enterprises in the process of digital transformation"
Elevate the power of your work
Get a FREE consultation today!