IT perspectives: Top 5 network challenges
Blogs and Articles
Iron Mountain Data Centers' Frank Scalzo highlights the top network challenges facing engineers and architects in today's data center market.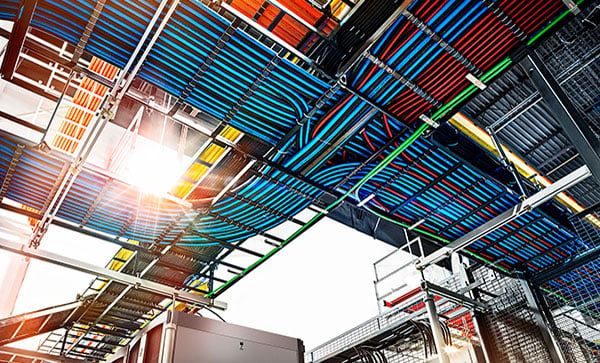 Iron Mountain Data Centers' Frank Scalzo highlights the top network challenges facing engineers and architects in today's data center market. Frank is a leader in network strategy and services and product management for data centers at Iron Mountain.
The IT industry is ever changing, and today's network engineers and architects face an ongoing list of challenges. As business needs evolve and networks become more complex, these changes can be difficult to navigate.
What are the top network challenges facing engineers and architects today?
1. Capacity
For all parties involved in delivering network solutions, capacity is an important concern. Today's companies are dealing with growing amounts of data produced from growing numbers of sources. Proliferation of video content is a significant factor, as is the growing number of deployed IoT devices producing more data than ever. We're also dealing with the monetization of data. Many new business models are not around product sales, but monetizing and productizing information.
As a result, the need for network capacity will continue to grow. In my career as a network engineer, every network forecast I have ever seen has been up and to the right. And, that is not because network engineers are looking for ways to spend more money. It is because people will always find a way to use available connectivity and communication resources.
Today we are dealing with trends like Big Data and video, but there will be something else coming next. There always is. Think smart cars sharing and communicating or supply chain logistics pushed all the way out to the field or industrial control sensors in a manufacturing plant. There will be no shortage of use cases driving network capacity requirements for the foreseeable future.
In addition to evolving capacity needs, networks must also scale to respond to evolving security threats. As people become more reliant on data and online services, tolerance for downtime or underperforming networks goes down dramatically. Data replication and protection strategies are critical for the enterprise.
2. Scalability
Fortunately for the end user, bandwidth has become cheaper as demand has skyrocketed. The challenge is how to scale infrastructure on-demand to stay ahead of demand while maximizing financial efficiency. For example, an organization deploying IT assets in a corporate office building faces cost inefficiencies associated with local loop telecommunications services. This can multiply quickly at scale.
Many companies have found greater efficiency by moving their IT infrastructure to third-party colocation data centers, where they can scale much more cost effectively. While the growing demand on network capacity, scalability, redundancy, and data replication remain, these organizations can drive greater efficiency in network operating expense.
It is important for networks to choose a data center partner that can scale with them. Many companies do not think about scaling until they are locked into an environment, and as a result, face heavy transition costs. Iron Mountain's focus is to bring data center customers into our ecosystem, where they can efficiently scale network and data center capacity, all the way up to hyperscale requirements.
3. Cloud Migration
Cloud migration is a challenge facing many organizations today. By moving to the cloud, they are effectively outsourcing from the operating system level down, and running their application on a virtualized platform provided by a third party. Organizations must decide what data, applications, and business logic are going to live in the cloud, and which are not. This also comes with the task of evaluating security, compliance, and controls in a completely new paradigm.
Data migration and ingestion are key considerations in any cloud migration strategy. Others include management access and cloud-to-premise connectivity.
Many organizations will have evolving strategies around when to use public cloud versus when to use private cloud. In all cases, the connectivity linking hybrid IT deployments is critical. At Iron Mountain, we are focused on meeting customer needs as they evolve into hybrid IT deployments. Cloud connectivity, ingest, and data migration are key pillars of our strategy and capabilities.
4. Security
There are three main pillars to information security - confidentiality, integrity, and availability of information. As you look at these, you need to consider who you are partnering with and what methods you are using to achieve this. Capacity and scalability help organizations achieve availability goals. Physical security can impact all three aspects.
Physical security is a topic that many organizations overlook. They may have a strong program around cybersecurity, but physical access to the equipment is important as well. Lapses in physical security can impact data confidentiality, integrity, and availability.
Managing physical security can be a challenging problem for an organization to address on its own. That is why having a trusted data center partner can be key. Iron Mountain invests heavily in programs around physical security compliance and has been trusted with physical assets by our customers for more than 65 years.
5. Compliance
Privacy is a front and center issue right now for most compliance programs, largely driven by the enactment of GDPR in Europe. Many organizations are struggling to figure out how these new legal requirements impact their compliance programs and IT strategy. There has not been much case law created around GDPR yet, but the fines of four percent of corporate revenue are substantial. It is easy to see why companies are concerned.
Another trend we are seeing is more emphasis on supply chain integrity management. This means looking at your suppliers with more diligence. Organizations need to not only evaluate and consider their own data protection practices, but also those of every supplier and partner.
Organizations need partners they can trust to hold and manage that data, as well as the appropriate contractual terms. For some, it can take up to 12 to 18 months to onboard a new provider because of the diligence required to vet a new supplier from a compliance and auditing standpoint. As a result, we are seeing organizations narrow the number of suppliers they work with, buying more services from fewer companies.
At Iron Mountain, 95 percent of the Fortune 1000 are already customers with agreements in place. We are trusted by more than 225,000 organizations, and that makes it easier for organizations as many aspects of the supply chain integrity due diligence is already in place.
These are just some of the issues facing network engineers and architects today, yet it has never been a better time to take on such challenges because there are solutions in the market to help organizations. It is an exciting time to be in technology with dynamic challenges, and solutions.
Elevate the power of your work
Get a FREE consultation today!