Top 6 ways leaders are doing Workplace Transformation
Blogs and Articles
Here are the steps global organisations are taking to enable their workplace transformations.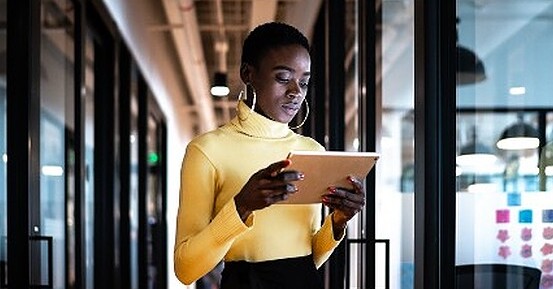 Aurora Cammarata, Corporate Real Estate and Facilities Advisor
The relationship between business growth and corporate office growth is not as direct as it once was. Real estate executives must align their strategies with employees' heightened flexibility preferences and business demands for efficiency, productivity, and innovation.
In our 2021 research with IDG, we sought to better understand how organisations may be rethinking their workplace transformation goals. We discovered how priorities have shifted for global organisations and what steps they're taking to enable their transformations. Here are some ways you can get there from here:
1. SUPPORT REMOTE AND FLEXIBLE WORK OPTIONS
Let's face it. Employees don't want to commute into the office for eight hours of virtual meetings or heads down work. With employees placing a higher value on overall wellness and work-life balance, companies are embracing and prioritising more flexible work options. Whereas just 30% of leaders were on board with remote work in 2019, research shows that jumped to 64% in 2021.
Physical workspaces should be used for collaborating with others to help inspire innovation. Commuting into the office for solitary activities that don't foster camaraderie or company culture development are a relic of the past. As such, we saw an increase from 30% to 56% of leaders interested in creating more flexible spaces. By replacing low-traffic areas like file storage, server rooms, and mailrooms with digital options or cloud solutions, your team can create more spaces to further meet today's needs. The key to incorporating remote and flexible work options will be figuring out how to do it in a way that encompasses everything we love about being in the office: collaboration, innovation, camaraderie, and culture development.
2. ENHANCE DATA PROTECTION AND SECURE IT ASSET DESTRUCTION
For many of us, our homes have replaced the traditional office setting. This presents an opportunity for organisations to figure out how to better control and protect their information, no matter where it resides. In 2021, there was an increase from 45% to 57% in leaders looking to tighten their information security measures. With expanded security measures in place, businesses will make themselves more resilient.
While the safe disposal of IT assets and records has always been a chief concern for leaders, the pandemic took it to a new level. When remote workers leave an organisation, employers need to figure out how to get devices back quickly and securely—and what to do with the information once it returns. For leaders, the priority to find more secure IT assets and record destruction solutions jumped from 28% to 31% in the last few years.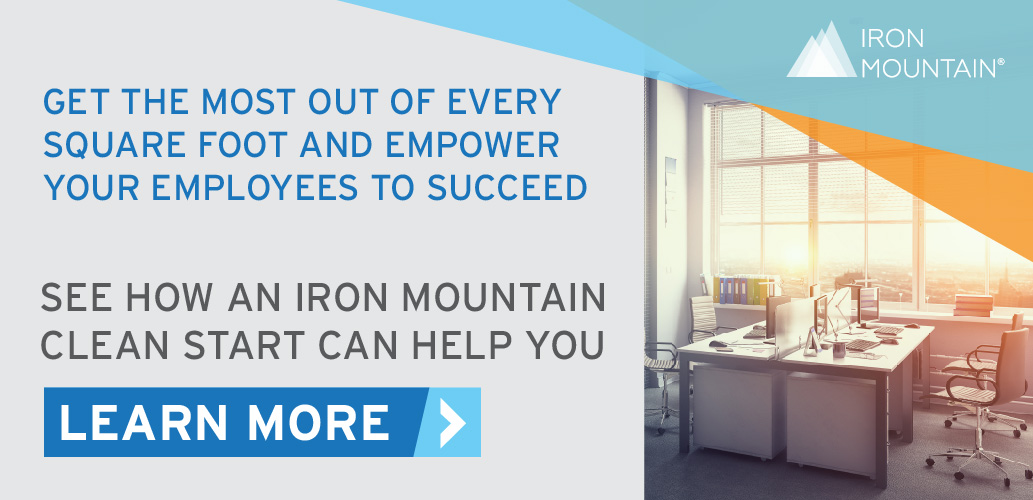 3. EMBRACE DIGITAL TRANSFORMATION TO SUPPORT HYBRID WORK
There will likely always be a mixture of employees coming into the office and working remotely. With this hybrid approach becoming the norm, understanding new ways of supporting it from a leadership perspective is important.
What we've found is that the "out of sight, out of mind" notion doesn't always mean less productivity. In fact, embracing more hybrid working options is where we saw one of the biggest leadership focus areas increase from 38% to 54%.
For a hybrid workforce to be successful, organisations need solid processes and consistent technology in place that is easily accessible, so employees can remain productive no matter where they choose to work. Figuring out how to support a hybrid workforce will help improve productivity, efficiency, and overall employee wellness.
4. STRENGTHEN BUSINESS RESILIENCE
No matter what's thrown at your organisation, it's imperative to remain resilient through it all. While it can have different meanings for different industries, having the capability to quickly adapt to whatever comes next is a must for survival.
Operational weaknesses in technology, policy, management, and productivity measurement were exposed because of the pandemic. It was unavoidable. The sudden shift to a remote or hybrid workforce cut across every level of the organisation, and the need for everyone to be on the same platforms and technologies was brought to the forefront. So it's no wonder we saw leaders' focus on operations resilience and business continuity go from 29% to 37%. With greater attention to these areas, employees can expect the same access, support, and processes for all their operational needs.
5. SCALE WITH MANAGED SERVICES AND OUTSOURCED TALENT
To support a more resilient, flexible workforce, organisations see greater value in outsourcing services that can scale with their teams and provide capabilities that may not exist in-house. As such, we weren't surprised to see that leaders increased their focus on outsourcing and managed services from 21% to 25% this past year. Bringing in the right outside experts can help you refine your processes and better support business resilience, operational efficiency, and sustainability.
6. EXPAND VIRTUAL CUSTOMER SERVICES
Virtual customer service interactions have become the norm—and customers now expect virtual options to remedy any issue. Our research shows a 7 percentage point increase in leaders who'd like to expand their customer service offerings.
Embracing the use of technology, social media, and live video ramped up during the pandemic. It's going to be part of how we engage with our clients forever. We're not turning back.
THE FUTURE OF WORKPLACE TRANSFORMATION ISN'T ABOUT SQUARE FOOTAGE
Real estate professionals work in a dynamic world with a constant need to anticipate and respond to changing business strategies. As we navigate forward, how we use the workplace to manifest those strategies will be measured in new ways. How we support our employees—from wherever they work—will be of utmost importance. Providing flexibility while improving resilience, sustainability, security, and compliance requires a workplace transformation that considers both operational and team management.
Now, more than ever, we're equipped with solutions and services that enable a more impactful workplace transformation. To find out how Iron Mountain's Clean Start can support your workplace transformation, connect with us to set up a complimentary site assessment.
Elevate the power of your work
Get a FREE consultation today!