Secure ITAD capabilities brochure
Solution Guides
With Iron Mountain, You Can Centeralize Secure ITAD Management, Have consistancy and Gain Global Visability Through One Enterprise-Wide Portal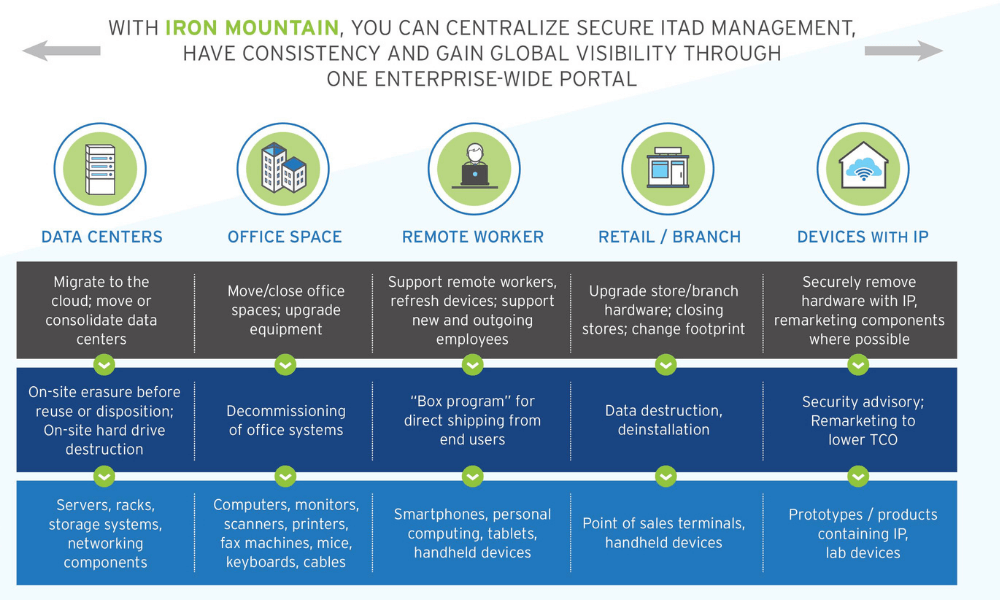 With Iron Mountain, you can centralize secure IT asset disposition (ITAD) management, have consistency and gain global visibility through one enterprise-wide portal.
Rest assured that whether you are looking to securely dispose of equipment from your data centres, offices, remote works, retail/branch locations or devices with IP, Iron Mountain provides you with best-in-class SECURE CHAIN OF CUSTODY across the GLOBE and enables MAXIMUM REMARKETING VALUE.
Iron Mountain's Secure ITAD Provides:
Secure Chain-of-Custody: Track assets as they are processed through each secure checkpoint up to the final processing and receive an auditable certificate of recycling and data destruction.
National & Global Footprint: With 3,500 trucks in the US and a global reach operating in dozens of countries across five continents we support your needs at scale.
Environmental Sustainability: Feel secure knowing that we work with e-Stewards or R2 certified partner organizations that follow the strictest environmental and data privacy guidelines.
Protection For Your Brand: Protecting critical information for decades, information management is all we do. Iron Mountain is trusted by 95% of the Fortune 1000.
Elevate the power of your work
Get a FREE consultation today!