Iron Mountain Scan and View
Oplossingsgidsen
Manual document management creates a roadblock to digital transformation, making it difficult to provide information to users where and when they need it.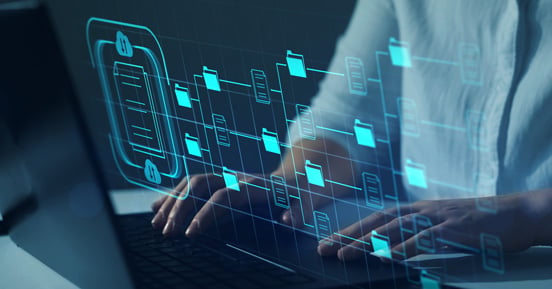 Business challenge
Manual document management creates a roadblock to digital transformation, making it difficult to provide information to users where and when they need it, with the security, compliance, and sustainability the business demands.
Impact
Paper documents make it impossible to enable anytime, anywhere information access that enhances productivity and enables remote work.
Paper documents negatively impact sustainability and require budget for paper and paper storage.
Managing paper and electronic documents, such as invoices, contracts, and other business-critical information, in siloed systems impedes transparency and auditability while complicating data security.
What if you could
Automate document management to:
Increase efficiency and productivity, including the ability to support remote workers.
Become paperless or paper-light to contribute to sustainability goals while reducing costs.
Improve your data security and compliance capabilities.
Iron Mountain® Scan and View
With Scan and View, our experts can help you:
Digitize legacy documents: You can digitize all paper-based documents such as invoices, contracts, customer information, human resources records and other business critical documents, or Iron Mountain can do it for you. Optical character recognition (OCR) extracts content to make it easily searchable. Low-code/no-code capabilities help you further tailor automated workflows to your needs for faster, more accurate results.
Connect data across platforms: Integration with existing systems lets you connect data across platforms and break down silos. You can define dynamic or static workflows or different processes regarding contract type or department.
Enable anytime, anywhere access: Approved team members can search for, access, and easily search within contracts on our secure enterprise content management (ECM) platform via a single web-based portal. You can choose to integrate e-signature to simplify contract approval and to enhance the client experience.
Protect your business: Our content platform complies with industry standards and provides auditing, tracking, and reporting capabilities to help you respond to audits and discovery requests in a timely fashion.
Manage the entire lifecycle: Iron Mountain can dispose of your physical documents by securely storing or shredding them or returning them to you.
The results will have a significant impact on your day-to-day operations, helping you:
Find information and documents faster: Spend less time looking for what you need and more on strategic value-building activities.
Protect the business from risks: Automate the document management process to provide up-to-date, accurate SLAs.
Improve security and auditability: Better protect confidential business information through robust access controls, security rules, and reporting plus features that streamline audit and discovery compliance.
Elevate the power of your work
Get a FREE consultation today!