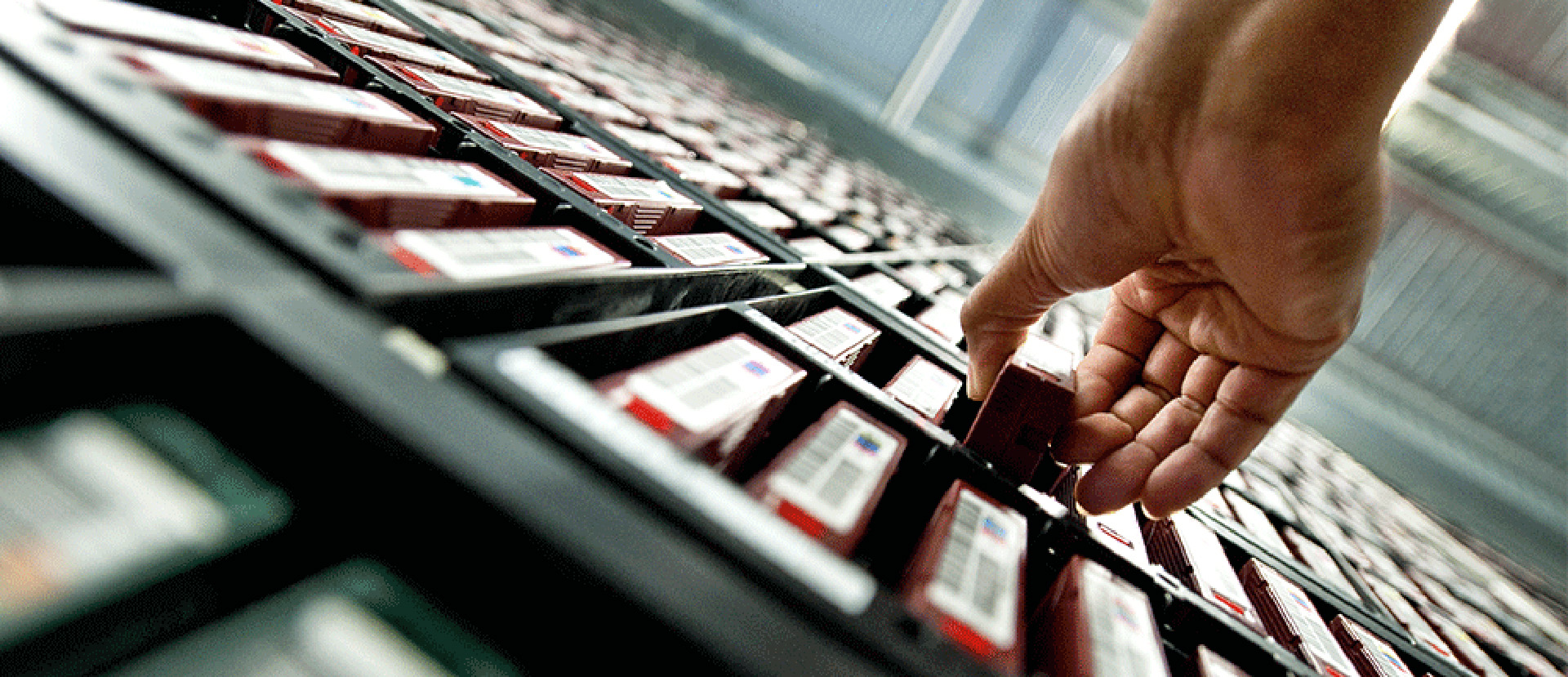 data restoration and migration
Offsite tape vaulting
Peace of mind knowing your media is protected at all times.
Which tape vaulting service are you looking for?
SecureSync® tape management
Manage, search, locate and retrieve your data online through an easy-to-use, secure web interface
It's happened – you're unable to produce the data you need for litigation requests and audits, so you now must spend time and effort searching for the media with the required data for the request.
Stop worrying about your backup tapes and free up costly staff time by making SecureSync® a part of your tape management program, so you'll know where the backup data is at all times.
24/7 access to your offsite data
Full transparency into where your data is at, whether in transit or in the vault
Free for Iron Mountain customers
SecureSync® offers everything you need to track your media at Iron Mountain facilities, schedule pickups, view reports, store and access your disaster recovery plan and more.
Automate Media Pickups
Tracking of media at recovery sites during a disaster event or test
Status and exception reports
Online Tracking of Media to Reduce Staff Burdens and Manual Errors
Real-time online inventory of tapes distributed to, stored in and returning from Iron Mountain
Manage administrative and authorisation tasks easily and quickly anytime, anywhere
Tracking of media at recovery sites during a disaster event or test
Status and exception reports
Online Tracking of Media to Reduce Staff Burdens and Manual Errors
Real-time online inventory of tapes distributed to, stored in and returning from Iron Mountain
Manage administrative and authorisation tasks easily and quickly anytime, anywhere
Know that your offsite media inventory was both complete and accurate
Unknown or unresolved media inventory discrepancies represent major risk to your organisation —especially when media that is unaccounted for could be requested at any time as part of an audit or litigation request, or in response to a disaster recovery incident. And it can require significant time, energy and expense to search for and locate misplaced media.
It's in your best interest to know your inventory is accurate and complete. Iron Mountain's Inventory Audit service provides an extra measure of confidence by helping you identify exactly what data you have and where it resides.
Inventory Comparison
Simple and effective, you submit your media barcode numbers via SecureSync® and we generate a report that shows any discrepancies. This is a no-charge service for current Iron Mountain® Offsite Tape Vaulting customers.
Logic Vault Audit
Scan and report. Iron Mountain scans all or a subset of the barcodes for your media stored in our vault. When complete, your authorised users receive a report of the findings, including any errors, duplicates and/or missing items.
Customer Scan
Roll up your sleeves and get hands on. Visit an Iron Mountain media vault and you'll be given a space to work where you can perform an audit onsite using your own staff. Iron Mountain will assist you with the audit and help you resolve any discrepancies that may arise.
Data archiving solutions
Data growth and retention policies are making archived data difficult to manage Business data needs to be retained – either for compliance reasons or to maintain the integrity of the organisation. But data is growing fast and it's overflowing. At this point you have so much data, you aren't sure how to manage it. It's all important information that needs to be maintained for the integrity of your business, but storing it has become a challenge.
Archived information is probably low priority data that you don't always need. It's your original data that is still important to your business. Knowing what data is stored on your archive tapes becomes critical any time you're faced with an audit, litigation or discovery request.
Experience and knowledge to help manage protect and preserve information
Backup is for recovery and archive is to restore. In any situation, whether a day-to-day question or a major catastrophe, you need to be able to access your data securely and efficiently. Iron Mountain has the experience and knowledge to help you determine how to identify information for archive and backup purposes.
Iron Mountain provides a comprehensive data archiving solution and retrieval program to cost effectively protect and preserve data that needs to be retained, and accessible for compliance, legal and value generation - letting the IT staff focus on driving business innovation while being confident in knowing what data is stored yet accessible when needed.
Secure tape transportation and management
Reliably track the progress of your backup media along every step of the transportation route
Many of the risks of data loss and theft associated with confidential information are at their highest during transport, especially with unencrypted data. Choosing Iron Mountain for secure, data transportation is one way to help minimize those risks for your most critical data.
Iron Mountain InControl® solution installed in dedicated vehicles securely transports your business information and delivers patented security, tracking and auditable chain of custody.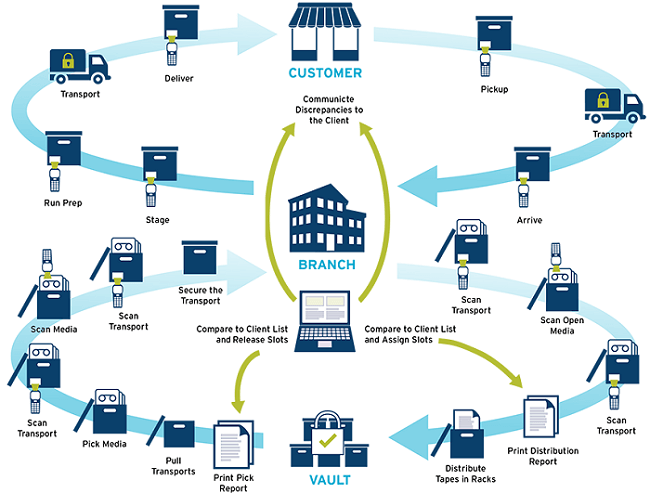 Secure dedicated transportation tape vaulting
Extending Security and Best Practices To Remote Areas
Protecting your company's backup data is a vital part of protecting your brand, reputation, compliance status and even the health of your business. With our Dedicated Transportation service you can be confident that your backup media is transported securely between your facilities and our offsite storage vaults.
Uses drivers who are thoroughly vetted, with the option of assigning a second, highly-trained iron mountain employee to stay with your media at all times.
Offers special add-on options, such as air transport, disaster recovery test programs, and "one-time-only" tape library moves.
Securely transports your media in a dedicated vehicle equipped with Iron Mountain InControl® solution that delivers patented security, tracking, and auditable chain of custody
Backupcare for tape vaulting
Reduce the burden on your IT Staff to manage backup processes at remote data centers
Whether your current data center is situated at a remote, unstaffed location, or if you happen to "stand up" your data center in a third-party colocation facility, you already know – all too well – how remote sites or isolated servers add a layer of complexity to staffing, training and internal processes for your organization.
Take the burden off your IT staff from managing a remote data center facility by letting Iron Mountains knowledgeable specialists handle the backup and data protection process.
Iron Mountain® BackupCare is a value-added service within the Iron Mountain Data Backup and Recovery suite of solutions. As an Iron Mountain offsite tape vaulting customer, BackupCare will help you achieve immediate process efficiencies by enabling your IT staff to focus on higher priority initiatives.
Free your it staff from managing data backup and vaulting from afar
Eliminate the need for onsite personnel to perform backup tasks
Protect your data via a documented chain of custody to ensure its security and accountability
Mediacare for tape vaulting
Ensure your backup media
Especially from remote office locations
Reaches its storage destination safe and secure
You've invested significantly in backing up your data and you want to make sure it is protected at all times. In some cases you may move your backup data to another region of the country; perhaps your data center is in an area that is prone to natural disasters or is in a remote location.
Even when transporting your media via a third-party, you can take comfort in knowing that Iron Mountain will care for as if it were our own. Protect your sensitive data with MediaCare™ because it matters.
Help remote offices adhere to your data backup and recovery program
Achieve a unified view of your backup media regardless of how it's transported to the Iron Mountain vault
Accelerate response times to audit, legal discovery and disaster recovery events
Whenever you are faced with a situation requiring third-party transportation services to bring your backup data to Iron Mountain, our MediaCare™ service is there. It provides peace of mind that once your media arrives at our vault, the data is immediately received and processed according to the same highest security measures and best practices that apply to every tape and electronic record delivered via an Iron Mountain vehicle.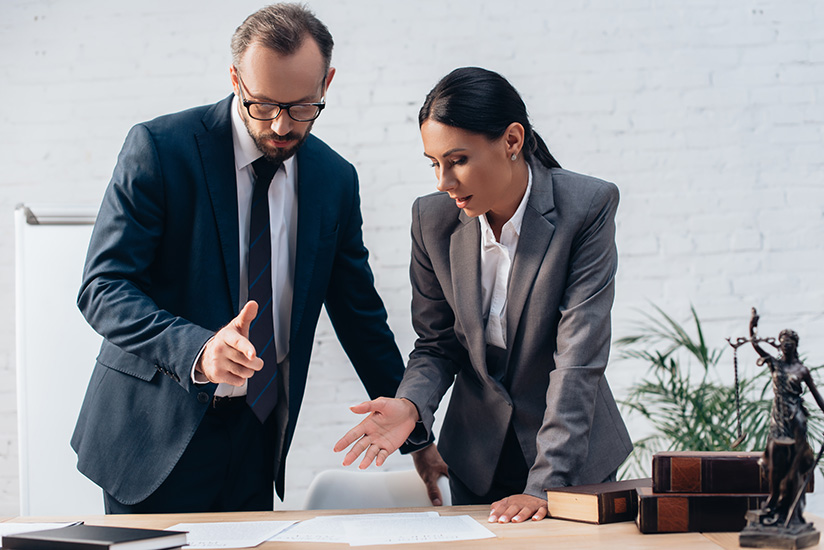 We make it easy to get started.