Akamai: reconciling commercial and environmental demands
Customer Success Stories
Learn how Iron Mountain helps Akamai reach its business and sustainability goals.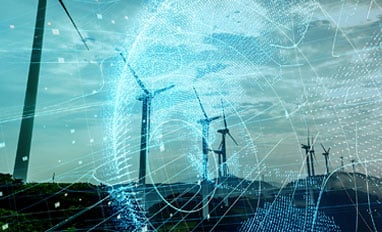 Creative partnership sparks revolutionary renewable energy solution for sustainable data centres everywhere
Results
The new data centre, once it is running at 90% full, will account for about 6% of Akamai's total U.S. electricity load and about 4% of its globalload, making vast inroads into the company's renewables target. Cost savings and efficiency gains are certain,leaving Akamai strongly placed to make its operations even more sustainable.
Solution
Iron Mountain is committed to the RE100 goal of 100% renewable power for global operations, and its data centre facilities have been operating on 100% certified green power since 2017. The company's Green Power Pass gives Akamai the contractual right to claim environmental benefits and report notable reductions in greenhouse gas emissions. Instead of buying offsets, Akamai can count its entire data centre electricity use as green in external reporting such as the CDP.
Challenge
Targeting 50% renewable energy for its worldwide operations by 2020, Akamai needed sustainable space in the New York tri-state area. A critical success factor for getting to more sustainable operations included access to wind, solar, or other renewable electricity to power the Akamai Intelligent Edge Platform in the New York metro area. Affordability, innovation, and efficiency were vital for this essential data centre project.
1+1=3: Innovative, effective sustainability strategies with a like-minded partner
"A critically important aspect of our business case was finding a partner who not only met our renewable energy requirements but also understood what we were trying to do and could help us to achieve our goals. With Iron Mountain, we found a partner who could do all that — in ways that gave us a competitive advantage."
- Mike Mattera, Director of Sustainability, Akamai
Searching for low pue plus renewable energy
Vital targets for our planet
Akamai is a cloud provider with a big heart. Throughout the organisation, innovation and excellence go hand in hand with a profound sense of social responsibility. As part of its sustainability policy, Akamai is committed to reducing greenhouse gas emissions by conserving energy, becoming more energy efficient, and procuring renewable energy. A key current target is to source renewable energy for 50% of the company's global platform operations by 2020. "We want to make a shift happen from an environmental perspective," says Mike Mattera, Director of Sustainability at Akamai. "Our biggest breakthrough to date has come from aligning our sustainability policy with the business units' objectives."
Reconciling commercial and environmental demands
"Iron Mountain was instrumental in helping Akamai expand and design an energy-efficient and cost-efficient data centre with connectivity to the major networks in the New York metropolitan area," says Margot Hines, Principal, Data Centre Practice at Akamai. "With Iron Mountain's vast global real estate, we are looking forward to a strategic partnership that will allow us to continue to grow Akamai's distributed intelligent edge platform."
All these factors came into play when the company was searching for data centre space in New Jersey. Essential to requirements was a combination of low power usage effectiveness (PUE) in the building and renewable energy to power the infrastructure. Above all, Akamai wanted the freedom to innovate, so it could continue exploring ways to build efficiency into its platform and serve traffic faster, more reliably and securely in a sustainably conscious way.
This meant finding a partner who truly understood its goals. Out of four short-listed providers, only Iron Mountain colud fully deliver.
"As a result of our partnership with Iron Mountain, we were able to execute fully customised, high-efficiency HVAC features," says Bill True, Director of Data Centre Architecture at Akamai." These features include a fresh air economiser combined with zero-water-consumption refrigeration cooling. The annualised PUE for the data centre is estimated to be less than 1.2."
Elevate the power of your work
Get a FREE consultation today!