Asset Lifecycle Management  
IT Asset Disposition: remarketing, recycling, and media destruction
Remarketing, recycling, and media destruction: ITAD for corporate end-user devices
Secure IT Asset Disposition and E-waste disposal services
We have a wide range of services for your asset disposition and e-waste disposal needs. When IT equipment isn't disposed of correctly, it can damage a company's reputation and safety. Iron Mountain's secure IT hardware electronics recycling and disposition program can properly dispose of your retired electronic assets in a secure, efficient and environmentally friendly manner.
Here are examples of featured services that could be beneficial to your company.
Learn more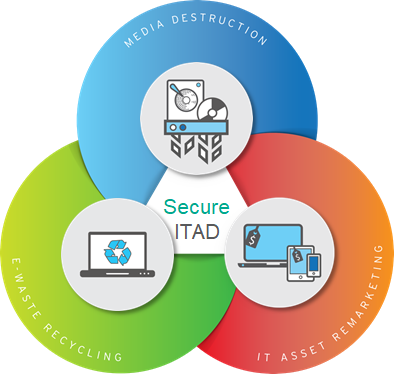 Accepted items
Commonly accepted items include:
Computer-related hardware

Desktops, laptops, tablets, notebooks, and all-in-ones
Hard drives: normal and SSD
Monitors: CRT, LCD, LED, etc.
Docking stations
Printers and scanners
Servers and mainframes
Network devices
Smaller devices

DVD and BluRay players
Gaming systems
GPS devices
Barcode scanners
Electronic supplies

UPS power supplies
Cabling and wiring
Storage enclosures
Server racks and cabinets
Tapes
Zebra ribbons
Toner and printer cartridges
Storage devices

SD cards
CDs and DVDs
USB cards and jump drives
Media

Microfilm and microfiche
Photographs
Cassette tapes
VHS tapes
Bank cards
What sets our ITAD services apart?
With most IT teams fully consumed by their "day jobs"—setting up new employees' computers, managing network security, deploying and supporting applications, and maintaining an infrastructure—there's almost no time left to focus on best practices for ITAD.
Inadequate attention dedicated to the proper disposition of IT assets leads to increased risks, including loss of control over confidential data, lack of compliance, and impacted financial performance.
Organisations place high value on operational efficiency and maximum return on tech investments. We get it; your company data is extremely valuable, and we don't take it for granted. That's why we go that extra mile by providing your team with:
8M

pounds processed per year

650k

assets processed per year

32

countries supported globally

59

ITAD processing facilities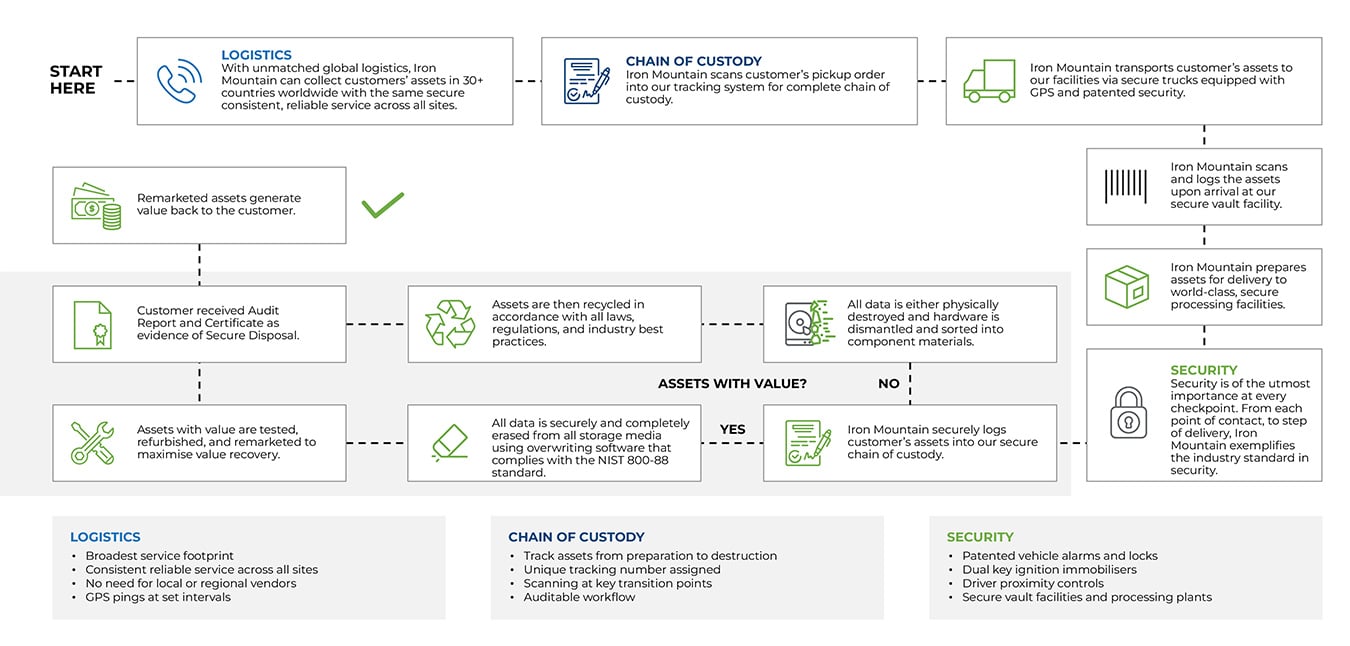 Ready to protect your company's confidential data on retired IT assets?
We make it easy to get started.