Records and information management
Secure shredding
Destroy your paper-based records at your commercial location in a safe and compliant way
Shred your documents to reduce liability
Iron Mountain secure shredding services protect the privacy of your information by destroying paper records and documents, plastics, and media in a cost-efficient, safe, and compliant way.
Our online tools and on-demand reports covering key shredding metrics from usage to sustainability will help ensure efficiency and compliance.
Safeguard your organization's reputation by securely shredding sensitive and confidential paper documents
Reduce costs by shredding documents no longer useful or necessary
Ensure compliance by shredding documents in accordance with federal, state, and industry regulations to avoid penalties, fines, or legal action
Whatever your needs and budget—Iron Mountain has a shredding service designed to help save you the time, effort and headache of managing document shredding on your own.
Save time and reclaim space
Protect employee and customer information
Ensure your business is compliant with the law
Features and benefits of shredding
Shredding is the safest way to destroy unnecessary paper documents that contain confidential information
Shredding takes away the hassle of moving files boxes around your offices
Shredding frees up storage space while keeping employee and customer information safe and secure
For establishments that deal with extremely confidential information and the following types of businesses, document and paper shredding is not just suggested—it's the law.
Nationwide coverage
More than 73,000 customers throughout North America rely on Iron Mountain's secure shredding services. We shred more than 40,000 pounds of material per month throughout our network of secure shredding facilities and our recycling efforts helped save more than 4 million trees every year.
Purchase online or work with an expert
Your time is valuable; we understand. We also understand that you know what is best for you and your business. That's why we created straightforward document shredding services that you can purchase directly online—anytime, anywhere—or work directly with an expert.
Leader in document security
Since 1951, Iron Mountain continues to be a leader in secure document shredding. Our shredding services are NAID's AAA-certified from i-SIGMA, which ensures that Iron Mountain meets the highest legal and compliance regulations required for secure information destruction.
Get Your Quote Today
Additional services
Additional services
Small business solutions
Move your small business forward with shred, store, scanning, and IT asset disposition (ITAD) solutions.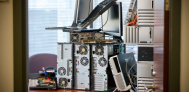 IT asset recycling and disposition
Does your destruction program cover data-bearing e-waste—including computer hard drives and other materials? Learn how Iron Mountain can destroy, recycle, or remarket your IT assets.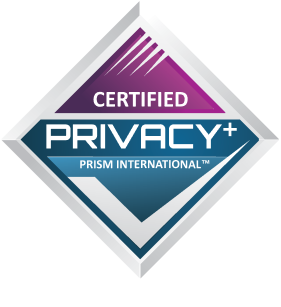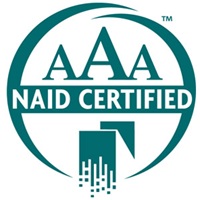 Certifications
Protect your brand and reduce information risk with Iron Mountain
There are a lot of options out there when it comes to choosing a document shredding service. Here's why you should choose Iron Mountain.
NAID AAA certification from i-SIGMA
NAID from i-SIGMA is the only recognized independent source for security and ethics standards in the document destruction industry. NAID's AAA-certification from i-SIGMA ensures Iron Mountain meets the highest legal and compliance regulations required for secure information destruction.
Services tailored to your needs
With the free Iron Mountain Connect online portal, you'll be able to:
Manage your shredding services by viewing schedule visits and pending shredding orders at your convenience
Make on-demand shredding service requests, add or close locations, and change the frequency of your shredding service
On-demand reports that help you manage compliance and reduce the cost of your shred program
Our shred usage report is an invaluable tool, providing the insight you need to better manage your program. By reviewing this report and identifying key trends over time, you'll be able to correct potential compliance issues before they impact your business and identify opportunities to reduce costs.
Trained and vetted personnel
Iron Mountain shred personnel pass comprehensive background checks and receive rigorous, ongoing training on secure shredding services. They're experts in their field and take pride in knowing that they're not just shredding documents—they're protecting your business.
World-class facilities
Iron Mountain shred facilities provide some of the industry's more advanced systems to safeguard your information, including:
Strict visitor policies
24/7 closed-circuit television surveillance cameras
Intrusion detection and environmental control systems
Environmentally responsible
After securely shredding your documents, we recycle all shredded material and provide a Green Report to demonstrate your contribution to global sustainability efforts.
Our secure shredding services can cater to your specific business needs. Talk to our experts to learn more.
We make it easy to get started.
Frequently asked questions
Learn more about our entire range of popular secure shredding services, or reach out to ask questions of your own.
What can I shred?

The following CAN be securely shredded:

Clean paper, any color and any size
Blueprints
Newspapers
Magazines
Brochures
Mail (including window envelopes)
Photographs
File folders, any color (no need to remove staples, paper clips, rubber bands, or small binder clips)

The following can NOT be securely shredded:

Cardboard
Wet or moldy material
Telephone books
Hardcover books
Plastic bags and packing material
Computer discs, CDs, or DVDs
Backup and VCR tapes
Transparencies
ID badges and driver's licenses
Microfiche and microfilm
X-rays
Batteries (no batteries of any kind)
USB thumb drives
Computer parts
Printer and photocopier parts
Trash or hazardous materials
Biohazardous and medical waste (including needles and sharps)
Metals (including binders and hanging folders with metal hangers)
Why should I shred my documents?
How do I prepare for my one-time shred service?

Once you place your order online, you will be contacted by one of our customer support teammates to schedule the service date.
If using the offsite service, all material that needs to be destroyed should be placed in a dry box with a lid for our driver to pick up.
If using the onsite service, all material that needs to be destroyed should be removed from its current storage location and easily accessible by our driver when they arrive with the mobile shredding vehicle.
Can you pick up from my house or storage unit?

We do service most residential locations, so please contact us to verify that your location is accessible.
Is the paper shredded onsite?

If using the offsite service, paper is picked up from your location and transported to a shredding facility for final shredding. You can request a final "certificate of destruction" once the service is complete.
If using the onsite service, paper will be shredded onsite using a specially equipped mobile shredding vehicle.
I have a one-time shred service; how do I know my materials have been destroyed?