How implementing an intelligent Digital Mailroom Solution future-proofs your business
Blogs and Articles
As more businesses embrace digital platforms and seek a paperless or paper-lite future, you need a system to convert the remainder of your necessary paper-based infrastructure to electronic data.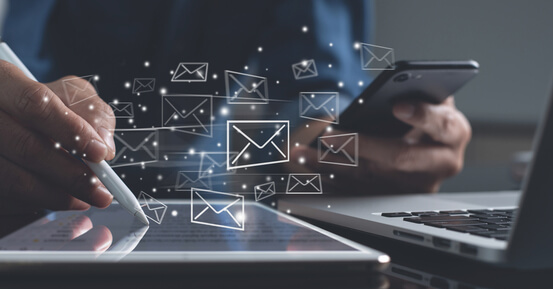 Many Australasian businesses are converting their paper-based systems onto digital platforms. However, some hard-copy documents are still integral to business operations, and making the transition to a digital infrastructure doesn't mean that physical mail stops arriving at your workplace.
So, how does your business ensure that key physical documents are accessible to your workforce, even in today's increasingly remote-capable environment? The answer lies in services that can handle the digital transfer of your physical and digital mail and mission-critical documents with minimal effort, providing a streamlined workflow that eliminates the burden of excessive manual input processes.
This article will walk you through the digital mailroom automation process and help you envision how administering this solution can help future-proof the business workflows that are at the core of your daily operations.
The last of your paper-based systems
The reality of today's workforce is that many of your employees may be working from home, or at least possess the ability to enjoy a hybrid work environment that sees them commuting to your premises less.
Aside from the disruption of a global pandemic, the application of digital business architectures is what enabled this transition to occur, as today's workflows can be readily accessed from anywhere on any connected device.
While this transformation has certainly boosted efficiency in many areas, it creates burdens and extra workflows in others. Distributing the physical mail that arrives at your business to remote workers has left more than one administrative assistant scanning and typing emails when they could be focusing on their own work. The mail arrives, the mail is redistributed (after great effort) and then the mail arrives the next day, creating major delays.
If you're looking to improve productivity and workplace collaboration – as well as unlock insights from the rich data contained within your mail – then an intelligent document processing service is an ideal solution.
Freeing your staff from receiving and distributing physical mail is a critical step forward in the push for increased workflow efficiency. Let's examine how an intelligent digital mailroom can help.
Transform your digital mailroom
Iron Mountain offers a software as a service (SaaS) solution that allows your authorised employees to receive digital versions of critical business mail easily, regardless of where they're working from. Whether your staff is on the other side of the hall or the country, a digital mailroom provides access to necessary documents without the manual digitisation efforts that have burdened so many office administrators.
In addition to the benefits associated with mailroom automation, you'll effectively eliminate unnecessary paper documents at the front door, meaning your workforce will never have to scour through piles of paper records or mail looking for the right information. The reduction of your physical footprint provides cost savings that accumulate over time as you'll no longer have to allocate real estate expenditures to housing mountains of paper-based invoices, mail and documents.
A streamlined mail processing solution is beneficial for all staff who need to access their mail and documents securely via your cloud-based platform, as well as business operators seeking to increase their sustainable business practices.
Here's how your organisation can utilise a digital mailroom and embrace the modernisation of an automated workflow.
How to install a digital mailroom for your business
You're ready to transform your cumbersome physical mail processes. You've identified a trusted provider in Iron Mountain and you're intent on removing the manual labour associated with transitioning and redirecting your incoming mail. What follows is a critical two-step process to ensure the success of your partnership with Iron Mountain:
Firstly, you need to contact your postal service and have all inbound mail redirected to one of Iron Mountain's secure facilities. (That's right, the days of stepping through the front door to be greeted by a pile of envelopes are over forever.)
The next – and most important – step?
Sit back and let Iron Mountain do the heavy lifting.
You'll have access to your electronic information via a secure network with encryption keys that you'll own and manage. In addition to the extensive insights and reporting that Iron Mountain's digital mailroom service provides, you'll be able to monitor who is accessing your company's information, when they're looking at it and from where.
Now that you've done your part in facilitating this digital transformation, here's what happens on Iron Mountain's end.
Iron Mountain digital mailroom solutions
Now that your mail has arrived at our secure facility, our digital transformation process can begin. Our team opens, prepares and scans your mail, filtering all digital data through a quality assurance process in order to guarantee that we've captured all critical information.
From there, we extract and classify your data so that it is easily retrievable before routing it to the necessary workgroup queues and central repositories. We're here to help with full lifecycle management of your mail and we will dispose of the paper-based copies of your now-digital documents as needed.
Should you prefer to house a physical copy on your premises or in our Iron Mountain Records Centre, we'll secure a space for the documents you'd like to keep. Any and all disposable paper mail will be securely shredded to ensure the confidentiality of your business documents.
Iron Mountain understands the value of information management and information governance. That's why we've taken steps to ensure you'll have eyes on all critical information that passes through your secure online repository, as well as access to any paper-based documents you choose to keep.
Once we've received your inbound mail and our data capture team has scanned all of your paper-based documents, we'll identify and designate critical keywords. Back at your business location, you'll be able to search, access and auto-route this digitised information via our information and content services platform known as Iron Mountain InSight®.
By following these easy steps, you've successfully future-proofed your business. You've surveyed the business landscape and identified increasingly digital business workflows. You've acknowledged that your workforce may remain remote or embrace a hybrid work/home structure. You've also identified the need to automate manual processes and transition to sustainable business practices.
By partnering with Iron Mountain and deploying a digital mailroom solution, you're embracing a digital tomorrow while keeping an eye on the last of the paper-based systems that enabled your business to get to where it is today.