Do you have records stored with insufficient or no descriptive data?
To properly manage your records inventory and make disposition decisions, you need to know what you have and potentially who is the rightful owner of each box.
Without knowing this, you can't take action and will hold on to your inventory for much longer than necessary. You could spend the time and resources to manually review each box—a painstaking process, especially if your records are stored across multiple locations.

Or you could choose Iron Mountain Smart Reveal. The solution combines your historical metadata with pictures of the outside of each box, plus an aerial view of the internal contents, allowing you to make quick and defensible disposition decisions.
You'll get all the information you need to take informed actions, such as:
Update metadata and descriptions
Send to data entry for file-level indexing
Destroy box contents and more
Smart Reveal
Solution summary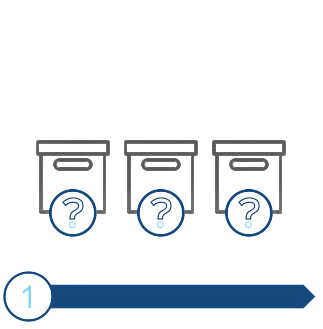 Identify boxes in storage with little or no descriptive information.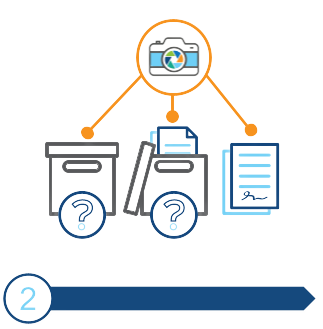 Take pictures of box face and an aerial view of contents, with options for more pictures per your requirements.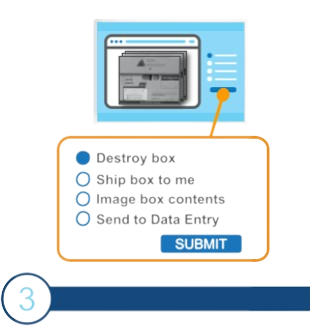 Review box pictures via our secure gateway. Select and assign your required action for each box.
With Iron Mountain Smart Reveal you can:
Know what you have
Get a full understanding of your records inventory so you can make informed decisions and take appropriate actions.
Make defensible decisions about what records to keep, destroy, or digitize
Stop storing everything, digitizing everything, or indiscriminately destroying records you're obligated to keep. Feel empowered in knowing you're making the right decision for every record, every time.
Reduce the cost and risk of storage
Storing everything increases costs and puts you at risk of information loss and compliance violations. Stop paying to store records that you no longer need to keep.
Improve productivity
Increase your organization's speed and efficiency by giving employees the ability to find what they need and make quick decisions.
We make it easy to get started.
Frequently asked questions
How do I know which boxes of records are the right fit for Smart Reveal?
Can Iron Mountain help me decide which boxes should go through the Smart Reveal process?
How many pictures will Smart Reveal provide?
Can Smart Reveal work for non-paper records?
What does Iron Mountain need from me in order to set up a Smart Reveal project?
Can I decide how many boxes I want to run through the Smart Reveal process?
Is there a minimum number of boxes required to leverage Smart Reveal?
My inventory is located across several record storage facilities. Can I expect the same experience at every site?
Are there other products or programs that pair with Smart Reveal to help me clean up my legacy records?

Iron Mountain Smart Sort will help you sort and reorganize your commingled files according to destruction eligibility, record type, record status, unique identifier, or any other criteria you decide. For more information, visit ironmountain.com/smartsort.