Breaking down organizational silos to meet sustainability goals: everyone has a role to play
Blogs and Articles
Keeping sustainability efforts relegated to high-level executives is a thing of the past. Why? Because it's become a more holistic approach that includes not just environmental efforts, but also social and governance (ESG) initiatives.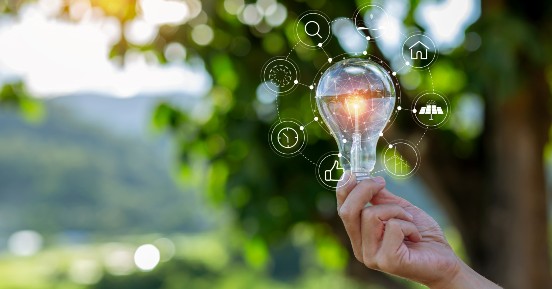 In the last few years, we've seen more governing bodies push for better and more informed actions in the ESG space. The focus on ESG initiatives has moved from a nice-to-have to a must-have, influenced by contributing factors like new SEC guidelines, international policies, rising fuel prices, increased attention to social issues, and investor relations.
We also know sustainability is a priority for employees because 70% say they wouldn't work for a company without a strong purpose.* As sustainability knowledge increases, so does the desire to work for and buy from organizations with a focus on sustainability. And with 65–95% of an organization's environmental impact falling within its supply chain, employees outside of specialized sustainability roles have a larger part to play in supporting sustainability goals.**
The siloed walls surrounding sustainability initiatives are coming down. It's now a team sport that includes everyone from HR to procurement. There's no limit to who can contribute to the bigger sustainability picture.
Here are some ways various groups across the organization can use their strengths to support sustainability goals moving forward.
How compliance and RIM contribute to sustainability
We know sustainability is a complex topic with many moving parts. Even though records and information management teams may not be top of mind in this space, they have an important role to play.
Think about all the information created on laptops, desktops, and connected devices. It has to be stored and maintained somewhere. Those in charge of supporting records management systems and processes decide how to stay compliant with their organization's and industry's governance policies. So why not take a sustainable-led approach when making those decisions?
Here are three ways to put sustainability at the core of information management operations:
Data centers and cloud storage: Organizations use these solutions for information storage and collaboration. Select a cloud vendor that improves efficiency, ensures data security, and runs its data centers on renewable energy.

Record-keeping policies: Institute ISO-based standards across all departments.

Environmentally friendly records disposition: Opt for circular and zero-waste services for physical or digital records destruction.
Why IT and information security are key to sustainability
IT and information security teams are focused on more than fixing system bugs and preventing cyberattacks. The whole organization relies on the IT team to make the day-to-day possible. With such wide reach, these professionals have a critical role to play in their organizations' sustainability activities.
Here's how IT and information security are driving ESG efforts:
Data center selection: Choose vendors who invest in renewable energy.

End-of-life electronics: Ensure data is properly erased and e-waste is refurbished or recycled responsibly.

Support for remote work: Provide employees with the tools they need to work remotely, which can help reduce commute times and carbon emissions, while also improving employee engagement.
Procurement's purchasing and sustainability power
At the core of every organization is procurement. This team defines the organization's purchasing policies and procedures. Their role in the vendor selection process directly impacts an organization's ability to meet its sustainability goals.
Procurement helps to guide your supply chain toward sustainability goals while holding vendors accountable.
Here's how procurement can improve sustainability initiatives:
Climate strategy: Implement additional screening criteria that prioritizes vendors with strong, clear, and continually improving commitments to environmental performance.

Supplier diversity program: These programs promote an inclusive approach to procurement; if one isn't already established, put one in place.

Vendor traceability and transparency program: Get visibility into vendor data all along your supply chain to ensure practices are compliant, ethical, responsible, and aligned with your goals.

Vendor data: Ask vendors to supply the data that results from your interactions with them, and make sure it's reflected in your sustainability goals, such as carbon usage or tonnage of paper recycled.
Investor relations has a sustainability role to play
Gone are the days when organizations could answer a few questions, check a box, and claim to be ESG-focused. Now, large institutional investors want confirmation that companies have executive- and board-level involvement. There is also increased focus on climate-scenario analysis, where organizational leadership has considered potential future scenarios related to climate change, identified the business risks and opportunities associated with them, and explored ways to improve strategic resilience.
As more institutional investors become focused on sustainable investments as part of their screening processes, it's important for the investor relations team to be armed with up-to-date and actionable information on the sustainability processes in place in the organization. Because they're often fielding questions directly from large customers and investors, the investor relations team is a key ally.
More specifically, here's how investor relations can guide sustainability efforts:
Portfolio evaluation: Monitor increasing investor interest in sustainability issues.

Data-tracking systems: Ensure there are credible systems in place for providing ESG-related data that investors are seeking.

Education: Communicate current sustainability priorities and initiatives with investors.
How human resources drives sustainability
In human resources (HR), there are obvious and not-so-obvious links to sustainability initiatives. You likely think of HR and recruitment's role in achieving diversity, equity, and inclusion (DEI) goals. However, because sustainability competencies are now necessary across the entire organization, the team has had to evolve and expand candidate criteria to account for these now critical skills.
The HR team is also home to several key ESG-related policies, practices, and reporting. Issues like corporate responsibility, pay disparity, and human rights are top of mind for HR professionals. Failure to meet regulatory requirements or stakeholder expectations in any of these areas can have a negative impact on the organization.
Whether or not your role is represented in one of these areas, you can find meaningful ways to contribute to your organization's sustainability initiatives. Reach out to your leadership team and start the conversation today.
For more information, visit our Rethink Sustainability page.
Elevate the power of your work
Get a FREE consultation today!