Manage your clinical data...
In this era of complex health delivery and payment reform — with frequent regulatory changes, concern for patient safety and quality, and demands for greater transparency — you need new strategies to help impact your long-term success. With Iron Mountain you can strategically and securely manage your clinical and business Information throughout its lifecycle.
Flexible, scalable...
Our flexible, scalable portfolio of health information management solutions enable you to reduce cost and risk, accelerate your Electronic Medical Records (EMR) transition and simplify the management of your increasingly digital healthcare environment.
Get in touch
Enhance healthcare delivery and improve quality of patient care
How can I remedy a lack of standard health data management processes?
Inconsistent health records management policies can lead to unnecessary costs, lack of data integrity, increased burden on clinical staff, and risks associated with compliance and patient privacy.
Our enterprise-wide records and data management solutions strengthen privacy, security, and compliance. We help reduce the complexity around retention, digitisation, and disposal of medical records
What if my patient records are stuck in the past?
Patient records hold information that is of the utmost confidentiality. The days of hard copy printouts are all but obsolete. Cabinets packed with confidential paperwork are not only a potential onsite security risk but also take up an inordinate amount of real estate, especially in the offices of smaller practices
Securely digitise your records with analytical insights that accelerate innovation, improve clinical productivity, and enhance patient experiences with our transformative digital solutions
How can I fix outdated data and security protocols?
Healthcare IT has—and will—continue to evolve as data grows exponentially. Managing the complexity around securing this data, eliminating potential risks, creating business rules, and preventing data breaches is now a priority for organisations.
Iron Mountain's portfolio of data compliance and security solutions helps you stay current with regulations, prevent threats, and maintain control of your data with confidence.
What is the best way to manage a growing inventory of pathology slides and blocks?
Tracking, locating, and retrieving slides and blocks is challenging; you need to transform your lab operations and empower your pathologists
Iron Mountain's digital pathology solutions offer slide digitisation for intelligent analysis, streamlined operations, and protection of your invaluable assets.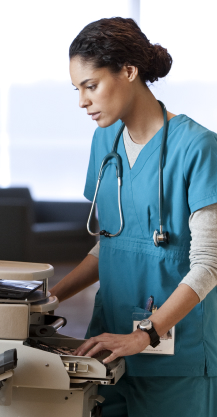 95%

More than 95% of Fortune 1000 organisations, including more than 2,000 healthcare organisations, trust us to store and manage their most valuable information and assets

850M+

We manage more than 850 million patient records, so we understand the information management needs of our customers

1B+

Our customers trust us to store and protect more than 1 billion medical images and more than 1 billion pathology slides

68+

Our expertise extends beyond a paper trail; we manage more than 68 exabytes of data
We make it easy to get started.
Contact Iron Mountain Singapore