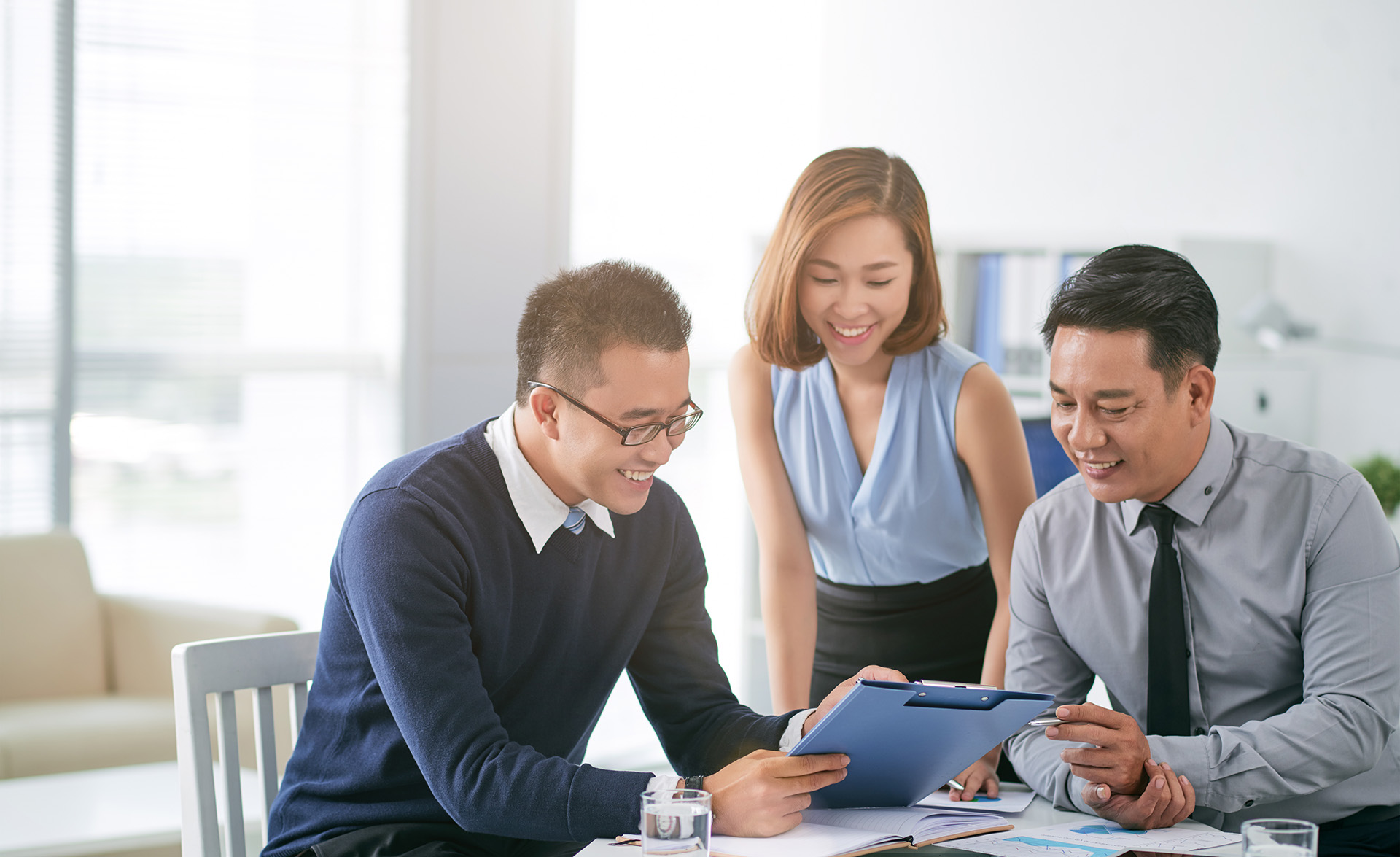 Records and information management
Iron Mountain Clean Start®: Digital Workplace Transformation
Digitally transform your workplace to keep up with changing times
Begin your workplace transformation with Iron Mountain Clean Start
The world has changed, and the way we work has too. Today's new normal means rethinking office space and work processes to improve employee well-being, sustainability, cost-efficiency, and productivity.
Iron Mountain Singapore's Clean Start® can help you navigate today's changing workplace requirements, from dedensifying and reconfiguring the office for social distancing to office closures or moving to a more digital way of working.
Our skilled team will guide you along your workplace transformation journey every step of the way, starting with a thorough assessment of your workplace and providing recommendations on how you can maximize real estate by clearing out materials occupying valuable space, including paper records, files, servers, PCs and IT assets.
We'll manage the clean-out process and facilitate the secure destruction of the items you don't need and the temporary or permanent storage of the ones you do.
Benefits of Iron Mountain Clean Start:
✓ Reduce your real estate footprint to lower costs and improve ROI
✓ Repurpose space for higher-value alternatives, social distancing or flexible work arrangements
✓ Recoup closets and storage space stuffed full of outdated IT assets, and unneeded office furniture and equipment
✓ Improve employee access to physical and digital information, wherever they work
✓ Standardise and consolidate file and IT asset management
✓ Digitise workflows to improve efficiency and save costs
✓ Meet industry-specific requirements for security, compliance, and risk-management Covid-19 accelerated digital workplace transformation
The COVID-19 crisis has accelerated digital transformation to support virtual workforces.
After assessing how your organisation creates, stores, and uses information, we'll recommend tools such as active file management, document scanning, and workflow automation to improve efficiency and support remote employees with anytime, anywhere access to information.
How Iron Mountain Clean Start can support your workplace transformation goals
Figuring out where to start your workplace transformation project can be challenging, but you don't have to do it alone. Our Clean Start® experts can help you maximise space and transform traditional offices into a digital workplace with minimal disruptions.
Whether you are relocating, reconfiguring or closing an office, every document, equipment and technology needs to be managed carefully and securely whether it is being stored, digitised, destroyed or donated. With this in mind, your dedicated Iron Mountain team will conduct an assessment and provide recommendations on how to best proceed to achieve your workplace transformation goals, starting with the consolidation of paper records, filing cabinets, servers, PCs, IT assets, office equipment, cabinets and artwork. Paper, eWaste, data and non-data bearing devices are carefully destroyed on-site or off-site with a proper chain of custody that is recorded. Assets can also be securely transported and stored in our facilities temporarily or permanently, with on-demand access to information digitally whenever you need it.
Digital transformation is a key component in capturing underutilised space and supporting a virtual workforce and giving your employees access to vital information anywhere, anytime.
After assessing how your organisation creates, stores, and uses information, we'll recommend tools to improve efficiency and support remote work, such as:
1. Assess
Iron Mountain conducts an on-site walk-through of your business and surveys areas for improvements.
2. Summarise
You'll receive a summary of your purposed improvements to review and discuss with the cross-functional teams.
Download the solution brief
3. Plan
Together, we'll create a best practice plan to follow and implement across departments to clear up space and transform organisation
Connect with a Clean Start expert today
Frequently asked questions
Whether you're rethinking or closing office space, navigating mergers and acquisition (M&A) activity, need to become more organised, or want to implement standard processes for managing information and data during real estate changes, we're here to help.
What is workplace transformation?

Workplace transformation is the process of creating or improving office spaces to meet the dynamic needs of organisations and a changing workforce. It is a planned activity often led by real estate and facility management professionals in collaboration with leaders throughout the organisation, as well as by service providers like Iron Mountain.
What drives the need for workplace transformation?

Workplace transformation can be driven by changes to your real estate footprint due to organisation expansion or consolidation, merger or acquisition activity, relocation, office closure, or redesigns of an existing office space.

Company initiatives, such as a shift to hybrid, remote work, or improving resource optimisation, can also require organisations to reevaluate their space. If there is dust on it, figuratively or literally, it may be time for a workplace transformation.
What are the risks of workplace transformation?

Years of normal operations and employee turnover can leave the workplace cluttered and disorganised. Confidential information and assets located in filing cabinets, storage closets, and at employee workstations not only creates risk but can also waste valuable space.

While traditional moving companies and real estate service companies can support office closure projects, most don't have the expertise, trained and vetted employees, or secure chain of custody to correctly handle and manage your organisation's most valuable assets as you make changes to your real estate.
How can workplace transformation support my organisation's shift to hybrid work practices?

As more organisations allow their workforce the flexibility to combine remote and office work, it is important to ensure a seamless transition to this new way of working and build a digital workplace.

While working virtually, employees will expect easy and quick access to both digital and physical information, in addition to tools that facilitate seamless collaboration.

Wherever or however they work, it is important that organisations stay in tune with employees' preferences and industry best practices as they transform their workplace.
How does Clean Start ensure data security?

At Iron Mountain, data security and confidentiality is our top priority. Our dedicated vehicles securely transports your documents with patented security, tracking, and auditable chain of custody. Physical documents are carefully handled by our trained professionals. Upon document digitisation, all electronic information is encrypted at rest and during transmission across a secure network with access restricted by encryption keys.

Once the digital documents are available in our secure cloud storage, you may authorise selected users to access only the information they need. The physical documents will then be returned to and safely stored in our offsite storage centres.
What types of assets can be disposed of through Clean Start?

Iron Mountain Clean Start can help you dispose of a wide range of assets, including:

Paper records, files, and documents
Desktop, PCs, and laptops
Filing cabinets
Mobile devices
Printers
Artwork
Tapes
Racking
Storage Systems & Devices
Networking Gear
Other IT assets and office equipment

If you are not sure if Iron Mountain can help with the disposal of your assets, feel free to check with us so we can advise you accordingly.
How can I get started with Clean Start?

Take 1 minute to fill up this contact form and our friendly Iron Mountain sales specialist will contact you within 1 business day.
We make it easy to get started.
Contact Iron Mountain Singapore
Contact us
Fill out this form and an Iron Mountain specialist will contact you within one business day.
Get a quote
Support centre
Our Customer Support Centre can help provide you with the quickest answers to your questions.
Get support
Contact customer service
Connect with one of our knowledgeable representatives to address your specific solution needs.
+65 6262 5622