Records and information management
Secure Shredding
Destroy your paper-based records at your commercial location in a safe and compliant way
Shred your documents to reduce liability
Iron Mountain Secure Shredding services protect the privacy of your information by destroying paper records and documents, plastics and media in a cost-efficient, safe and compliant way. Our online tools and on-demand reports covering key shredding metrics from usage to sustainability will help ensure efficiency and compliance.
Safeguard your organisation's reputation by securely shredding sensitive and confidential paper documents.
Reduce costs by shredding documents no longer useful or necessary.
Ensure compliance by shredding documents in accordance with federal, state and industry regulations to avoid penalties, fines or legal action.
Whatever your needs and budget, Iron Mountain Singapore has a shredding service designed to help save you the time, effort and headache of managing document shredding on your own.
Types of confidential material Iron Mountain can shred
Paper documents, any colour and sizes
Card stock
Photographs
Files folders (no need to remove staples, clips and rubber bands)
Envelopes (including window envelopes)
Laminated paper
X-rays
How it works: Iron Mountain secure shredding & document destruction process
When you engage Iron Mountain's secure shredding service, here is what you can expect.
First, Iron Mountain collects and transports your paper-based materials to a shredding plant, where they are processed and destroyed to a non-recoverable form using proprietary procedures and commercial-grade equipment.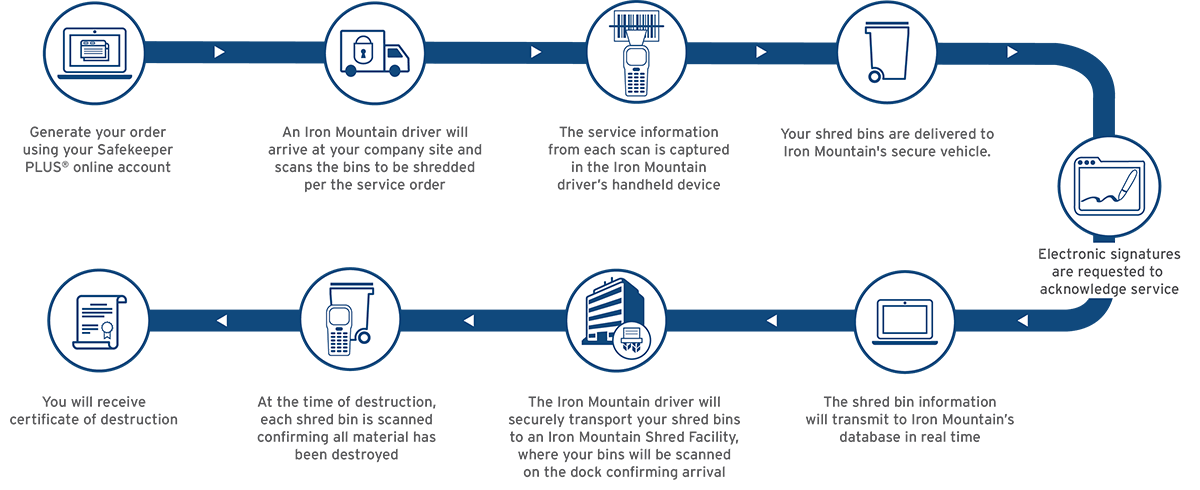 With Iron Mountain's offsite shredding workflow process, all material is collected at your location and transported to an approved shredding plant. Depending on a variety of factors such as the proximity of the shredding plant and the volume of material moving through the workflow, collected material may be securely stored at an Iron Mountain Consolidation Centre prior to being transported to the shredding plant for final disposition.
All Iron Mountain customers are serviced directly by Iron Mountain or by an Iron Mountain-certified subcontractor. A listing of our geographic service areas and subcontractor service areas is available if contractually allowable on request.
The monthly invoice will be delivered to you after the materials have entered the shredding workflow process. A Certificate of Destruction will also be provided as part of your monthly invoice. Alternatively, you can download it on Iron Mountain ConnectTM.
Iron Mountain secure shredding options
Why shred your confidential documents?
The answer is simple: Shredding is the safest way to destroy unnecessary paper documents that contain confidential information.
Document shredding removes the hassle of sorting through stacks of papers and moving files boxes around your offices, freeing up storage space while keeping your employees and customers information safe and secure. Benefits of document shredding include:
Declutter office
Save time & reclaim space
Protect employee and customer information
Ensure your business is compliant with the law
Grow customer confidence
For the following businesses, confidential document destruction and paper shredding is not just suggested, it's the law.
Healthcare organisations
Law firms
Financial service providers
Establishments that deal with extremely confidential information
Challenges of implementing an internal document shredding policy
When it comes to purging sensitive business documents, companies will often try to take care of it themselves by implementing different shredding policies. By deploying a Selective Shred or Shred-All policy, your organisation may be taking the right approach – but incurring unnecessary risk.
Below, we outline the common challenges and potential data security risks associated with creating an independent shredding protocol for your business, and examine the limitations of both Selective Shred and Shred-All policies.
Establishing a secure shredding programme is a great first step, but simply implementing it is not enough. Regular monitoring is required to minimise risk, ensure ongoing compliance, and manage costs. If you are amongst the business leaders who understand the mission-critical importance of a secure shredding policy – but don't want to incur the risk associated with a do-it-yourself strategy – then it's time to consider partnering with a trusted provider like Iron Mountain Singapore for document destruction.
Why engage secure paper shredding services?
Business documents and other media contain sensitive information that could become a liability to the company if they fell into the wrong hands. A secure shredding service gives you peace of mind that when you decide to purge your old documents, you are destroying them for good, with no chance of them resurfacing or finding their way into unlawful use.
Using a shredding service means you can skip the arduous process of creating policies and following up with employees to make sure they are adhered to. The contents that you would like destroyed will be done so legally and securely, adhering to the latest document destruction regulations. Iron Mountain Singapore will also provide a certificate of destruction attesting to the fact that the information has been destroyed as required.
Reduce privacy risk with Iron Mountain document destruction & secure shredding services
When it comes to choosing a document shredding service provider, there are plenty of vendors to choose from. Here's why Iron Mountain Singapore is your best choice:
When it comes to choosing a document shredding service provider, there are plenty of vendors to choose from. Here's why Iron Mountain Singapore is your best choice: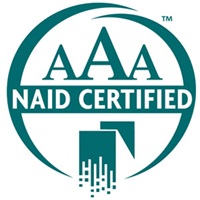 Naid AAA certification from I-Sigma
NAID from i-SIGMA is the only recognised independent source for security and ethics standards in the document destruction industry. NAID's AAA-certification from i-SIGMA ensures Iron Mountain meets the highest legal and compliance regulations required for secure information destruction.
NAID's AAA-certification from i-SIGMA indicates that Iron Mountain's Secure Shredding service meets the highest legal and compliance regulations required for secure information and document destruction.
Secure shredding services tailored to your needs
With the Iron Mountain Connect online portal, you will be able to:
Manage your shredding services by viewing scheduled visits and pending shredding orders at your convenience
Make on-demand shredding service requests, add or close locations, and change the frequency of your paper shredding service
On-demand reports to manage compliance and reduce the cost of your shred program
Our Shred Usage Report is a valuable tool, providing the insight you need to better manage your document shredding program. By reviewing this report and identifying key trends over time, you will be able to correct potential compliance issues before they impact your business and identify opportunities to reduce costs.
Proven document destruction workflows with the highest level of security
Our operating shredding procedures and secure chain-of-custody processes are validated through decades of experience. Our InControl technology captures key information at the time of shred service at your location — including barcode scanning, shred container volume capture, and electronic signature and time/date stamp— providing you greater control and, more importantly, the peace of mind that comes from knowing your sensitive information is always secure.
Trained and vetted personnel
Iron Mountain shred personnel pass comprehensive background checks and receive rigorous, ongoing training on secure shredding services. They are experts in their field and take pride in knowing they are not just shredding documents, but also protecting your business.
World-class shredding facilities
Iron Mountain shred facilities provide some of the industry's most advanced systems to safeguard your information, including:
Strict visitor policies
24x7, closed-circuit television surveillance cameras
Intrusion detection and environmental control systems
Environmentally responsible
Get the best of both worlds. By partnering with Iron Mountain, a company that provides a secure shredding service and offers a certified recycling programme, you get to support the environment and fulfil your corporate social responsibility (CSR) without compromising your confidentiality and security. After securely shredding your documents, Iron Mountain recycles all shredded material and provides a Certificate of Destruction for your audit purposes.
Speak to our shredding experts today to learn how Iron Mountain can cater to your specific business needs.
We make it easy to get started.
Frequently asked questions
Learn more about our entire range of popular secure shredding services, or reach out to ask questions of your own.
What can Iron Mountain shred?

The following CAN be securely shredded:

Clean paper, any colour and any size
Blueprints
Newspapers
Magazines
Brochures
Mail — including window envelopes
Photographs
X-rays
File folders, any colour (no need to remove staples, paper clips, rubber bands, or small binder clips)

The following paper based materials can NOT be securely shredded:

Cardboard
Wet or mouldy material
Telephone books
Hardcover books
Plastic bags and packing material
Transparencies
ID badges and driver's licences
X-rays
Why should I shred my documents?

Secure shredding allows businesses to safely destroy unnecessary paper based documents that may contain confidential information. Shredding can help prevent identity theft or data breach, free up space, and recycle documents.
How do I prepare for a one-time shred service?

1. If you are first time customer, please contact us.
2. If you are existing customer, please follow the steps below.

Place an order online through the Iron Mountain Connect online portal.
Our Customer Support officer will contact you to schedule the service date.
If you are using the Offsite service, all material that needs to be destroyed should be placed in a dry box with a lid for our driver to pick up.
Can you pick up the documents from a separate storage unit?

Iron Mountain Singapore does service most locations nationwide. Please contact us to verify that your location is accessible.
Is the paper shredded onsite?

Iron Mountain does not provide onsite shredding services.
If you opt for the Offsite service, paper is picked up from your location and transported to a shredding facility for final shredding. You can request for a Certificate of Destruction once the service is complete.
I have a one-time shred service, how do I know my materials have been destroyed?

You can track the and request for a Certificate of Destruction to notify you that the service is complete.
Contact Iron Mountain Singapore