The small business digital evolution
Solution Guides
Small businesses worldwide are already reaping the benefits of more streamlined operations, safer storage, and faster growth.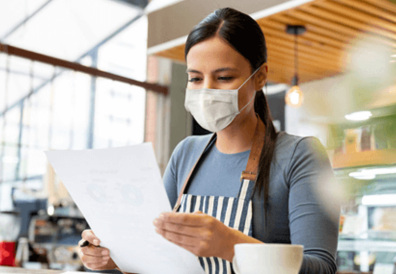 How to bring your small business into the future
The adoption of digital operations is on the rise among small businesses due to economic growth, increased security demands, and the need for quicker access to information for employees and clients in a global marketplace. In fact, less than 24% of small business leaders are planning to continue with paper-based files and processes into the next year.
Digitizing is no longer a nice-to-have option for small business success. It's a real-world requirement. The coming years will bring a majority of vendors, other small businesses, and customers who expect some level of digitization when interacting with your company. Digital records and workflows are needed to stay competitive, safe, and resilient while meeting the needs of these stakeholders.
Here's what you need to know about digitization and bringing your small business into the future.
Why small businesses are making the switch to digital
While there are numerous reasons for small businesses to go digital, many owners have two things in mind: increase security and adopt a workplace of the future.
Increase security: From a security perspective, businesses can recognize the benefits of digital records, including:
Reducing human error
Safer storage and recovery
The ability to quickly grant or remove file access
Paper records are susceptible to loss, damage by flood or fire, or theft. Improper storage of these records increases this risk and further compromises protected information. Unexpected global events and increasingly remote workforces can hinder access and sharing of physical files. When you embrace digitization, you ensure better recovery in the event of a disaster and business continuity for the future.
Adopt a workplace of the future: In a remote and global work world with ever-advancing technology, speed and efficiency are standards. Customers and vendors expect quick access to information when interacting with your company. Remote employees need to maintain productivity regardless of their work environment. By converting to digital, you can find, share, and send files in minutes instead of hours or days.
Digitization also frees up valuable office space previously taken up by paper files. This space can be used for more important business operations or to create a more dynamic environment for a multi-generational workforce.
5 steps for going digital
Whether you've been converting to digital records and workflows for quite some time or are just beginning to move away from paper, digitization is an effort that requires both immediate action and long-term strategy. To get the most out of your information and to increase the ROI of going digital, here are five steps to follow on your digitization journey.
Identify what documents you have, their retention rates, and if they should be scanned, stored, or destroyed. You should identify not only what you have but what value it holds for your business.
Digitize the documents you've just identified by scanning them with a digitization process that works for your business. This can be an entire backlog conversion, image on demand, or day-forward digitization.
Store the documents in a centralized and secure digital storage repository. There are a range of storage options available that can be customized for small to midsize businesses.
Automate your document-centric processes with workflow automation. As a part of your long-term digitization strategy, automation frees your employees to spend their time focusing on high-value activities instead of busy work that has less impact.
Unlock key business trends and insights by analyzing your digitized records. Although it's often more hands-off to manage digital data than paper, digitization still involves some level of management. Analyzing your data has a profound impact on your company's digital transformation success.
There's no one right way to master digitization because it all depends on the needs and budget of your small business. Using these five steps as a guide ensures that you are taking a holistic approach to digital conversion and putting information management at the forefront.
Join the (r)evolution
Small businesses worldwide are already reaping the benefits of more streamlined operations, safer storage, and faster growth. If you have not yet made the switch to digital, consider defining your business goals and see if digitization can help optimize your operations.
Ready to join the digital (r)evolution? Visit our Small Business Basecamp to begin your journey to transformative information management and to get more tips for taking your small business from paper to digital.
Elevate the power of your work
Get a FREE consultation today!