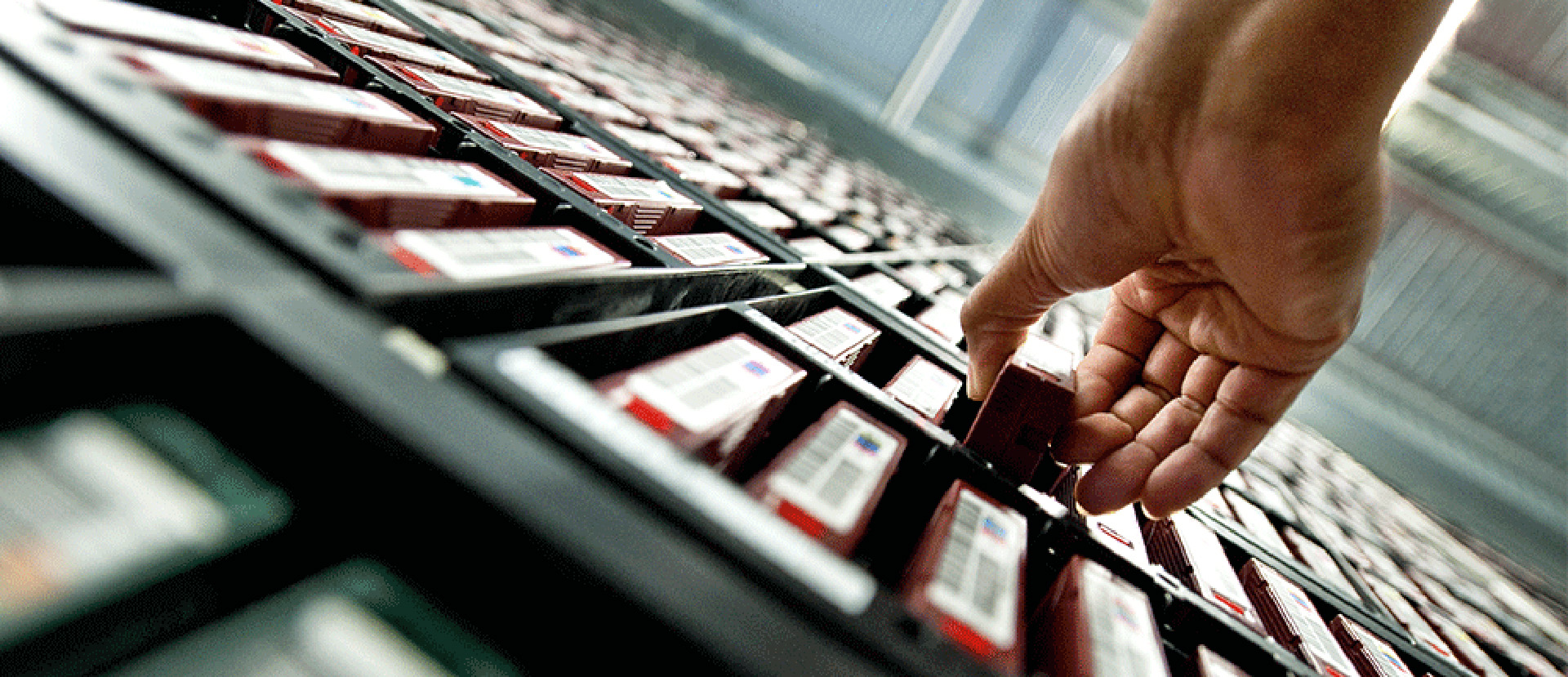 Data Restoration and Migration
Offsite Tape Vaulting
Leave the backup and storage of your archival tapes in our safe hands and focus on driving business innovation
Protecting and preserving business data offsite - meet compliance requirements while ensuring data availability
Dealing with the consequences of hardware malfunctions, human errors, software corruption and man-made or natural disasters can impact productivity. But the data has to be backed up and, more importantly, protected offsite so it's available for recovery.
Iron Mountain Singapore's Offsite Tape Vaulting services provide you with a comprehensive data protection solution for transporting, storing, managing and retrieving your backup media from a secure, offsite facility.
We have the expertise to ensure you can get back up and running should the unexpected happen. Our rigorous chain-of-custody protocols and secure logistics ensures your critical information is protected while in transit and at rest. And, because your media is managed following proven procedures and best practices, you'll be confident in your ability to find what you need when you need it, any time an internal or external source requests data from a specific tape.
How Iron Mountain Offsite Tape Storage Works
Iron Mountain offsite tape storage solution provides comprehensive support for tape backup, archiving, and storage. Here are the key steps and services involved in Iron Mountain Singapore's offsite tape backup and vault storage:
Cloud-based Tape Backup: Adopting a new tape backup strategy and migrating to a new technology can be complex and costly. Iron Mountain's cloud backup solution offers a flexible approach to back up with differing levels of support and scale depending on your requirements.
Offsite backup tape drive libraries provide a practical and cost-effective solution for protecting business data offsite and offline, but this does not mean information is out of reach. When you need it, our ReQuest Web Portal enables you to you know exactly where your data is and how quickly it can be retrieved. With threats like ransomware, storing your data and media remotely offers the most secure data storage option for your business.
Climate-controlled storage ensures there is minimal risk of damage or data loss, whether you are storing your backup tapes in the short term or your data centre's archived tapes for the long run.
Managed restoration ensures your archival tapes can be restored and data migrated at any time and at a predictable cost.
Free your it staff from managing data backup and vaulting from afar
Eliminate the need for onsite personnel to perform backup tasks
Protect your data via a documented chain of custody to ensure its security and accountability
Frequently asked questions
Frequently asked questions about Iron Mountain Offsite Tape Storage Solutions
Why outsource tape backup and storage to Iron Mountain?

Iron Mountain has over 70 years' experience in information management, trusted by over 225,000 organisations around the world and the FORTUNE 1000. We work with organisations of all sizes and industries to streamline their data management and recovery processes whilst assisting with local legislative and industry compliance, saving time, money and mitigating potential reputational damage in the event of a breach or emergency.
How can we be sure that our backup data is secure?

Iron Mountain has invested significant resources in order to provide highly secure storage vaults and off-site storage processes. From climate controlled transportation, fire prevention and security measures and environment controlled facilities, background checks for employees, leading technology, and stringent processes; you will have peace of mind that your data is safe with us.
Where is our tape stored?

Iron Mountain has multiple secure vault storages in Singapore located in disaster-proof areas that are also convenient to access to allow for rapid recovery.
How can you help us with disaster recovery planning?

Utilising best practise and industry expertise, Iron Mountain consultants will work with you to develop a tailored data protection and recovery plan across multiple locations throughout Singapore, taking into consideration a range of disaster scenarios which could impact your organisation. will then be returned to and safely stored in our offsite storage centres.
We make it easy to get started.
Contact Iron Mountain Singapore