Norcross volunteers go the distance for education and public health
General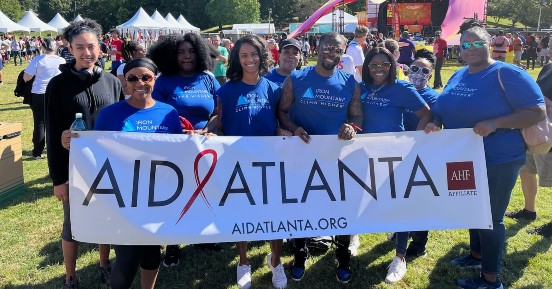 Georgia volunteers excel in community service.
The citizens of Norcross, Georgia, have much to be proud of. Among the town's many assets, a 112-acre area in the growing town of 17,000 residents is listed on the National Register of Historic Places for its part in the nation's railroad history.
Norcross also claims one of the Atlanta area's five Iron Mountain facilities. Located on Live Oak Parkway, this location provides Secure Shredding, Scanning, Secure IT Asset Disposition, and data management services. Recently, its employees gave Norcross something else to be proud of: The Iron Mountain Community Care team.
Seeing opportunities in their community to give back, the team put together not one, but two events – one to acknowledge teachers and students, the other to support the continuing battle against HIV/AIDS.
We can't forget the teachers
At the end of each summer, before school resumes, the web page of Graves Elementary School posts all the supplies its students need by grade level – K through 5. Typically, the Norcross community rallies to provide students who can't afford supplies with what they need to succeed.
But what about their teachers? It's a fact that educators often pay out-of-pocket for many classroom essentials. In fact, a survey by the Economic Policy Institute reveals that teachers spend an average of $459 each school year on supplies.
Knowing this, Travis Brice, the Norcross location's director of Customer Care, worked with the Customer Service Employee Engagement Committee, and fellow Mountaineers to collect everything from paper towels and sanitizing wipes to pencils and art supplies for the very thankful teachers.
"The teachers were overwhelmed and truly appreciative," Brice says. The event was such a success that Brice and his volunteer team plan to keep it going in the future. "We hope to make this an annual event among the other ones we have planned," he says.
Supporting strides in HIV/AIDS care
For its next project, the team recently participated in a 5K walk and run benefiting AIDS Atlanta, which supports care for Georgians living with HIV/AIDS. The Mountaineers raised $1,000 for the event, which was held in Atlanta's Piedmont Park on September 24.
"We're always looking to promote health and wellness," Brice says. It's also a way for many of us who've been separated by a hybrid work model to bond once again," he adds. These two examples of Mountaineers giving back are just part of how Iron Mountain supports its local communities. Last year alone, Iron Mountain's team members donated over 10,000 hours of their time – and based on projections, we expect to be able to report approximately 30,000 cumulative hours of volunteerism for 2021 and 2022. That's almost 1/3 of the way to our 100,000 hours by 2025 goal!
Volunteering is part of our larger corporate responsibility initiative. Read more about it in the 2021 Corporate Responsibility Report. You'll learn all the ways — big and small — that we're improving our communities and the planet.
Citations: https://www.epi.org/blog/teachers-are-buying-school-supplies/
Elevate the power of your work
Get a FREE consultation today!