Everyone plays a role: Gary's story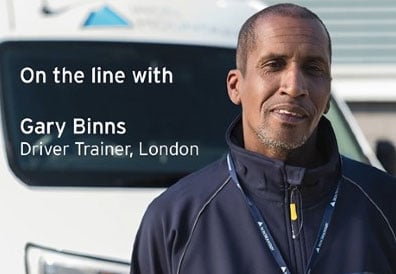 In London, England, Gary Binns is part of a team that has piloted the EV Fleet of the Future for Iron Mountain. As a driver trainer, Gary is an educator and teacher working with a team to help make a positive impact for customers and the broader community.
Gary Binns is a debriefer and driver trainer at the Cody Transport Hub in East London. He's also doing his part to contribute to Iron Mountain's sustainability story.
Despite local football rivalries with his team, being one of the only Manchester United football fans on his team (most of the others root for Tottenham), Gary knows that it's only through a collective effort that they can make a difference.
"It's not down to one person. It's hard to change things in one person, but if you've got a whole team on board then it does make things a lot easier."
Earlier this year, Iron Mountain launched the "Fleet of the Future", an initial program of Electric Vehicles for use in and around London. This is just one step in a global plan to convert more vehicles to electric. Soon, Iron Mountain will be rolling out EVs across Europe, North America, Asia and South America.
This is important because air pollution is an issue for all of the communities Iron Mountain serves. Gary takes a sense of pride in playing his part.
"Everything we do here, in some way, affects the environment. So it is very important from the littlest things, down to the last person turning the light off, saving that excess energy, to the bigger things like this new EV program. Everybody has a part to play."
Gary is actively writing new chapters in our sustainability story as a company.
Everyone plays a role. What's yours?
Elevate the power of your work
Get a FREE consultation today!