Bill Meaney named one of comparably's best CEOs for diversity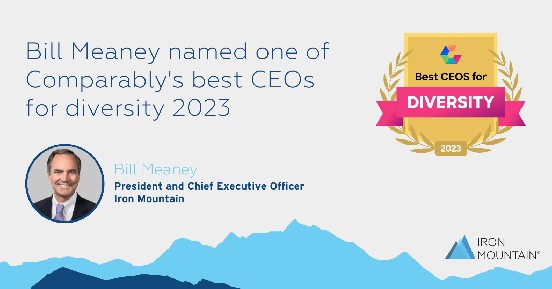 Iron Mountain President and CEO Bill Meaney was recently named among the best CEOs for diversity in a large company by Comparably.
"I'm proud of the global diversity represented in our Mountaineers around the world. For me, diversity is not only the right thing morally, but it's a critical business imperative if we are to access the largest pool of talent and the best ideas and creativity to fuel a customer-centric, innovative, and fast-growing company," said Meaney.
The list is based solely on ratings provided by current employees of color who anonymously rated their CEO over the past year. As a qualifying company, more than 75 qualifying employees participated.
You can find Iron Mountain's Comparably profile here.
Elevate the power of your work
Get a FREE consultation today!