Moving mountains milestone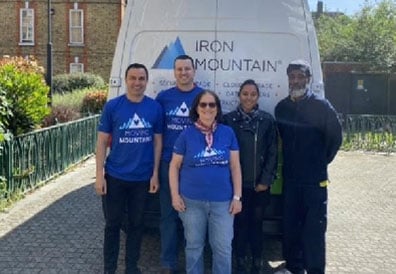 Iron Mountain's community service program is halfway to goal of 100,000 logged hours.
As part of our commitment to strengthening our communities, our Moving Mountains volunteer program encourages our employees to contribute to positive change in their communities by providing full-time employees sixteen hours and part-time employees eight hours of annual paid time off to volunteer.
The Moving Mountains program has been around for over a decade in some regions, but in 2021, we set a goal that employees would volunteer 100,000 hours for a community or civic organization close to their hearts by 2025 and log it in our Moving Mountains portal. This summer, we officially hit the halfway point, logging 50,000 hours. The portal allows us to track and celebrate the acts of service our employees do in and for their communities.
"That 50,000 hours - that's a lot of blood drives, people helping in classrooms, walking dogs at animal shelters - we're doing those things that are really having an impact at these charitable organizations and through humanitarian support all across the globe," said Jennifer Grimaudo, Senior Director of Sustainability. "It positively impacts our Mountaineers, and they feel great about the company they work for, and they can come back with those experiences and feel good about what they've done."
As of August 14, 2023, we've logged 60,259 volunteer hours worldwide. You can learn more about how we're taking care of our employees here.