Spotlight on: Jennifer Grimaudo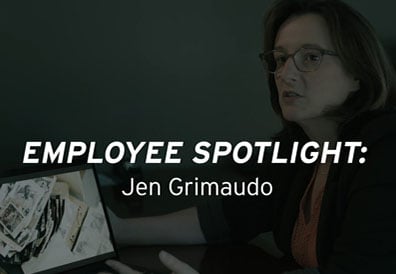 25 years ago, Jennifer Grimaudo applied for a job at Iron Mountain while she was working her way through college. She started out in a facility in a suburb of Cincinnati, Ohio as a Vault Specialist. Today, she's the Senior Director of Sustainability.
"In a facility that size, you wear a lot of hats, so I got to learn about billing processes, how to drive a van and do routes, and how our inventory management system worked," said Grimaudo of that first job. Since those days in Cincinnati, Grimaudo "probably couldn't" list all the roles she's held at Iron Mountain - with her best guess being more than ten. Each role she saw as an opportunity to learn and experience something new, all while wanting to "leave things better than [she] found them."
As Senior Director of Sustainability, Grimaudo leads our enterprise sustainability efforts. Key parts of Iron Mountain's sustainability program include reporting on our environmental and social impacts, monitoring progress toward our emissions reduction goals, supporting nonprofits focused on cultural heritage preservation, and supporting the Richard Reese Employee Relief Fund.
"I was really proud of how we were able to support our team members during COVID through the Relief Fund," she said. "And I'm incredibly proud of the evolution of our Living Legacy work. Being able to use Living Legacy as a platform not just to enable meaningful work by nonprofits focused on preserving and making accessible cultural heritage information and artifacts, but also as a platform to share the power of our products and services with employees, customers and communities is something I think will always be a highlight for me."
In addition to her role as Senior Director of Sustainability, Grimaudo is the Vice President of the Board for both the Richard Reese Employee Relief Fund and the Iron Mountain Charitable Foundation. We're grateful for her years of service to our company, our customers and our Mountaineers.
Elevate the power of your work
Get a FREE consultation today!