Crozier Fine Arts preserves priceless artifacts for Academy Museum of Motion Pictures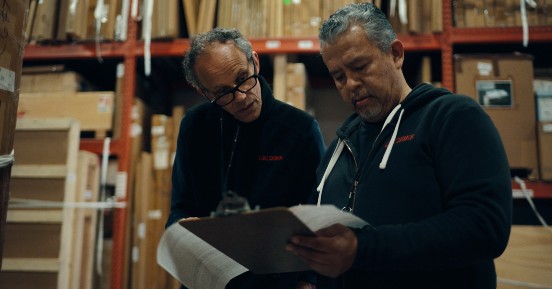 An Invisible Art
At the Academy Museum of Motion Pictures in Los Angeles, California, a rare and impressive collection of hand painted backdrops has been added to the permanent collection.
When Kamal Zargar (Crozier Fine Arts) first stepped foot inside the Hurd Gallery, he was overwhelmed by the scale and magnitude of the iconic backdrop from Alfred Hitchcock's NORTH BY NORTHWEST (1959). From a distance, it's as if you're really looking at Mt. Rushmore, seen in the film during one of its most pivotal scenes. While on one hand overwhelming and completely immersive, viewers are also able to get up close and see each individual detail from the artisans who created these massive works of art.
Like those who created the backdrops, Kamal and the team at Crozier Fine Arts also are working behind the scenes to help the Museum build a custom storage solution for preservation. Since they range in size dramatically (one of the largest is 72 feet wide and over 30 feet tall!), the Crozier team had to come up with a plan that could respond to this collection today, as well as the potential for additional backdrops in the future.
Since the Museum's opening in late 2021, Crozier has been a trusted partner to help with special exhibits that include a wide variety of historic film props and artifacts that bring to life the incredible art form of the motion picture. From The Godfather to Casablanca, Jaws to The Sound of Music, these films have been part of the cultural fabric of our world and the Crozier team is playing a critical role in ensuring they are accessible to generations for years to come.
Elevate the power of your work
Get a FREE consultation today!