Data centers 101: types of data centers
Blogs and Articles
Read our data center guide to learn how data centers manage and protect critical data for organizations, with helpful tips on how to choose the right data center.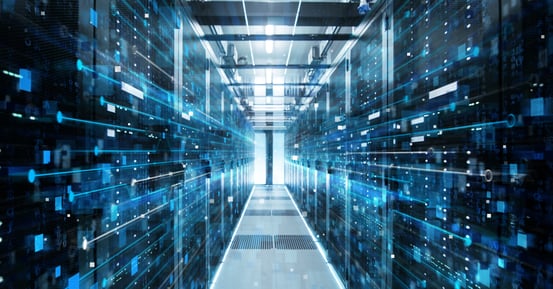 Iron Mountain Data Centers is a global data center leader. Our global colocation platform enables customers to build tailored, sustainable, carrier, and cloud-neutral data solutions.
What is a data center?
A data center is a facility that houses IT equipment and computer systems for an organization, where rows and rows of servers are often housed in highly secure cages.
These highly secure facilities require redundant or backup power supplies, redundant data communications connections and environmental controls (e.g., air conditioning, fire suppression). They are highly secure facilities staffed by operations and security personnel.
Read our Data Centers 101 guide below for information on the different types of data centers. Or watch What is a Data Center? to learn more.
What do data centers do?
Ever heard of the cloud? The cloud lives in data centers. All the data we create - from the photos on our phones to the movies we stream to the data we collect at work - is stored in a data center somewhere.
Data centers are used by organizations to store, process, and manage large amounts of data, and to handle the vast number of hardware and software components that are required to support them. These facilities are critical to the operations of many businesses, as they provide the infrastructure and resources necessary to keep data and systems running smoothly.
What types of data centers are there?
There are many types of data centers. Large companies like Iron Mountain Data Centers have many different kinds of data centers. Here are several examples:
Colocation data centers
Colocation data centers provide space, power, cooling, and connectivity for the servers and other hardware of multiple organizations. The organizations that rent space at these facilities are known as "tenants."
For many organizations, a colocation facility is the best solution. First off, it is less expensive than building your own data center. Space in a colocation data center is often leased by the rack, cabinet, cage or room. These facilities are often referred to as multi-tenant data centers (MTDC) as there are many organizations within the facility. This can be a great advantage for organizations looking to connect to other providers within the same data center.
In addition, a colocation facility adheres to strict physical security protocols. It provides operational efficiency so your organization can concentrate on doing what you do best, rather than running a data center.
Hyperscale data centers
Hyperscale data centers are huge facilities with vast data processing and storage needs. They are usually built by or for one organization to meet the specific technical, operational, and pricing requirements of a hyperscale customer.
Tier 2 hyperscale customers require 2 to 5 MW (megawatts) at a time, and require the ability to expand by growing into adjacent space. Mega hyperscalers have even larger requirements, ranging from 10 to 70 MW.
Iron Mountain Data Centers has many hyperscale data center customers, including cloud service providers which host applications and store data in the cloud.
Edge data centers
Edge data centers are one of the other main types of data centers. These are smaller facilities that are located closer to end users at the edge of a network to provide low-latency computing. They offer the same services as a traditional data center but have a smaller footprint.
Edge data centers are growing in popularity as organizations look to get closer to their users to reduce the time added to data, applications, and services. Edge data centers can sometimes be found in repurposed buildings. They include all the same traditional mission-critical services but on a smaller scale.
Underground data centers
An underground data center is a unique type of facility because it is located underground. Iron Mountain Data Centers has an underground data center in Boyers, PA, which is located 220 feet below the earth in a former limestone mine. It is cooled by an underground lake. We also have an underground data center in Kansas City.
Both Iron Mountain underground data centers provide unbeatable levels of security and additional protection from natural disasters. This makes them excellent colocation solutions for highly regulated markets such as governmental organizations.
Enterprise data centers
An enterprise data center is a facility owned or leased by a single organization and used to support that organization's internal IT needs. Enterprise data centers can be a full-capacity data hall built for a specific customer within a colocation data center or an on-premise data center built by an organization. Enterprise facilities have specific connectivity, network and power requirements, and are built to suit that organization's needs.
What does a data center include?
Network: This is the hardware and software that are used to connect the servers and storage systems, as well as to connect the data center to the internet and other networks. It can include switches, routers, and firewalls.
Power: Data centers require a reliable source of power to keep their systems running. This can include backup generators and uninterruptible power supplies to ensure that the location stays up and running even during a power outage.
Cooling: Colocation facilities generate a lot of heat, so they need a way to keep their equipment cool. Cooling systems include CRAH (computer room air handler) units, which use cooling coils and a water chiller system to remove heat, and CRAC (computer room air conditioning) units, which use mechanical refrigeration to cool the air in a data center.
Some buildings use free cooling techniques. Free cooling systems use naturally cool air or water to cool the data center. The outside air in some locations is cooler than what is in the buildings. After filtering and humidifying this air, it is pumped into the facility for cooling.
Some locations use a natural source of cold water for free cooling. The water may come from a river, lake or even the ocean. This cool water is circulated in the data center and used instead of a traditional closed water loop with a chiller.
Geothermal cooling is currently under development as a sustainable future cooling solution. This type of system uses natural ground temperatures to cool or heat.
Physical security: Data centers need to be physically secure to protect against unauthorized access, theft, and other threats. Security includes security cameras, access controls, and other security measures.
How to choose the right type of data center?
Choosing the right type of colocation facility to house your company's critical IT infrastructure is a big decision. Here is what to look for in a data center provider.
Partner with a trusted brand
You need a colocation partner you can count on. For more than 70 years, Iron Mountain has protected and secured our clients' vital assets. For decades, Iron Mountain Data Centers has delivered this same trusted service to our data center clients.
Choose a colocation provider that invests in sustainability
Ask your provider where their power comes from and if they make a choice to source high-quality renewable energy. If your colocation provider does use renewable energy, ask if they can provide documentation so that your company can claim carbon reductions and green power usage when reporting to meet your company's sustainability goals.
Iron Mountain Data Centers is powered by 100 percent renewable energy. Watch Three Questions to Ask Your Data Center about Environmental and Social Responsibility
Review Site Security
Your information assets and business critical infrastructure are sensitive and proprietary. Your provider must offer the right technical and physical practices to assure your confidence in the security of your data.
Review Compliance and Redundancy
Your colocation provider mitigates risk through physical and environmental controls from an operational and security standpoint. Be sure to review their compliance program. Ensuring proper redundancy, maintenance, and operation of critical infrastructure, along with upkeep and continual improvement of a physical security program, are part of a comprehensive compliance program.
Watch 5 Things to Ask Your Data Center About Compliance
Look at the Data Center Ecosystem
It's important to consider your data center ecosystem and evaluate your organization's needs. Access to an ecosystem of Network service providers (NSPs), Cloud service providers (CSPs) and a diverse variety of service and solution providers is key.
Elevate the power of your work
Get a FREE consultation today!