How the data center industry can support customers in today's challenging times
Blogs and Articles
Dan Rattner, Chief of Staff, VP, Administration, Data Centers at Iron Mountain, shares how COVID-19 has impacted the data center industry and given rise to innovation.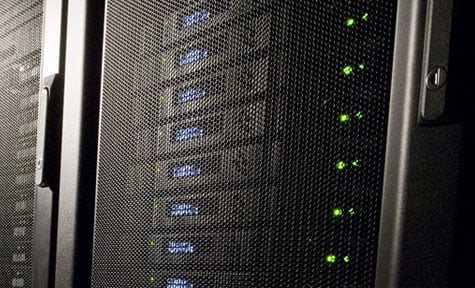 The last few months have changed the way we live and do business. Like others, we've had to innovate and adapt at lightning speed to help protect our employees and service our customers.
While the current situation has been challenging, it has also shown us new ways to work and support our customers.
Changing the way we work
Like many others, we sent all non-front-line staff to work at home when the pandemic closed things down. We limited those onsite to our security, critical facilities and service delivery teams, and asked our customers to limit onsite teams to those who were critical for a break/fix or to support emergency needs.
Now, as things open up, we're easing our restrictions slightly by supporting new customer installations and will continue to monitor and adapt activities at individual sites as the situation evolves. We've changed how we manage access to the data center. For example, in the United States and Singapore, anyone who enters the data center answers a health questionnaire, has their temperature taken, and is required to wear an appropriate face covering.
We are also providing dedicated time slots for our customers and vendors to access different areas of the data center, in order to allow us to clean the spaces on a set schedule. In our European sites, we have implemented similar safety measures, but are tailoring our screening and access control procedures to prevailing local practices.
Globally, our teams are following strict protocols for daily cleaning of more than 2 million square feet of space, and closely monitoring the health of our 24/7 operations and security staff to ensure we have critical staff coverage across our data center portfolio.
Our customers and vendors have been overwhelmingly responsive to changing their work styles to support each other and keep the business moving. It's been a pleasure to see how supportive they have been regarding the changes in our procedures.
This seems to be a consistent story throughout the data center industry. The industry remains focused on making sure that operations are not interrupted, while taking appropriate measures to ensure the safety of staff and customers.
Changing customer needs
As the world situation has changed, we've noticed an uptick in remote and smart hands services because customers aren't able to be onsite. They have been asking us to perform tasks that their own teams would previously handle. We anticipate that customers will continue to request more remote hands services than in the past even after we relax the restrictions.

The current economic downturn has affected some of our customers, and there have been a small number of requests to defer payments. We understand that these are unprecedented times and are working collaboratively to help customers get through this situation.
Increase in demand
As more business moves online, we are seeing increased data center demand. Our major customer verticals include government, healthcare and financial services, all of which are seeing increased demands in communication requirements.

Another reason for increased demand is the change in work style globally. Remote workers are using more bandwidth, sending more messages, holding more video meetings and sharing more documents. Even healthcare is being provided online - I had my first virtual doctor's appointment the other day.

Remote educational activities are also adding to demand, while online personal communication has increased. People are using video chat to stay in touch, streaming more content and being more active on social media.

As a data center provider, it's all about providing capacity to meet the requirements of the changing digital economy.
Innovation
The current times demand innovation. At Iron Mountain, we're utilizing technology more and more for analytics that benefit our employees and customers. We look daily at each facility. We assess the health of our team. We assess the number of people onsite, including contractors and customers, as well as smart hands requests. Our priority is to keep our front-line employees safe and healthy. By doing so, we are in the best position to maintain our uptime commitments to our customers and support all our stakeholders.

We recently built a new analytics dashboard that allows our remote operations leadership to have a much more comprehensive view of our customers and the services they are utilizing at each of our data centers so we can more rapidly respond to their needs. We are currently working on a real-time tracking solution that will allow us to identify areas of the data center where people are moving and congregating so we can better enforce social distancing protocols.

On the marketing side of the house, we have rolled out a guided virtual tour process that allows our sales reps to conduct tours of the data center using 360-degree video footage and Google Hangouts. We've hosted virtual events and meetups and have conducted virtual hiring interviews. All of this continues to evolve as the situation changes.
Looking to the future
Though the current pandemic has shaken things up, the data center industry has continued to thrive. Companies have been going through a digital transformation for a long time. One of the things that COVID-19 is doing is putting a different slant on digital transformation - and that has increased demand for data centers.

There seems to be more understanding now of what data centers are and what they do. Many companies are reconsidering their own requirements and thinking more about colocation rather than continuing with their own data center.

As we look to the future, we will continue to move very slowly in the return to whatever the new state is going to be. It's all about balance. This is a whole new experience for everyone.

The other word that underlies this time in our history is flexibility. We need to provide flexibility to our employees, as well as to our customers in the way they interface with us and the way we support their requirements for flexibility in their own business.

In the end, it's about finding solutions together. Regardless of how things evolve long-term, I believe the work we are doing now as an industry - the processes, the analytics, the teamwork - will make us stronger employers and place us in a better position to serve our customers.



Elevate the power of your work
Get a FREE consultation today!