Navigating the road ahead: Working together for a sustainable future
Blogs and Articles
As AI drives higher energy consumption and increased demand for data resources, Chris Pennington of Iron Mountain Data Centers looks at how the industry is working together on sustainable solutions.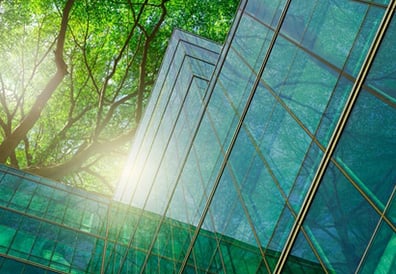 The data center industry has undergone a transformation in recent years. The pace of technological advancement and our society's increasing reliance on data-driven solutions have thrust the industry into the spotlight, raising questions about sustainability, collaboration, and our collective responsibility.
AI's transformational impact
Recently, the proliferation of generative AI technologies is driving higher energy consumption and an increased demand for data center resources. With AI-driven solutions poised to reshape numerous sectors, data centers are on the precipice of evolution to meet these intensifying demands efficiently and sustainably.
Our data center customers who are further into the journey of utilizing AI are asking for space that has higher compute density. Their servers are working harder which consumes more power and creates more heat. Generative AI models use graphics processing unit (GPU) chips which require 10–15 times the energy of traditional CPUs. Many models have billions of parameters and require fast and efficient data pipelines in their training phase, which can take months to complete.
This drive towards utilizing AI to help improve solutions for everyone is increasing the power and cooling intensity of our data centers. ChatGPT 3.5, for example, has 175 billion parameters and was trained on over 500 billion words of text. Training a ChatGPT 3.5 model requires 300-500 MW of power. Currently, a typical data center requires 30-50 MW of power.
Our data centers will need to be more productive in the future than they have ever worked in the past. Supporting a load that is 10X what previous data centers were designed for will not be achieved simply by having the facility work harder – we need it to become more efficient. Thus, a new breed of data center is emerging, capable of supporting loads at a scale that may have been unimaginable only a short time ago. And, we need it quickly which will require coordination, collaboration and an effective ecosystem of providers. Fortunately, the industry has already demonstrated that it has the skills to take on tough challenges.
Mini-documentary showcases industry collaboration
Transforming Our Future: Working Together to Green the Grid is a short documentary that shows how the industry is working together to develop sustainable solutions for powering our digital future.
It brings together industry experts that form the complete supply chain from CEBA, Cleartrace, Google, Iron Mountain Data Centers, Microsoft, NRG and RPD Energy to share how they are working together to green the grid for everyone.
Watch the documentary and learn how you can get involved
We see companies that compete in the same industry can have similar goals and approaches, and in fact, work together to develop solutions.
That collaboration is seen in the Clean Energy Buyers Association, the Climate Neutral Data Centre Pact, and even bigger initiatives like the Climate Pledge or Science Based Targets initiative. As an industry, we're collectively showing up together more and more often to collaborate and find ways to solve some of the biggest challenges around the future sustainability of our industry.
Powering data centers with carbon-free energy is just one chapter of the story. Subsequent chapters will show how that collective effort will help companies of all types reduce their environmental footprint by using sustainable data centers and therefore making all of our carbon footprints a little bit smaller.
Helping companies meet sustainability goals
As companies increasingly utilize technology and data to deliver their services, their energy footprint is increasing due to the digital infrastructure required to support those services.
There's data all around us. Everything that was once delivered in an analog format is being enhanced by applying improved technology and digitalization. Companies that are helping deliver better, safer, easier solutions using technology will naturally have an increasing digital energy footprint.
As we continue to use more data in our lives, companies need to recognize that 'digital footprint', which is very real, along with the rest of their environmental performance. More than ever before, companies are setting impactful goals to decarbonize and put rigorous compliance practices in place to live up to new goals.
As the data footprint grows, it becomes an increasingly important piece that needs to be considered as a company seeks to achieve its overall goals. Using data centers, which collectively are driving massive amounts of new clean energy development onto our grids, is one way that companies can make material progress toward achieving their corporate goals for decarbonizing. In short, when a company makes a procurement decision regarding its data center provider, that company is also procuring its own future environmental performance.
Raising awareness and understanding
There are still many misconceptions surrounding data centers. When people see data centers expanding, they look at that increased physical footprint and think that the company name on that data center is responsible for all this energy consumption. That's not quite true.
It's important we help people understand that the data center shell is not consuming most of the energy – it is the energy consumed by the servers owned and operated by hundreds of companies that lease space in the data center. Many of them deliver the digital content and services that we use in our daily lives. Data Centers are consolidation points, enabling massively more efficient delivery of solutions compared to companies developing their own individual facilities.
Centralizing IT infrastructure in a shared colocation facility offers many benefits that significantly outweigh the energy-intensive and inefficient practice of individual companies replicating this on a smaller scale for themselves.
In a colocation space, everyone benefits from the data center operator's sustainable building practices, renewable energy and advanced cooling and energy management systems that enhance efficiency and decrease waste. By consolidating resources, companies can achieve optimal utilization of hardware, reducing overall energy consumption and environmental impact.
Building understanding from the ground up
As people increasingly understand the integral role data centers play in our daily lives, it invites them into the discussion of how we all play a role in achieving a sustainable digital future. This will become increasingly critical as data centers continue to expand. There is a prevailing lack of awareness about the inner workings of data centers, which is not surprising given the industry's emphasis on security and privacy.
As an industry, we have been focused on creating the secure, highly connected environments that our customers need for the critical IT equipment that delivers the services we all rely on. What we've been less focused on is creating community awareness of what happens inside data centers, including the vast array of solutions they support beyond social media and streaming.
Advanced computing that improves weather forecasts could save lives where extreme events are common. Analytics that improve food production and distribution to avoid waste can make a meaningful impact on communities. AI applications focused on improving traffic light timing and autonomous vehicle performance will improve safety and efficient transport. As communities gain awareness of the work done inside the data center, instead of just the exterior that they see, it becomes easier for us all to see ourselves as supporting a better tomorrow.
Securing this understanding is pivotal as the industry continues to grow in our communities and regions.
Looking ahead
As we look at the current focus around artificial intelligence and the massive amounts of data that those processes consume, we know that the growth we've seen in our digital footprint over the last five years will fail to compare to how much data we're going to rely on during the next 10 years.
Much of our world in the last 20 years has transitioned to digitized solutions and lots of data. During the next 10 years, our world will be even more advanced and improved and supported through an infrastructure of artificial intelligence.
That evolution will bring with it a massive increase in the volume of data and the energy required to support it.
Collaboration is key
The evolution of solutions that help make our lives better and solve the world's problems is not something that can be done by any one company. Those solutions that will enable us to advance will naturally depend on a broad ecosystem of providers.
In the same way, the sustainability challenges that lie ahead will not be solved by single companies, but collectively as a group and as an industry. The data center industry is well-positioned to collaborate, and I think we're ready for the challenge. We can work together to collectively address the challenges that will come as we support the world's growing digital demands.
Elevate the power of your work
Get a FREE consultation today!