Getting real about the digital workplace
Blogs and Articles
Digital transformation before the pandemic was often a technology-driven conversation focused on different ways to use cloud, mobile and other options to collaborate online and streamline workflows.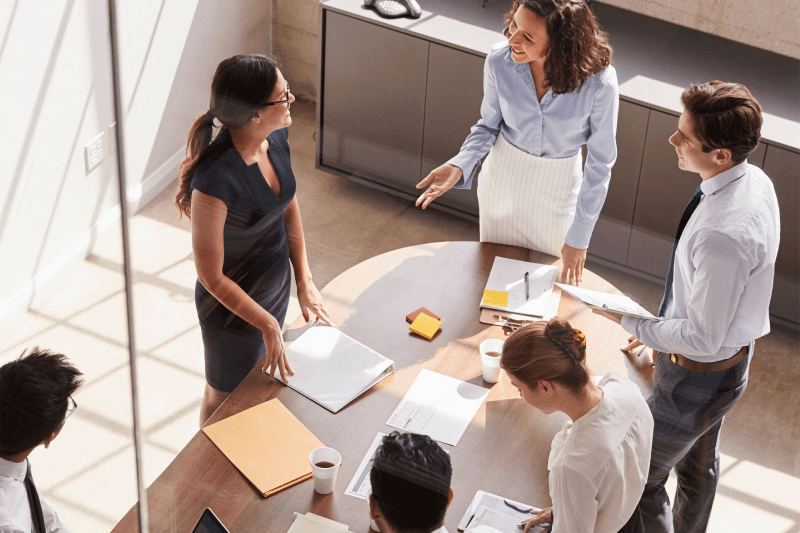 How to get digitisation right
By Samantha Bullard
If you find the words "digital workplace" mean something different today than they did a year or two ago, count yourself in good company.
While the business world has been talking about digital transformation for quite a while now — before the pandemic it was often a technology-driven conversation focused on different ways to use cloud, mobile, video, and other options to collaborate online and streamline workflows.
We've all learned a lot this past year about what's really essential when it comes to getting work done, whether that's meeting the needs of customers or virtually connecting with co-workers. So, it's safe to say our digital workplace initiatives are much more reality driven.
Long after the pandemic, we'll still be processing what we've learned. We're not simply picking up the pieces and going back to "business as usual." We're going back to a different workplace.
Increasing Digital Transformation efforts
Data confirms this. According to an IDG survey conducted for Iron Mountain, companies on average reported 2–3 workplace transformation initiatives already in motion pre- COVID. Now, that number has doubled.
A number of factors are driving the workplace transformation change:
Work-from-home policies were popular before the pandemic, but were rare occurrences. They were treated so casually that most businesses were unprepared when they suddenly became a necessity for company survival — a mistake they're unlikely to make again.
Offices are being reconfigured to make them more flexible, collaborative, and able to support healthy social distancing.
Business processes, especially those that are physical document-intensive, are being revamped.
While technology is still driving a lot of the change, the shift is also generational. For many millennials, a work world that's based on anytime-anywhere-any device principles is long overdue.
Roadblocks to data accessibility
Getting real about the digital workplace transformation also means getting real about the roadblocks that stand in its way — like data accessibility. Making it easy for people to work from home or efforts to streamline business processes won't get far if the data needed to make it happen isn't easily accessible. And that's unfortunately the reality at many if not most businesses today.
Think about all the paper documents packed away in file cabinets. Because they're in paper form, they can't easily be shared. They take up valuable space. No one really knows what's inside them — and finding out is both time-consuming and expensive.
At the other end of the spectrum, trying to go "paperless" is a strategy but not often a successful one. Many businesses' inputs still arrive in paper form — especially well regulated ones like healthcare, finance, or legal. And many people — including many millennials — often like to work with a paper document.
Many companies embark on do-it-yourself digitisation efforts, only to discover the process is more difficult and overwhelming than anticipated.
Where do you start? With everything on file? From a select group of documents? Everything from this day forward?
Scanning is time-consuming and, when not done carefully, highly prone to errors. One mistake and suddenly a significant chunk of documents is in question.
Many organisations launch their digitisation on an ad hoc basis only to end up with many individual digital repositories spread across multiple departments. This completely misses the primary digitisation goal of centralised visibility and ease-of-access.
Successful digitisation almost always requires behaviour change. If this doesn't happen, you will likely find yourself in the worst of all worlds: digitising loads of documents only to find people printing them out after they have been scanned.
Six key learnings for digitisation done right
Iron Mountain works with companies of all sizes around the world helping them get digitisation right. Here are six key things we've learned along the way:
1. Keep your eye on the prize: Your goal isn't full digitisation per se — it's to make important information as accessible as possible in a secure and cost-effective way.

2. Adopt a holistic approach: Scanning is just the first step. You also need to take into consideration storage, security, and secure destruction of no longer needed information (what's inside files and on devices). The last is often overlooked but is critical to successful information management and reducing your exposure to data theft and regulatory compliance issues. Identifying what's needed and what isn't only aids in workflow automation. Businesses can then incorporate metadata and more easily enforce retention regulations.

3. Focus on reducing (not eliminating) paper: Going completely paperless is a noble goal, but not easily achieved and a bit overwhelming to achieve. A better approach is to accept that some things will be digital, some will remain paper-based, and seek out every opportunity for reducing the incidence of the latter:

What current inputs that are now received in paper form can be received digitally or easily converted to digital?
What processes can be altered to prevent paper from being generated unnecessarily?
What steps can be taken to change personal habits and get people to use less paper?

4. Look beyond scanning to storage: To succeed in making information more accessible, you need to think beyond physical to digital file conversion:

Storing documents in file cabinets seems easy and inexpensive at first, until it isn't. The same goes for off-site storage lockers. Or stacks of DVDs and hard drives holding digital data. These approaches work for a while, but they don't scale well or lend themselves to easy searches. Organisations with serious storage needs eventually find their way to third-party storage providers.
In today's world of collaborative, remote work, cloud-based storage is becoming vital. However, be sure to balance your need for short-term, highly accessible (but relatively expensive) cloud storage vs. cost-effective long-term options, such as cloud based tape storage.
Cloud-based storage with optical character recognition (OCR) technology can make the contents of your documents (across many different file types) completely searchable by text or index.

5. Keep your data secure: Information is a high-quality commodity to criminals, both for its intrinsic value (i.e., personal credit card details) or the ability to shut down operations by blocking access to data (i.e., ransomware). Cybercrime increased dramatically during the pandemic and paper records alone account for a substantial number of data breaches. To help prevent security issues, be sure to look at:

Encryption: Making your files unreadable — without the keys you own and manage — both in storage and during transmission.
Role-based permissions: Ensuring only authorised users have access to the information they need, when they need it.
Chain of custody: It's a legal term, but an important one. If you are in a regulated industry, you need to establish where your physical and digital assets are at all times.

6. Know the value: Digitisation is a big undertaking that ultimately should pay for itself on the bottom line. Key ways you can see a return on investment include:

Reducing staff time spent on information searches.
Reallocating workspaces now devoted to storage — reducing office real estate costs and/or creating more space for revenue generating activities.
Enhancing business processes by freeing up information now trapped in paper documents (i.e., increasing sales by simplifying access to job estimates; increasing cash flow by digitising invoices).
The pandemic is forcing us all to see the "digital workplace" in a new light. Realistically, in pre-pandemic times, the chances of a digital transformation effort meeting its goals were pretty low. A heavy dose of reality, and the practical learnings I have outlined here, will help change those odds for the better.
Samantha Bullard is the Portfolio Marketing Manager for Global Digital Solutions at Iron Mountain. She focuses on digital transformation, workflow automation, content classification, information governance and privacy topics, working closely with Iron Mountain experts to provide scanning, indexing and storage for companies around the world.
Featured services & solutions
Elevate the power of your work
Get a FREE consultation today!