Reducing carbon emissions through the Data Tape Ecosystem
Blogs and Articles
If there was ever a time for industries and governments around the world to come together and finally take steps to mitigate climate change, now would seem to be it.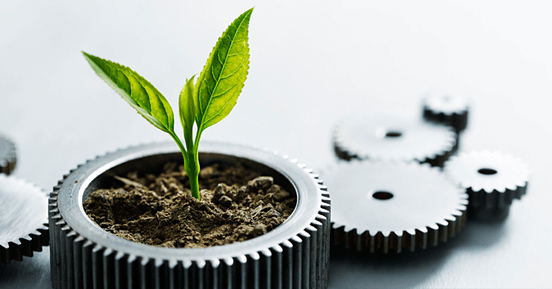 If there was ever a time for industries and governments around the world to come together and finally take steps to mitigate climate change, now would seem to be it. The return of the United States to the Paris Climate Agreement and the recent U.S. – China talks on climate change are all positive signs when it comes to moving the needle forward on sustainability initiatives. While fighting COVID-19 took center stage in 2020 and early 2021, our future depends on what we do collectively to reduce our environmental impact now and in the immediate years ahead.
It's Hard to Deny Global Warming and Climate Change
According to an article that appeared in the Wall Street Journal earlier this year, NASA has ranked 2020 as tied with 2016 for the warmest year since record keeping began in 1880. In a separate assessment, NOAA (National Oceanic and Atmospheric Administration), which relies on slightly different temperature records and methods, calculated that the global average temperature last year was the second highest to date - just 0.04 degrees Fahrenheit shy of tying the record set in 2016.
On top of the record number of hurricanes and the wildfires out west, the recent Texas deep freeze, which caused widespread power outages and other weather-related tragedies and calamities, seems to be just one more example of climate change. Weather patterns are becoming more unpredictable, which can result in extreme heat, cold and increased intensity of natural disasters.
It is widely acknowledged that global temperatures have been rising especially in the north polar region where we have seen a dramatic shrinking of the polar ice cap. When Arctic air warms, it sets off an atmospheric phenomenon that weakens the polar vortex (the normal jet stream of wind that keeps frigid air to the north) and allows cold air to fall...as far as Texas.
Data Center Energy Consumption and the Advantage of Modern Tape Technology
The key to mitigating the worst impacts of climate change is a reduction in the amount of greenhouse gases produced by humans. Producing energy is extremely resource intensive, so reducing the amount of energy we consume in all aspects of our lives is of critical importance.
Data centers are significant consumers of energy accounting for as much as 2% of global demand and rising to 8% by some estimates. Data centers can do their part to reduce energy consumption in many ways by becoming more energy efficient, including simply migrating the vast amounts of still valuable, but rarely accessed, "cold data".
This means moving cold data from energy intensive tiers of storage like constantly spinning HDDs to energy efficient tape systems that consume zero energy unless actively writing or reading data tapes. Because data tape is inherently removable and portable, it can be easily exported from its automated library environment to a secure offsite location for long term retention and protection against any disaster, or unauthorized network intrusion by hackers. This is commonly referred to as "air gap" protection against the constant threat of ransomware. Thanks to tape's lowest cost per GB and lowest energy consumption, keeping a second or third copy of data offsite is not only a 3-2-1 data protection best practice but affordable as well.
When data tape libraries are used to keep data online in the role of an active archive, it has a tremendous energy consumption advantage over equivalent amounts of constantly spinning hard disk drives. In a recent white paper published by Brad John's Consulting, entitled "Reducing Data Center Energy Consumption and Carbon Emissions with Modern Tape Storage", Brad shows that storing 10 PB of cold data with a 35% annual growth rate for ten years on a tape storage solution consumes 87% less energy and produces 87% less CO2 emissions than equivalent amounts of HDD storage. That's 3,013 tons of CO2 for disk, 383 tons of CO2 for tape. At the same time, total cost of ownership for tape is 86% less than HDD. That means tape is good for the environment and the bottom line.
The Hyper Scalers Embrace Climate Change Initiatives
We are all familiar with U.S. internet giants: Google, Amazon, Facebook and Microsoft, otherwise known as the "hyper scalers".
The hyper scalers run massive data centers all over the world in support of billions of customers. If a traditional non-hyper scale data center is big, it might be the size of a football field. A hyper scale data center, however, can easily cover more than 18 football fields.
At this scale, the amount of energy consumed by hyper scalers to serve, store and cool exabytes of data, is staggering. In fact, hyper scalers have been the target of folks like Greenpeace to clean up their energy use and negative impact on the environment. The hyper scalers have been listening. Below are excerpts of recent sustainability targets declared by these internet giants:
This is all good news for the environment since the hyper scalers are not only leaders in the IT industry, they are the leaders in the global economy and others will voluntarily follow their initiatives. Suppliers and service providers to the hyper scalers will be forced to follow. And it's good news for tape technology, the greenest form of data storage, now widely adopted by the hyper scalers and growing, here in the U.S. and abroad!
With environmental benefits in mind, both Fujifilm and Iron Mountain have moved forward with many sustainability initiatives and have already implemented the use of renewable energy, LED lighting, recycled packaging materials, and environmentally friendly manufacturing components. In fact, Iron Mountain data centers have been powered by 100 percent renewable electricity since 2017 and offer a Green Power Pass program to help customers meet their environmental goals while Fujifilm's LTO tape manufacturing facility located near Boston has been using solar energy since 2013.
Fortunately, both Fujifilm and Iron Mountain support the data tape ecosystem, and provide data storage products that can help reduce energy consumption and CO2 emissions, all while reducing costs and fighting cybercrime. Implementing tape is one step that organizations can take as they look to implement sustainable practices into how they do business.