Why does my small business need information management? Three key areas where it matters.
Blogs and Articles
Information management is crucial for a healthy small business, maximizing your resources, keeping costs down, and meeting legal obligations. Without it, you're operating in the dark and opening your business to risk.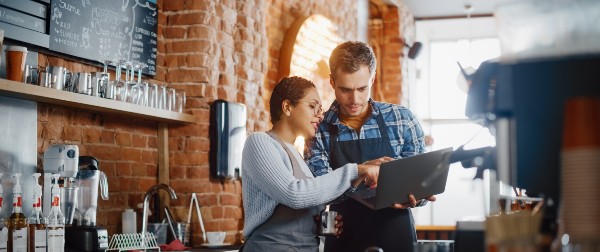 Like any commodity in your organization, the information you create, acquire, use, and store must be handled with care. As a small business leader, you will face unique challenges based on your industry's compliance requirements. Budget restraints, security concerns, and decreasing storage space also determine how you approach information management.
Look at your use of digital files and the evolving needs of your workforce: Information is no longer being processed, shared, or stored like it was just a few years ago.
It's more important than ever to protect your business and make the right decisions when understanding and optimizing one of your company's most dynamic operational resources: information.
A quick note about information lifecycle management: All of the information your company handles has a natural lifecycle from when it is created or acquired, through its use and management, and ultimately to when its value is so diminished that it should be destroyed. This process is called information lifecycle management (ILM).

The challenges of ILM are different depending on the industry in which you operate and the size of your company. A financial services firm will have different needs and legal requirements than a construction company or a direct-to-consumer retailer.
Your unique ILM process will affect everything from operating costs to longevity in the age of digital. Let's look at three key areas where information management has a big impact on your small business.
1) Digital transformation
For today's small business, some level of digitization is essential to streamline workflows and processes, enable effective collaboration among remote employees, and free up or reduce costly office space. A recent survey of hundreds of small business leaders revealed that 76% plan to make all or most of their records digital soon.
To make the most of ILM, you'll need to start digitizing paper records. Digitization can be done in several ways, but here are three options that work best for small to midsize companies:
Backfile conversion. This is a complete scan of all your existing records, converting paper documents into digital files one-by-one, department by department.

Image on demand. In situations where complete conversion is not a practical choice, image on demand is just what it sounds like—digitizing individual documents as needed.

Day forward digitization. This involves scanning and indexing paper documents as they are produced or received in the normal course of business.
What about access?
Some business owners and IT leaders worry that scanning or digitizing their information will take control away from key decision-makers, cost too much, or hinder access to critical information in the future. Realistically, most small businesses need quick access to no more than 10% of their data, experts say.
When organizations analyze their actual storage needs, they find that they can function just fine and save considerably by moving to less expensive data storage options. ILM makes effective use of online and offline data storage, ensuring that vital information is quickly available. It can cost-effectively preserve information that may not be immediately needed but is essential for your company's long-term survival.
Disaster strikes
We used to think about information disasters and loss in terms of fires and floods, but now we know how global events, a pandemic, cybersecurity, and a shift to hybrid or remote workforces can impact small business operations. Going digital with a strong ILM approach impacts your ability to recover in the event of a disaster and ensure business continuity for the future.
2) Disposal of IT assets
End-of-life management of your company's electronic equipment—known as workplace IT asset management or IT asset disposition (ITAD)—is a crucial and frequently overlooked area of information management. It's not just outdated paper records that need to be properly destroyed in the name of compliance and data security, but also retired assets like computers, hard drives, and phones.
Computer equipment disposal is subject to various legal and regulatory requirements, even for small businesses. HIPAA requires healthcare organizations to securely dispose of any electronic devices that contain patient data. FACTA requires all businesses to properly dispose of consumer data to protect against identity theft. GDPR mandates businesses to ensure data privacy and security for European Union residents. Failure to comply with these regulations can result in legal liability and costly penalties.
How do you currently dispose of old assets? Simply log out and throw them away? Recycle or sell them? How are you protecting your company's information in the process? As a small business leader, you can manage data breach risks and protect your business, employees, and customers through effective ITAD, with far-reaching benefits, including:
Increased data security and privacy

Long-term cost savings

Consistent IT management practices and compliance

Sustainable practices for reducing e-waste
Read more about why your small business should properly dispose of its electronics.
3) Sustainability
Your impact on the environment and the reduction of waste and e-waste will differentiate your business for years to come. While some sustainability initiatives can be beneficial, they may lead to an inaccurate perception that today's digital working environments are already greener.
They're not.
A digital workplace has an environmental footprint, ranging from increased energy consumption to the disposal of shredded paper records and old IT assets. Sustainability challenges don't disappear as businesses digitally transform; rather, they evolve.
Implementing an ILM approach to your workflows and processes will enable your business to be more conscious of these environmental impacts and implement real sustainable practices.
Welcome to Basecamp
As your business has grown, so has your need for strong information management practices. If this feels overwhelming, you can take small steps to implement a strategy that will manage the information you currently have, positively impact your company's bottom line, and serve your business for years to come.
Finding a trusted partner on your journey can help you make the right decisions for your small business. Visit Iron Mountain's Small Business Basecamp as your starting point for all things information management.
Elevate the power of your work
Get a FREE consultation today!