Healthcare provider uses Smart Sort to reduce the cost/risk of records storage
Customer Success Stories
Learn how a healthcare organization leveraged Smart Sort to create an ongoing process for defensible disposition.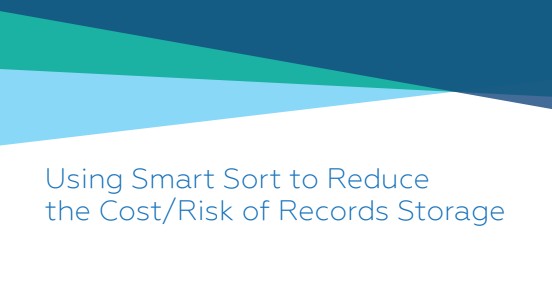 When it comes to records management, many healthcare organizations unintentionally retain records for much longer than legally required. These records take up valuable space that could be used for patient care,increase costs, and create security vulnerabilities and compliance risks. Over time, it becomes increasingly difficult (if not impossible) to apply proper retention policies and take defensible action.
Many factors contribute to over-retention, but the three key ones are visibility, complexity, and limited resources.
POOR VISIBILITY AND INTEGRITY OF FILES
Many organizations simply lack the visibility needed to identify records and make informed decisions on disposition. This often happens when records are inherited from a previous management team or as part of a business transaction (i.e., a merger or acquisition). In many cases, records are disorganized and/or the appropriate metadata needed to make defensible decisions was never captured.
COMPLEX RULES AND REGULATIONS
Even under the best of circumstances, healthcare records management is a challenging undertaking that involves navigating a complex mix of federal, state, and local regulatory requirements. The challenge is further complicated by commingled records, complex event-based rules, and internal guidelines. One prime challenge involves rules based on patient data, such as patient age and the date of the last visit.
LIMITED RESOURCES
Today, healthcare organizations manage a growing volume of information and records, but they often lack the resources needed to manage all of this information. It then becomes easy to fall behind in establishing and maintaining proper information management and makes it difficult for organizations to catch up.
Using Smart Sort to Reduce the Cost/Risk of Records Storage
REORGANIZATION AND ONGOING PROCESSES REQUIRED
The only solution to over-retention is to establish an ongoing process for destroying records as they meet their compliance requirements. But when records are not properly organized — that is, when records of different types and destruction eligibility dates are commingled in the same cartons — they need to be sorted and reorganized. This is a time-consuming and costly process and a situation in which a large private healthcare provider found itself. Fortunately, Iron Mountain Smart Sort had the perfect solution.
HOW SMART SORT WORKS
With Smart Sort, organizations can locate, sort, organize, and manage a large number of records. Smart Sort is a workflow solution that uses basic information (e.g., patient record numbers) from an organization's core applications and matches that information with a scan or keyed entry of the file ID. This creates an up-to-date file-level listing that maps the location of all files to the individual box level, which means decisions can automatically be made about how to manage each file to meet the specific requirements of the organization.
LEARN MORE ABOUT SMART SORT
Any business process that involves sorting and organizing records can benefit from Smart Sort.
To learn more or to request information, contact your Iron Mountain account manager directly. Go to our Smart Sort web page, or fill out this form and include the words "Smart Sort" in the comments section.
WHY CHOOSE SMART SORT
Smart Sort is a great choice for any process where there is a need to quickly and accurately sort and organize a large number of records such as:
Digital transformation initiatives
Relocation / reconfiguration of existing facilities
Reducing records storage
Acquisitions
Divestitures
Mergers
Legal actions
Regulatory filings
Featured services & solutions
Elevate the power of your work
Get a FREE consultation today!