Go paperless!
Solution Guides
Learn how Iron Mountain digital solutions can help you accelerate your digital transformation initiatives to become a paperless organization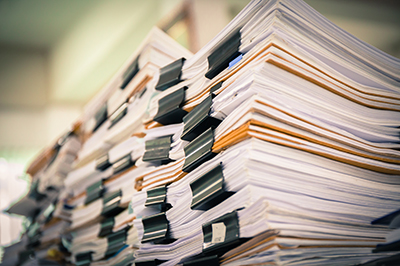 Challenges
Supporting environmental sustainability
Complying with government regulations and reducing risk
Improving efficiency and profitability
Boosting employee productivity
Providing excellent customer service
Avoiding costly manual errors
Maintaining the confidentiality and security of sensitive information
Introduction: The unseen environmental saboteur
Like the air we breathe, paper is such a part of our daily lives, it's almost invisible. But as governments race toward net‑zero greenhouse emissions by 2050,1 sustainability advocates are looking at everything. And the paperless movement is building momentum.
Consider that 50% of business waste and 26% of landfill waste is paper.2 Business correspondence alone releases 750 thousand metric tons of CO2 annually— which would take 12 million trees 10 years to offset.3 The negative impact of paper on sustainability is clear.
Environmental sustainability is not the only negative impact of paper. Reams of physical paper documents lead to silos of digital and physical information, lack of integrated workflows, and increased risk of data loss. They lead to compliance violations, and simply not having a full and accurate accounting of information. Record and information managers are stuck without a way to manage siloed and growing data sources holistically and strategically. Meanwhile, users spend valuable time looking for, and waiting for, documents, manually sifting through information for insights.
Today, nearly every organization can benefit from a paper‑free or paper‑light office with a digitally enabled workforce. Digitizing paper‑based information and combining it with digital‑native information in a unified workflow gives you power to outpace the competition by protecting sensitive data, maintaining regulatory compliance, boosting efficiency, and deriving value from physical and digital data sources—all while helping reduce the impact of global climate change.
Take document scanning and digital storage to the next level
You can trust Iron Mountain®, a global business dedicated to the storage, protection, and management of information and assets, to provide solutions that meet your sustainability and organizational needs. Iron Mountain experts can help you:
Digitize paper documents: You can digitize existing paper documents, or Iron Mountain can digitize them for you.
Get information faster: Teams can securely scan, upload, or create electronic documents within the Iron Mountain InSight software platform from a web browser. It extracts, classifies, and verifies information with speed and accuracy, quickly turning documents into information you can use to reveal deeper insights, faster.
Connect data across platforms: Integration with existing systems connects data across platforms to break down information silos and provide secure access to relevant information.
Enable anytime, anywhere access: Depending on the use case, employees, customers, and other stakeholders can easily access and search documents.
Automate workflows: Intelligent document processing with low‑code/no‑code capabilities make it possible to tailor automated workflows, increasing efficiency.
Protect your business: Auditable chain of custody, secure storage, data encryption, access restriction, and role‑based permissions keep data safe. Incorporate and automate data retention policies, while speeding response time to audits.
Manage the entire lifecycle: Iron Mountain can securely store, or dispose of assets by shredding and recycling them.
Elevate the power of your work
Get a FREE consultation today!
Iron Mountain paperless solutions portfolio
Iron Mountain gives you a choice of use‑case‑specific paperless solutions.
Paperless bank
Banks and other financial institutions can:
Save time and resources: Enable fast, accurate, and intelligent document processing while standardizing and digitizing processes to maximize productivity and reduce the cost of manual records management. Authorized users can easily access and search records using a single web‑based portal.
Connect with customers: Onboard faster for a better customer experience and use a unified source of customer data to create a 360‑degree view that can help you attract and retain customers and build share of wallet.
Improve security and compliance: Better protect sensitive financial data. Streamline audit and discovery compliance. Use automated processes to reduce the risk of human error; collect proper identification; and protect against cyber crime, fraud, money laundering, and other financial crimes.
Paperless clinic
Healthcare clinics can use paperless solutions to:
Accelerate data‑driven health insights: Consolidate physical and digital information on a single, scalable platform to deliver high‑impact healthcare insights that can improve patient outcomes.
Increase efficiency: Access and search patient records easily via a web‑based portal. Provide more personalized, coordinated, and effective care while reducing the cost of paper‑records management.
Streamline compliance: Auditable chain of custody, secure storage, data encryption, access restriction, role‑based permissions, and auditing, tracking, and reporting capabilities keep data safe and streamline compliance.
Paperless embassy
Embassies and consulates can:
Improve citizen experience and satisfaction: Streamline processes to reduce the time it takes to provide passports, emergency travel documentation, and other critical services.
Reduce costs: Shrink your paper budget and repurpose paper storage spaces.
Improve security and compliance: Better protect sensitive, personally identifiable information (PII) and streamline audit and discovery compliance. Automation reduces human error to help ensure proper identification and protect against fraud.
Paperless energy
Oil and gas companies can:
Protect the planet and reduce costs: Reduce your paper footprint and stop paying for paper along with paper management, storage, and disposition.
Drive better energy outcomes: Give employees access to vital information with advanced search capabilities across data sources and instant access to real‑time information via a single web portal, with dashboards providing impactful visuals for powerful insights.
Maintain security and compliance: Better protect sensitive data through robust access controls, security rules, and reporting, plus features that streamline audit and discovery compliance.
Paperless government
Courts, treasuries, health ministries, archives, libraries, and other citizen service providers can:
Provide better service: On‑demand access to applications, information, and other services saves citizens a trip to your offices, while digitization helps staff process claims, applications, and requests faster.
Cut costs: Save the cost of printing and mailing paper documents. Save employee hours previously spent searching for misplaced reports, physically updating files, printing paper documents, and so on.
Improve security and auditability: Better protect sensitive data through robust access controls, security rules, and reporting plus features that streamline audit and discovery compliance.
Paperless office
Going paperless at the office gives you the power to:
Increase productivity and support remote work: Give employees access to vital documents whenever and wherever they need them from a single web‑based portal.
Save costs: Reduce your paper load and bring digital cost benefits to all paper documents.
Improve security and compliance: Better protect information through robust access controls and security rules plus features that streamline audit compliance.
Paperless university
Iron Mountain helps universities:
Save time and money: Save the cost of paper and photocopiers and the time educators spend printing and passing out study materials, assignments, and tests.
Prepare students for the world of work: Help students become familiar and comfortable with the digital platforms used by working adults.
Enable remote learning: Access assignments, study materials, and tests online from anywhere.
Iron Mountain InSight
If your organization is ready to go paperless, you could be ready for an intelligent document processing and workflow automation platform.
Designed to help you maximize efficiency and security, Iron Mountain InSight can provide a centralized view of your information. It allows secure access and retrieval for your teams in a cloud repository for enhanced visibility and access.
InSight adds structure to your organization's unstructured content. It aggregates and connects physical and digital information, extracting key metadata out of documents and automating document-centric workflows to help you get to relevant information faster.
And if you need more assistance in setting up your paperless workflows, Iron Mountain's Professional Services team can work with you to further your digital transformation. To learn more, visit Iron Mountain's Go Paperless guide.
Start reducing paper now
Contact us to learn how Iron Mountain document scanning and digital storage solutions can help you go paperless or paper light to help protect the environment while delivering better business outcomes.