Iron Mountain Smart Sort for healthcare & life sciences
Solution Guides
Achieve your information governance and business objectives with Smart Sort.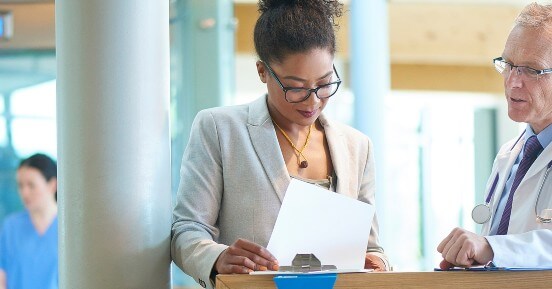 Achieve your information governance and business objectives with Smart Sort
Your challenge
You need to sort and reorganize your records inventory to make defensible decisions on disposition. Unfortunately, this is not as simple as it sounds.
What makes disposition so complicated?
Lack of inventory integrity/visibility: When key metadata is not captured and listed throughout the information lifecycle, it is difficult to search, manage and make decisions on what records to retain, digitize, or destroy.
Commingled record types and event date complexity: Different record types - such as medical, legacy or organizational records - have different requirements. If records are not organized according to record classification or event date, you can't confidentiality and defensibly take action.
Reorganizing records is labor intense and expensive: You lack the resources to sort each file by destruction eligibility date, record type, a unique identifier, or other requirements.
What this means
Unnecessary cost: Large volumes of records stored without file-level metadata results in higher storage costs, as records are kept beyond their required destruction eligibility dates.
Increased risk: Holding onto records longer than necessary increases the risk of information loss, breach and inadvertent disclosure and regulatory fines and penalties. It also adds complexity and costs to legal discovery, audit response and compliance management processes.
Lost productivity: Finding what you need and making quick decisions on records disposition requires a well organized inventory. Without an efficient process to sort and reorganize files, you could lose time and delay your critical objectives.
Do you...
want to destroy patient medical records but can't confidently isolate which ones are eligible without a substantial investment?
have a large volume of inherited records, especially as a result of a merger, acquisition or divestiture?
have trouble finding records or have commingled files and disorganized records?
want to relocate inventory but first need to destroy what you no longer need?
If you answered yes to any of these questions, ask us about Iron Mountain Smart Sort.
Simplify and expedite decision-making
With Iron Mountain Smart Sort, you can quickly and confidently make decisions about the destruction-eligibility of your records to enable a more compliant and efficient records management program. Our trained records management team will use input from your databases and records retention schedule to automate defensible decision-making at the file level. We will sort and reorganize your records so that you can confidently make decisions about disposition and quickly meet business objectives, like responding to destruction requirements or legal matter.
Smart sort enables you to make defensible decisions by sorting and reorganizing records by:
Destruction date Sort and reorganize your records according to destruction eligibility year so that you can confidently destroy records as they meet retention dates.
Category We will sort and reorganize your records according to record type, record status, unique identifier — or whatever you require.
Association You can also leverage Smart Sort to apply metadata to records at the file level, reducing the high manual cost.
Want to learn more?
To learn more, contact your Iron Mountain account manager directly, or fill out this form to request more information. Include the words Smart Sort in the comments section.