AMICS - Automated Media Image Capture System – More insight from your media archive
Solution Guides
Revolutionize Your Media Archive Management with AMICS: Unleash Efficiency, Save Costs, and Gain Unprecedented Insight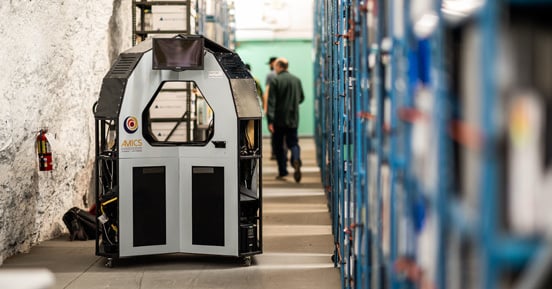 Welcome to a New Era of Media Archive Management
Discover the power of advanced technology with Iron Mountain Entertainment Services' Automated Media Image Capture System (AMICS). Designed to address and simplify the complexities of large-scale media archives, AMICS takes archive management to new heights.
Transform Manual Processes into Streamlined Efficiency
Traditionally, media archive management involves labor-intensive manual processes. But with AMICS, we automate numerous steps to reduce the tedious task of metadata entry. This means:
A deeper understanding and easy searchability of your inventory
Remarkable savings in costs and time
Our clients have experienced a staggering 65% cost reduction and a 98% increase in the number of assets processed per hour.
The Power of Three: Insightful, Automated, and Accessible
Multifaceted: Experience simultaneous high-resolution image capture from all angles of a media asset, minimizing handling and maximizing efficiency.
Automated: We've automated the capture of metadata for each asset, including photos of all box sides, multiple barcodes, handwriting, box dimensions, and manufacturer details. What used to take minutes now only takes seconds per asset.
Accessible: Our proprietary cloud-based user interface gives you round-the-clock access to your inventory, offering convenience and control at your fingertips.
Benefit from Advanced Features
Simultaneous Capture: We take images of all six sides of your media asset boxes to reduce handling time.
Auto Image Cropping and Ordering: For consistent and professional media asset capture.
Customizable File Naming: Flexibility to match your organizational needs.
Mobile and Self-Contained: Greatly reduces Retrieval/Refile costs.
Barcode Capture and Validation: Ensures accuracy against your known inventory.
Dimension Capture: Provides detailed information about your media asset boxes.
Embedded User Information: Enhances traceability with operator, timestamp, customer ID, vault, and shelf details.
Unlock the value of your media inventory with our state-of-the-art AMICS system. Start your journey to more insight, reduced costs, and saved time today.
Featured services & solutions
Elevate the power of your work
Get a FREE consultation today!