Boost enterprise-wide innovation with a unified asset strategy
Whitepaper
Discover how CxOs and other enterprise decision-makers view innovation, digital transformation, operational excellence, and the value of a unified asset strategy in accelerating their strategic initiatives.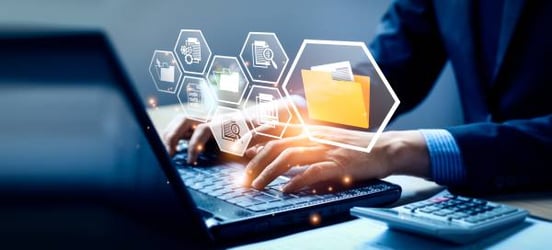 Executive summary
---
Interviews with enterprise leaders reveal this: Long-term growth relies on innovation, and boosting innovation means accelerating digital and workplace transformation, operational excellence, and sustainability. In turn, these initiatives require having digital and physical assets in order, ready to be optimized, and that's become far more complex than it was just a few short years ago.
---
As a result of investments in long-term growth initiatives, we're experiencing an unprecedented surge of digital-native data, the mass digitization of physical assets, the propagation of the Internet of Things (IoT) and mobile devices, and the rapid expansion in multi-cloud and edge computing environments. Assets are becoming more varied, widespread, and regulated, while competitive differentiation relies on them, visibility and control over them are waning, and threats to them are growing.
According to IDC, "The Global DataSphere is expected to more than double from 2022 to 2026." John Rydning, research vice president, IDC's Global DataSphere, states that the growth of the Enterprise DataSphere will be twice that of the Consumer DataSphere in this timeframe, "putting even more pressure on enterprise organizations to manage and protect the world's data while creating opportunities to activate data for business and societal benefits." 1
In the turbulence that defined the start of this decade, many leaders recognized the need to fast-track internal and external transformation so they could keep their businesses moving. They invested in these initiatives ahead of original plans, often without internal processes and typical guardrails fully vetted and in place. Trailblazers among them are continuing to push toward new horizons, such as artificial intelligence (AI)-driven automation, generative AI, and immersive experiences.
In the wake of so much change, many leaders find that they need to understand both the opportunities and risks emerging from this historic period and the new frontiers ahead.
They've committed to cleaning up legacy documents, files, and data and are taking a hard look at the assets, processes, and skills that make transformation, operational excellence, and sustainability possible.
Unified Asset Strategy
A unified asset strategy provides a resilient approach for weathering turbulence and embracing new opportunities for lasting growth. In an ever-changing environment, a unified asset strategy helps organizations discover, ingest, structure, catalog, and govern digitized, digital native, and physical assets. Metadata can be extracted from stored data to automate workflows and generate more value. Physical and digital assets can be hosted and stored at scale in a secure, sustainable way that advances organizations in their transformational journeys.
Unified Asset Strategy
A framework for innovation and operational excellence across customer imperatives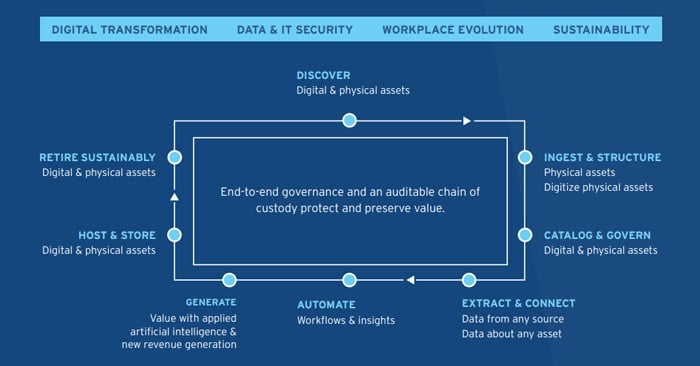 Elevate the power of your work
Get a FREE consultation today!