A flood of memories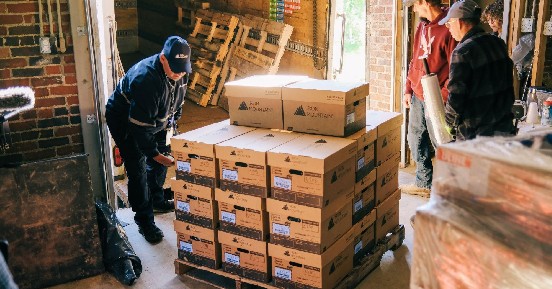 In 1969, young filmmakers in Whitesburg, Kentucky formed a community film workshop as part of the U.S. Government's War on Poverty. Its aim was to offer a counter narrative to the one that made Eastern Kentucky the poster child for American poverty. The workshop focused on real stories that reflected the people, culture, and history of the region, all told by Appalachians. The successful program became Appalshop, which houses a beloved community archive that has preserved the stories and memories of the region for over 50 years.
On the morning of July 28, 2022, a thousand-year flood ravaged the area, causing water levels on the Kentucky River to rise over 22 feet. The Appalshop Archive in Whitesburg was completely under water.
Caroline Rubens, the director of the archive, woke up that morning to the news. Her life's work was at risk of being lost.
"As soon as the waters receded, I went out with a Hefty® bag because there were archival items that were just strewn along the road, like audio tape, completely unruffled, wound around flag poles. We just started trying to pick things up. Everything was covered with mud." - Caroline Rubens, Director, Appalshop
Heat and humidity are two of the biggest enemies in preservation, especially when it comes to moving image media. Rubens and her team immediately began to try and take inventory of the assets, even as they were covered in mud, debris, and mold. The team was unsure what to do, but knew they had to securely store what remained and find a partner they could trust to help them move forward.
Iron Mountain's Living Legacy Program is an effort to preserve and make accessible cultural and historical artifacts. Once the team heard about this urgent need with Appalshop, they immediately tried to find a meaningful way to help. In addition to financial support, Iron Mountain began to work with Appalshop as a partner to recover and move over 9,000 assets into cold storage in their state-of-the-art underground facility in Boyers, Pennsylvania.
"We look for nonprofit partners that are specifically focused on cultural heritage preservation and accessibility and we find ways to help them take the next step in their journey. We bring our scale and our expertise and all of the services that we can offer to the table to make sure that they get the full value of being a partner with Iron Mountain." -Jennifer Grimaudo, Senior Director, Sustainability, Iron Mountain
One area of expertise that Iron Mountain can offer is remediation and digitization. Kelly Pribble is a veteran archivist who felt compelled to join the effort by reviewing the assets and designing a custom solution for remediation. His team at Iron Mountain Entertainment Services (IMES) is currently designing a solution for remediation that will allow for a plan to be put in place to preserve and digitize the archive.
"The faster we can remediate these and digitize these, the better. It is a race against time and if we don't figure out how to preserve this, unfortunately, it's going to be lost." -Kelly Pribble, Director of Media Recovery Technology, IMES
With Iron Mountain's partnership, Appalshop can now focus on seeking additional support from grants, institutions, and donors to continue its important work in the region. Beyond the flood, the work must continue to be sure that future generations, both in the US and around the world, can have an honest glimpse into this unique part of American culture. These stories must not be forgotten.
"What you have to remember about Appalshop is that their collection is a collection of Appalachian people telling you about their lives," said Jennifer Grimaudo, Senior Director of Sustainability at Iron Mountain. " It's not just a 16 millimeter film in a tin can. That's somebody's grandmother telling you their story and their way of life."
Elevate the power of your work
Get a FREE consultation today!