Build vs. buy: 9 ways to cut costs by outsourcing your data center
Blogs and Articles
Read the nine ways to cut costs by outsourcing your data center.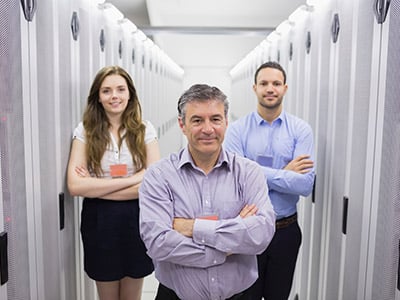 Companies of any size can achieve significant cost savings by outsourcing their data centers rather than building/managing their own. With the right data center colocation partner, savings are accrued in a wide number of areas, including: upfront capital expenditures, energy efficiencies, ongoing operations/management and IT staffing and training, among others.
Just how much will data outsourcing save you? You may be surprised at how dramatic the savings can be.
Several years ago Forrester Research prepared a detailed analysis of the
costs of leasing versus building a data center over a 15-year period
. When all factors were considered, including risk, the research firm concluded that the costs of building and managing an enterprise-owned data center totaled approximately $47 million over the course of the 15 years. The cost of leasing a data center over the same period was less than $35 million, a differential of more than 25%.
Similarly, an article in The Data Center Journal, described significant savings for small and midsize businesses. According to the article, the average costs to build a data center for these companies were as much as 1,800% higher at startup and 130% higher ongoing than the average costs of colocation. As noted in the article: "The initial expenses associated with acquiring bandwidth, power, cooling, staff salaries, and machinery are enormous. With colocation, however, tenants share recurring utility expenses without ever paying for the costs of construction."
Where do such significant savings come from? Here are nine of the top areas where you can cut costs by outsourcing your data centers:
Upfront planning, design and commissioning. Forrester estimated that these can account for as much as 25% of the overall upfront construction cost, including "fees pertaining to the architectural design, engineering design, project management fees, impact studies, contingency fees, and commissioning costs, to name a few."


Capital expenses: Servers, storage and networks are just a part of the mix. You also have to consider the building shell and property, leases, physical security, construction costs, permits and others. Forrester estimated that the cost of building the data center shell and physical security was $200 per square foot-and that didn't even include property costs.


Ongoing operations and management: Annual facility infrastructure and maintenance will typically cost 3% to 5% of the initial construction costs. With an outsourced supplier these costs are eliminated.


IT staffing and training: This is a huge issue for most companies: With technology advancing so rapidly can you really afford all of the personnel needed to operate, manage and grow your own data centers-including hiring people with the expertise and skill sets to address new challenges such as software-defined networks, object storage and converged infrastructures?


Power and cooling: Forrester notes that power and cooling is the biggest expense in running a data center and can account for 70% to 80% of the overall costs of running a facility. A data center colocation provider such as Iron Mountain can deliver dramatic savings in energy costs and efficiencies.


Physical space: There are significant costs in allocating physical space to your data centers, whether you are paying rent or whether you are taking space away from offices, conference rooms or other facilities that otherwise be used to improve productivity or the work environment. With a co-location partner you can move that offsite, and with the right partner you can utilize a high-density power center that enables incremental savings by allowing you to store the same amount of equipment in a smaller space, or more equipment in the same amount of space.


Availability and performance of key applications: With a data colocation provider your organization will have access to modern, state-of-the-art technology that you might not otherwise be ready to access. Software-defined networks are a good example. Application performance and elimination of latency are critical in maximizing revenues and productivity across the business.


Advanced disaster recovery planning and implementation: A leading colocation partner such as Iron Mountain will provide a state-of-the-art disaster recovery plan that will enhance uptime and availability of key applications. This is critical at a time when the average cost of downtime is nearly $8,000 per minute.


IT asset management and disposition to boost adherence to regulatory compliance requirements: An asset tracking service will enable you to track all of your assets from initial receipt to final disposition. Secure IT asset disposition will help you safely recycle or repurpose data center assets. Repurposing equipment will help you save money by extending the lifecycle of hardware, which is particularly important in areas such as storage, where older devices can be used for archiving and backup. In addition, by automating many of the functions involved in tracking and managing assets, you will reduce the amount of time your own IT staff is involved in these processes, increasing productivity and enabling them to work on more strategic initiatives.


With all of these potential savings available, plus the opportunity to take advantage of the experience and expertise of a world-class supplier such as Iron Mountain, you have to ask yourself the following question: Can you really afford to build your own data center?
Elevate the power of your work
Get a FREE consultation today!