Driving cost savings in healthcare through enhanced information governance
Blogs and Articles
The effective management of patient medical records is key to solving the barrage of challenges facing healthcare organizations today.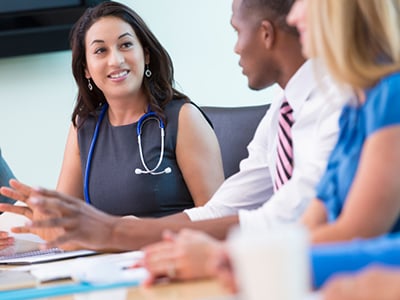 Healthcare organizations need a fundamentally new strategy in order to stay competitive, keep costs under control, mitigate risk, improve business process and remain focused on providing excellent customer care. By partnering with a vendor for their records and information management needs, healthcare organizations can dramatically improve their efficiency, reduce costs, achieve a consistent approach for the management of patient medical records and maintain their ability to provide excellent customer care.
A consistent approach to the management of health information is central to solving many of the challenges currently facing healthcare organizations. Providers today are faced with many pressures, including changing regulations, rising costs, shrinking reimbursements, growing competitive pressures and an increasing focus on enterprise-wide information governance. These challenges are forcing providers to juggle their limited resources, while continuing to make forward progress with their EHR implementation.
Recent findings indicate that improvements to business processes and patient care driven by the EHR- have yet to be fully realized, yet investments in these systems have had a significant impact on the bottom line. For many organizations, sticking with the status quo is no longer an option; a consistent approach to the management of healthcare information is central to addressing these key challenges. Healthcare organizations need a fundamentally new strategy in order to stay competitive, control costs, mitigate risk, improve efficiency and remain focused on providing excellent customer care.
New legislation, new costs
The efforts required to support ICD 10, Meaningful Use and Accountable Care come with very high costs and resourcing requirements for hospitals and other healthcare organizations. The ever-evolving regulations and legislation have been putting healthcare organizations under tremendous pressure. In addition, price increases, rising labor costs, and other increased expenses are putting stress on the bottom line. At the same time, declining inpatient volumes and reimbursements are further limiting the ability to generate revenue.
DID YOU KNOW?
The average cost of a data breach for a healthcare organization is $2.4 million, according to the "2013 Cost of Data Breach Study: Global Analysis" conducted by the Ponemon Institute.
Getting broad organizational support
One of the many topics of discussion during the AHIMA #IGnow Twitter discussion was the hindrances to starting an information governance program. In the past, information was largely segregated in healthcare organizations. Patient care was in one system, finance in another and operations in yet another. Current trends show that some organizations are undertaking projects to manage information seamlessly between various systems, while other organizations are consolidating multiple systems into one primary information management system. As cited throughout the session, getting an IG program started requires cooperation between these diverse departments, and getting broad organizational support and executive sponsorship.
IG improvement
Another point of discussion during the #IGnow Twitter discussion was the recognition that IG programs in healthcare are less prevalent and less mature than other industries. Information policies and procedures are critical levers for advancing IG and are at the heart of an IG program. The HIM function can leverage their uniquely valuable skills to assume a range of managerial and subject matter expert roles that advance this function.
Data and information management
Healthcare organizations are still light-years away from managing their data and information storage consistently across the enterprise. Based on survey results, healthcare organizations face considerable work to adopt an effective approach to long-term digital preservation. Many organizations have simply replicated their old methods and practices when shifting from paper-based to digital processes, so some of the same challenges remain. Digital information is often retained well past its retention period "" and many organizations reported a lack of maturity in data integrity.
Information governance is needed now
The consensus among leading experts in the industry is that healthcare organizations need information governance, and they need it now. Information governance is a method for ensuring that the ground rules of information use and management are followed. Those ground rules are necessary to re-evaluate how information is managed within healthcare organizations, to reconceptualize health information management systems beyond the file room and to reimagine how information is passed between functions in the healthcare organization.
As stated during the #IGnow discussion, "Information Governance is a daunting task. Though respondents understand its importance, some may not know where to start".
This discussion, and associated recommendations, give health information managers a solid understanding of the current state, and some great strategies to move forward.
Do you have more questions about assessing your current healthcare information management strategy? Read additional Knowledge Center stories on this subject, or contact Iron Mountain's consulting services team. You'll be connected with a knowledgeable product and services specialist who can address your information management challenges.
Featured services & solutions
Elevate the power of your work
Get a FREE consultation today!