5 forces that are transforming fulfillment
Blogs and Articles
With global e-commerce sales surging from $3.35 trillion in 2019 to an expected almost $6 trillion in 2023, merchants are under unprecedented pressure to address customers' growing demands for fulfillment that is fast, free, and frictionless.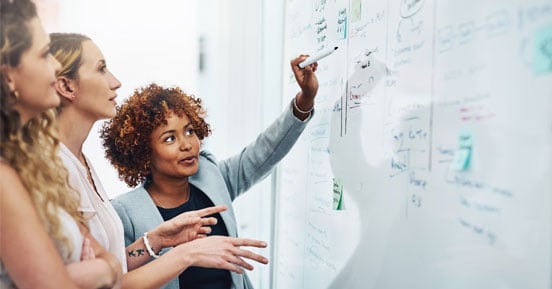 With global e-commerce sales surging from $3.35 trillion in 2019 to an expected almost $6 trillion in 2023, merchants are under unprecedented pressure to address customers' growing demands for fulfillment that is fast, free, and frictionless.
Amazon Prime and overnight delivery have unquestionably changed the stakes. Over 90% of consumers nowsay they expect to receive an online order within a week, and 38% of online shoppers will abandon an order if the quoted delivery time is longer than that, according to Econsultancy.
The bar continued to get higher during the COVID pandemic. Customers increasingly want the option to pickup goods in a nearby store rather than having them delivered. Buy-online pickup-in-store (BOPIS) sales more than doubled in 2020 and are expected to top $120 billion in 2023, over triple thefigure in 2019. For items that are out for delivery, customers also expect to be able to track their status in near-real time. And two-thirds expect shipping tobe free, according to Jungle Scout.
All these factors add up to big change sin the fulfillment landscape that a repressuring sellers to become more agile and responsive. Here are five ways the nature of fulfillment is changing.
1. Direct-to-customer (DTC) options are becoming more attractive to manufacturers who see an opportunity to pad their profit margins by cutting out the middleman while getting real-time customer feedback. Nowhere has this been more evident than in the apparel industry, where iconic brands like Nike, Adidas, and Under Armourare engineering massive shifts to direct fulfillment.
DTC constituted just 15% of Nike's revenue in 2010 but is projected to reach 60% by 2025. Adidas has announced plans to reach 50% DTC sales in 2025, up from 30% in 2019. The trend was kicked off by born-on-the-web businesses like Warby Parker, but it's increasingly being driven by dozens of established brands. IDC estimates that half of all manufacturers now have DTC capabilities.
DTC sales aren't necessarily online.Many brands are opening their own stores as well. Companies that have traditionally moved lot sizes measured in hundreds or thousands of units are learning how to fulfill individual orders while gaining valuable insight into customer preferences in the process.Retailers that are impacted by this shift will have to find new areas in which to add value since being a channel won't be as lucrative in the future
2. Flexible supply chains have become a necessity in the wake of disruptions created by the pandemic. Businesses that used to rely on one or two primary suppliers are adding redundancy at every stage and doubling down on efforts to improve transparency.But they face a big challenge. Many organizations have full visibility into no more than 20% of their supply chain, estimates Bill Read, who directed Accenture's North American supply chain practice for more than a decade.SupplyChainDive reported that 94% of businesses do not have full visibility of their supply chain and logistics operations, an issue that many business leaders have identified as their biggest challenge to improving efficiency.The pandemic demonstrated that the situation hasn't improved markedly in the past few years.
The good news is that there is plentiful evidence that investments in flexible and accountable supply chains yield big bottom-line benefits.
3. End-to-end logistics tracking is nowtable stakes. The ability for customers to monitor the location of their packages from shipment to delivery was pioneered by Amazon but has since been adopted by every major logistics provider. Consumers love the service;91% of buyers actively track their packages, and one in five checks their status multiple times each day.
The trend has ripple effects in areas like inventory and warehouse management.
Radiofrequency identification (RFID)technology, which uses radio waves to passively identify objects as they move from place to place, is now a $10 billion market heading to more than$25 billion by 2030. Sales of ruggedized smartphones used by logistics workers are expected to approach $5 billion by2028. Widespread adoption of highspeed 5G wireless networks will further raise customer expectations about the quality and timeliness of information they expect to receive from sellers.
4. Agile inventory is essential for businesses with both a physical and virtual presence, particularly those with multiple outlets. "Stockouts,"or inventory shortages, are a major cause of customer dissatisfaction.One European study found that when shoppers encounter stock outs, 9%choose not to buy anything, 27%purchase the item at another store,and 7% buy a cheaper alternative or smaller size. That adds up to 43% of stockouts resulting in lower revenue for the retailer.
Agile inventory practices move inventory to where it's needed, taking into account stock on hand in all locations, both on and off the shelves.Using predictive analytics to forecast demand, retailers can significantly reduce outages by proactively shifting inventory to where shortages are most likely to appear.
5. Last-mile logistics assumed new importance during COVID and has sparked considerable investment and innovation. Final delivery to the customer is one of the most expensive parts of the fulfillment process but also one of the biggest opportunities to create a memorable experience.Some last-mile logistics providers that were niche businesses prior to COVIDsaw their businesses explode during lockdowns. For example, Instacart's revenue more than tripled from $735million in 2019 to $2.5 billion in 2022.Food-delivery market leader Door Dash's revenue was up over 7x in the same period.
One driving factor is that nearly one-quarter of consumers say they'll pay more for same-day delivery. Another is that local retailers —half of whom see Amazon Prime One-Day Delivery and Same-Day Delivery as a threat to their business—see rapid fulfillment as a way to fight back against the online giant.There's lots of innovation still to come in this area, including delivery by drones, robots, and autonomous vehicles. No one is likely to corner the market, so plenty of opportunity exists to delight customers without standing fulfillment.
If you're looking for a fulfillment partner to help you adapt to changing market conditions and meet growing customer demands, look no further than Iron Mountain Warehousing and Logistics.With facilities and resources around the country, Iron Mountain is your agile 3PL partner with a legacy of trust.
Elevate the power of your work
Get a FREE consultation today!