Geological core storage facility opens in Houston
Blogs and Articles
Iron Mountain unveiled a geological core storage facility in Houston. This facility allows for secure core storage and easy examination by geoscientists.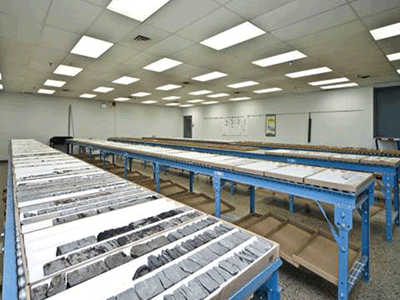 While Iron Mountain may be new to the core storage market in Houston, Iron Mountain has over 30 years of experience servicing oil and gas companies around the world. All of the Super Majors and 90 percent of the Majors trust Iron Mountain with their subsurface information, including core, well files and seismic tape.
Global expertise in Houston
Currently Iron Mountain houses over 1.75 million cubic feet of drill core in Canada, the UK and Norway. One big advantage of having a global footprint is that Iron Mountain was able to leverage best practices from its other facilities around the world to design the Houston building. As a result, global best practices were incorporated into its construction, and this facility is ideally suited for the storage of drill core, and for the research needs of geologists and geoscientists.
In the facility, the core is kept securely stored in boxes on specialized racking. Access to the part of the building where the core is stored is by keycard only, protected by advanced intrusion alarms and camera-monitored. In addition, the racks are equipped with fire suppression technology that meets or exceeds fire code standards.
DID YOU KNOW?
Did you know that Iron Mountain currently stores 1.75 million cubic feet of drill core globally?
Easily examine your core
The core remains safely stored on the racks until Iron Mountain receives a retrieval request. At that time, Iron Mountain will carefully retrieve the core and have it ready and available for you and your team in one of the viewing rooms. When you arrive, you'll have keycard access to your own dedicated space to examine your core. The viewing room is equipped with UV lights, microscopes, iPad® tablets for image capture, Wi-Fi, a rolling table for your laptop, ceiling-mounted retractable power cords and other safety equipment. You'll also have access to an additional meeting room and a break room.
When you're finished working with your core, Iron Mountain will pack it up and put it back into secure storage until the next time you need it. And if you would like to examine your core at your office, it can also be arranged for Iron Mountain to deliver your core to you. But whether you examine your core in your facility or in ours, we'll handle the logistics. You do the big thinking; Iron Mountain does the heavy lifting.
Iron Mountain geological core storage solution
In the treasure hunt for oil and gas, the most valuable clues are found in subsurface information, including core, seismic and well logs. To help you find your treasure faster, Iron Mountain is introducing our Geological Core Storage facility in Houston. You'll be able to store and analyze your core samples and cuttings in an outstanding facility. Watch this short video to see more.
To learn more about our new facility, we've created a short 2.5 minute video about it. Watch it now, and then contact us if you have additional questions.
*The photograph in this article was taken at Iron Mountain's core storage facility in Calgary, Alberta.
Do you have questions about oil and gas records management? Read additional Knowledge Center stories on this subject, or contact Iron Mountain's oil and gas team. You'll be connected with a knowledgeable product and services specialist who can address your specific challenges.
Elevate the power of your work
Get a FREE consultation today!