How much does document shredding cost?
Blogs and Articles
Document shredding is a key component of this security process. But, how much does document shredding cost? Here are the factors that influence paper shredding costs and the options available.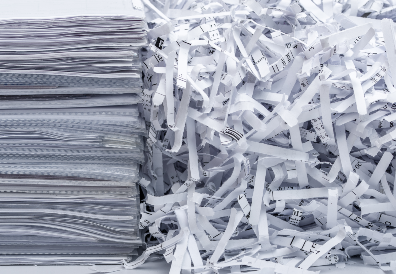 In this article, we'll break down the factors that influence paper shredding costs and help you understand the options available for your business.
In today's digital age, it's easy to overlook the importance of document security. However, protecting sensitive information remains crucial for individuals and organizations alike. Document shredding is a key component of this security process. But, how much does document shredding cost?
Here are the factors that influence paper shredding costs and the options available.
Types of document shredding services
Before we dive into the costs, let's explore the different types of document shredding services available:
Onsite shredding: A shredding company brings a mobile shredding truck to your location, where your documents are shredded on the spot.
Offsite shredding: Documents are collected from your location and transported to a secure shredding facility for destruction.
Drop-off shredding: You can take your documents to a shredding center and pay per pound or per box for shredding.
Scheduled shredding: A recurring service where a shredding company provides secure bins for your documents, and they are collected and shredded on a regular schedule.
Factors affecting document shredding costs
The cost of document shredding can vary widely based on several factors:
Quantity of documents: Naturally, the more documents you need to shred, the higher the cost will be. Shredding companies often charge based on the volume of paper.
Shredding method: Onsite shredding is usually more expensive than offsite shredding due to the convenience it offers. Drop-off shredding may be the most cost-effective option for small quantities.
Frequency: If you require regular shredding services, companies may offer discounts for recurring appointments.
Location: The cost may vary depending on your location plus number of locations and the availability of shredding services in your area.
Paperweight and size: Some companies charge extra for heavier or oversized paper.
Additional services: Some shredding companies offer additional services, such as electronic media destruction, storage, or recycling, which can affect the overall cost.
Iron Mountain shredding pricing
Iron Mountain provides a range of shredding solutions tailored to suit a wide range of budgets. Our shredding pricing is determined based on your preference, whether by the standard file box or by the bin.
For bulk one-time shredding services, prices begin at just $99, and you have the flexibility to opt for either offsite or onsite shredding. If you're unsure about the number of boxes you need to shred, there's no need to worry. You can opt for our convenient bin rental service known as Flex Bin Shred, which is especially convenient for workplaces with scattered paper sources.
For recurring shredding services, the pricing depends on the number of bins or consoles you require and the frequency of pickups.
Tips for cost savings
If you're looking to reduce document shredding costs, consider these tips:
Regularly purge unnecessary documents. The less you have to shred, the lower the cost.
Consolidate shredding. Wait until you have a substantial quantity of documents to shred to reduce the frequency of service.
Opt for offsite. This option is often more cost-effective than onsite shredding.
Set up a recurring shredding service. Regular schedule shredding is a cost-effective solution compared to numerous one-time bulk services.
While it's essential to take into account the cost of document shredding when assessing various service providers, the primary focus should be on selecting an organization dedicated to ensuring security. While the expense of shredding documents might appear significant to some, it pales in comparison to the costs and ramifications associated with a data breach.
Elevate the power of your work
Get a FREE consultation today!