Protect your small business with these data security tips
Blogs and Articles
Here are five simple tips to help your small business enhance data security and protect what matters most.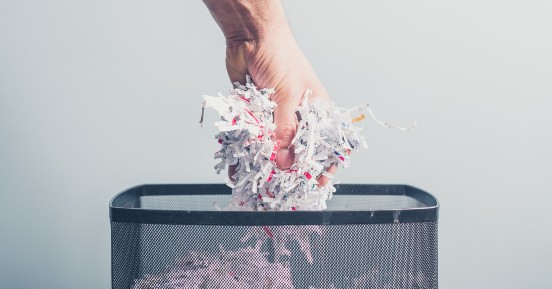 Data comes in many forms in a small business's day-to-day operations and is crucial for building your brand. From customer records to internal emails and employee laptops, information is created, used, stored, and disposed of on a regular basis.
Do you have a plan for keeping all this data safe?
Information security is important not only to protect valuable data and prevent costly compromise but—and arguably most importantly—to earn and keep your customers' trust.
Here are five simple tips to help your small business enhance data security and protect what matters most.
1. Evaluate current security practices
Evaluating what you currently do to protect sensitive information is an easy step toward a better overall data security strategy. Many tools are available to protect data in the office and for remote employees. At a minimum, you should invest in anti-virus software for all company laptops and implement two-factor authentication for device logins.
You'll also want to think about the way information is stored, destroyed, or disposed of. Do you shred old documents, store records in a secure location, and data-sanitize equipment before it's thrown away? These and other practices can have a tremendous impact on your company's overall data security.
2. Define protocols
During each phase of information lifecycle management (ILM), your small business should have clearly defined protocols for information as it's created, used, stored, and ultimately, disposed of.
For example, when a client record is created, how you define access—who has it, who doesn't, what level, and for how long—is crucial for data security. Not all employees should be authorized to handle sensitive data. Keep track of which employees have access to what data, internally and externally, and set protocols to immediately remove access to that information should they leave the company.
3. Educate employees
Cybercriminals are constantly developing new strategies to access business information and systems, and they target small businesses at a rate of 43% compared to all cybersecurity attacks. Personnel training should be an ongoing effort to combat these threats.
And while small business teams typically resist significant changes to technology, authentically and relentlessly preparing your employees to spot common scams and embrace data security protocols can reduce the chance of a hacker slipping through your defenses and equip you for the future of information security.
4. Implement new security practices
In addition to the above tips, there are two simple practices your small business can implement right away to increase data protection and start you on the journey to better information security.
Secure shredding and storage: Shredding and proper document storage are vital to keeping your business's data secure. In order to properly set up a secure shredding program, you must first evaluate your current paper usage. Next, evaluate which documents should be shredded and which should be properly stored. This varies by industry, so make sure you are consulting your current regulations.
E-waste recycling (ITAD): There are many reasons why your small business should be responsibly disposing of retired electronics, but getting started doesn't have to be overwhelming. The first step is to evaluate your current office electronics inventory and the average lifespan of each asset. For example, most computers last five to eight years when maintained properly. Next, schedule recycling intervals based on the lifespan of your IT electronics. You can either choose to recycle in bulk or recycle each asset individually.
5. Evaluate your results
Finally, it's important to understand that information security is constantly evolving. Safer operations result from carefully examining your practices, protocols, and actions from beginning to end. Here are just a few of the ways you can check in with your small business:
Evaluate current practices: Am I keeping up with technology and doing what is necessary to protect my customers and my reputation?
Define protocols: Do my current protocols address information security at every stage of ILM?
Educate employees: Where can I demonstrate leadership and show my employees the importance of data security?
Implement new practices: What can I do today to protect my small business?
Iron Mountain's Small Business Basecamp is your starting point for all things information management. Increase your data security practices and see how we can help you protect your business at the link below:
Elevate the power of your work
Get a FREE consultation today!