How our digital transformation empowers yours
Blogs and Articles
We know our reputation. From picking up and storing boxes of records to shredding outdated documents, we've been your resource for all things physical for over 70 years. We're still your trusted partner for physical information; however, we've evolved for the sake of our customers (and sometimes right alongside them) into the digital space.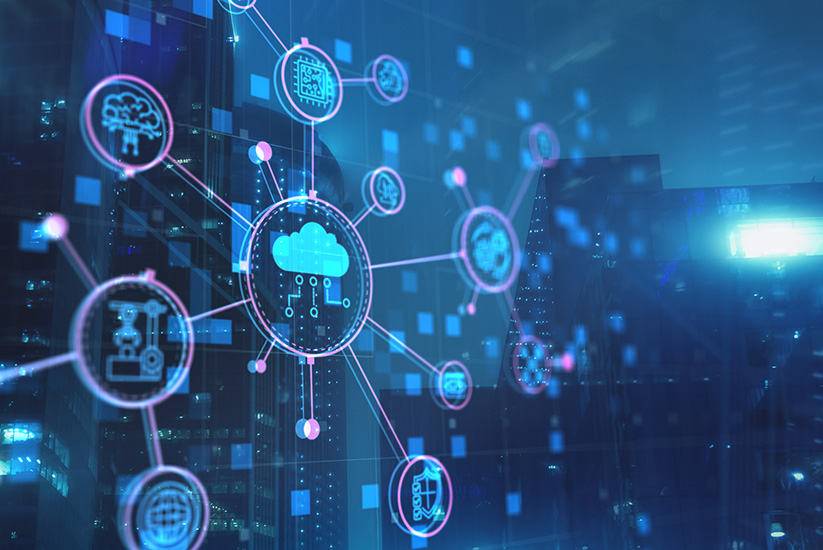 We've partnered with Amazon Web Services (AWS) to provide the computing power behind our unique content services platform that digitizes and classifies documents, making them easily searchable and retrievable. To share more about how we've made this digital transformation for ourselves and our customers, Iron Mountain engineering leaders sat down with SiliconAngle's theCUBE at the 2021 AWS re:Invent conference. Here are some of the key takeaways from that conversation.
BRIDGING THE PAPER-TO-DIGITAL DIVIDE
Q: We know Iron Mountain trucks and tapes. What's new?
A: We've developed a SaaS-based content services platform that digitizes and classifies documents to unlock the value of our customers' data. The cloud-native platform works with an IDP [intelligent document processing] capability to do basic content management and data extraction, which helps increase workflow capabilities for our customers.
Q: If you had to describe Iron Mountain and what it does, what's the sound bite you'd give?
A: Everyone knows data is gold. We are sitting figuratively and literally on a mountain of data. With our platform, we now have the technology to take this data and, partnering with AWS, convert it into value to complete that human story for our customers in healthcare, mortgage, finance, and more. A lot of this data sits in systems, but it also sits in paper. Our team is bridging the paper-to-digital divide to create one cohesive and meaningful story.
Q: This has been a journey for you guys. Can you take us through the amazing transformation that Iron Mountain has made?
A: Our transformation has really been going from the physical records management that we've built our business around to evolving with our customers. Now we are able to work with all of our customers' digital documents. We've grown from a transportation and records management storage company to a valued partner who can actually work with our customers from the ground up. We help put their data to work, allowing them to digitize a lot of their content, but also to bring in already digitized content and rich media.
REDEFINING LARGE-SCALE CUSTOMER WORKFLOWS
Q: I presume highly regulated industries are the target. Could you talk about the industry solutions a little bit?
A: We know our customers really well. We've spent a lot of time with them, which allows us to take their challenges and meet those needs with our document classification platform. But we also go beyond that, allowing them to implement their own workflows within the system and enabling them to define their own capabilities, take those records into the future, and use our content management system as a true intelligent content services platform.
Q: So the workflow used to be a very physical process. Since you've digitized that whole system, customers can now define their own workflow because it's software-defined. What's the tech behind that new workflow process?
A: All of our capabilities are obviously cloud-based, running on AWS with Kubernetes, which allows us to scale rapidly. With that, we run Elasticsearch as our search engine and MongoDB as our NoSQL database, which allows us to run millions of documents per minute through our system. We have customers running 8 million documents a day that we're able to process. Our content services platform does this with a known level of accuracy. Customers can look at the documents that have had any exceptions to help retrain their work models and relabel documents. This is done so we can catch that extra percentage and get it as close to 100% accuracy as possible.
Q: Take me through the customer experience when there's still paper in the office.
A: Customers can take a couple of different paths. If we already have their physical documents that they'd like us to scan (we call that backfile scanning), we can move these documents between different records centers to get them imaged in our high-volume scanning operation centers. For some customers, we have base metadata that gives us clues as to what documents may be. But for other documents, we're able to train the AI models to know if they're invoices or contracts or other commonly formatted documents. Customers can also bring in their already digitized content. They can bring in basic PDFs, Word documents, or Google Docs for instance, but they can also bring in rich media, such as video and audio. From there, we can also do speech-to-text for video and audio, in addition to just basic OCR [optical character recognition] for documents.
PARTNERING WITH AWS FOR SPEED AND SCALE
Q: What's your relationship with AWS?
A: We use AWS cloud infrastructure to run our computing because AI and ML require a lot of power. It has the space to store digital data at scale, run the computing processes, extract all the information, train our models, and then process 8 to 16 million documents a day. So you need seconds and sub-second processing times. At the company infrastructure level and the AI and ML algorithm levels, AWS has great APIs that we utilize. And then we put our secret sauce on top of that to build that pathway up and make it really compelling.
Q: And the secret sauce is obviously a workflow and the flexibility of the workflow, the classification and intelligence, and all the engineering that makes the cloud work to your advantage. What else is there?
A: Knowledge graphs. So a bank statement in mortgage and bank statement in healthcare have different meanings. You're looking at different things. So you have something called a knowledge graph that maintains the knowledge of a person working in that field. And then we have those created for different fields, and within those fields, different applications and use cases. So that's unique and powerful.
That gives us the ability to provide a hierarchy for our customers, so they can trace a document back to the original box that was given to us so many years ago.
Q: Are you now using the latest AWS Glacier tier?
A: Yes, one of the major things that AWS provides us is the compliance capabilities for our customers. Our customers require us to have highly secure and trusted environments in the cloud. And then the ability to do that with data sovereignty is really important. We're able to meet all of that with AWS.
STAYING COMPETITIVE AS THE INCUMBENT DISRUPTOR
Q: Does Iron Mountain have any competitors? You've been around for a long time.
A: Yeah, we do. And we've found in recent years that we have new competitors now that we're in the digital space.
Q: So you guys are transforming as an incumbent? You're the incumbent disruptor.
A: Yes, but it's self-disruption to some extent. Rather than the competitors, I want to focus more on our competitive advantage which is that we have the end-to-end flow. From our high-volume scanning operations, trucking, physical storage, and now into the digital world, we can take care of it all. For us, this content services platform is not just about classification; it's about how we can learn from our customers and their customers, and provide them better services. We are adding value all throughout this chain, and I think we are the only ones who can do that full-stack.
TRANSFORMING TOGETHER
Our business has evolved right alongside our customers. Through the innovative work of our engineers and valued partnerships with cloud providers, we've come together to create a truly unique offering to assist in our customers' physical to digital transformation.
To see the full interview, check it out here.
Elevate the power of your work
Get a FREE consultation today!