7 key traits of an ecommerce fulfillment partner
Blogs and Articles
The choice of a 3PL for fulfillment and other logistics services can make or break an e-commerce business. Here are seven critical capabilities to look for.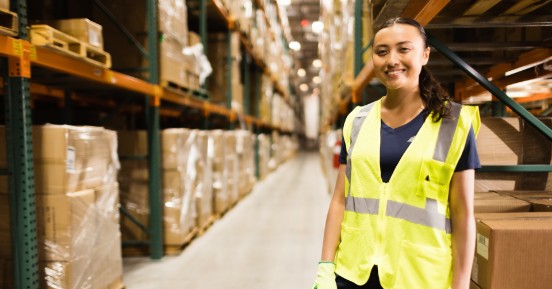 Brick-and-mortar retailers who venture into e-commerce are often shocked to find out how different the rules are. Inventories may be spread across a vast geographic area rather than concentrated in a few outlets. Customer behavior can be tracked to a fine level of detail, enabling granular personalization. Speedy delivery and real-time package tracking are table stakes.
Third-party logistics providers (3PLs) are a more critical part of the value chain in e-commerce than in physical stores. Customers now expect overnight or two-day delivery of products in stock, so the ability of a 3PL to meet tight deadlines with accurate tracking and pinpoint precision is critical. This requires a very different set of skills from managing a warehouse. In the brick-and-mortar world, logistics providers work with pallets of goods, while in an e-commerce scenario the unit of delivery is more likely a package. Depending upon the business, 3PLs may also need to be able to handle deliveries of everything from smartphones to refrigerators with equal facility.
It isn't overstating the matter to say that the choice of a 3PL can make or break an e-commerce business. Here are seven critical capabilities to look for.
Comfort with complexity. The average Walmart supercenter carries about 140,000 distinct SKUs. Its online operation sells nearly 160 million. This creates exponentially greater complexity in processes and packaging. E-commerce logistics are about managing individual customer orders, whereas in retail stores they're about optimizing inventory in volume. Some e-retailers even coordinate shipments directly to customers from thousands of specialty and boutique providers. The logistics demands to do that are entirely different from managing at scale.


Individualized service. If you have ever been delighted by a package that arrived a day early or a carrier that delivered a product directly into your home, you know the value of quality service. Depending upon the business, logistics providers may be required to cope with everything from fragile works of art to bulky objects and complex products that require in-home setup. Speed, adaptability, domain expertise, and a pleasant demeanor are all parts of the customer experience that the 3PL brings to the table.


Speed. In 2014, six-day shipping times were the norm. Thanks in-part to Amazon, the window has shrunk to two days. More than 90% of consumers see two-to-three day shipping as the standard. Real-time tracking is also becoming a requirement as 91% of buyers actively track their orders in transit. Speed is a function of the entire logistics process from inventory management to packing, shipping, and delivery. A quality 3PL provider approaches this task holistically, advising on where inventories should be located relative to demand. That includes identifying potential stockout scenarios before they happen so that enough lead time is provided to replenish stocks.


Diverse order-handling capability. The greater the variety of products you sell online, the more important it is that your 3PL be a goods-handling chameleon. Pottery, baseball bats, and washing machines all need to be treated differently. A quality provider either has these capabilities in-house or can quickly furnish them through third-party relationships.


Returns efficiency. Unfortunately, customers are far more likely to return an item purchased online than in the store. The average return rate for online purchases was 16.5% in 2022, according to a study by the National Retail Federation and Appriss Retail. That's in-line with the 16.6% rate for all retail customers and well ahead of the sub-10% rate that has been the historical average for retail stores. Nearly one in five respondents to a Barclaycard survey admitted to buying multiple versions of the same item so they can choose their favorite upon delivery and return the rest. A majority of customers now also expect returns to be free.

Returns are a major headache for the e-commerce industry. They raise labor shipping costs and may require the disposal of damaged goods at the retailer's expense. A 3PL can help by reducing handoffs in the logistics chain, automating as much of the process as possible, taking advantage of a large network of distribution locations, and employing data analytics to identify serial returners as well as products that are at the highest risk of being sent back.


Inventory optimization. Gone are the days of massive distribution centers serving thousands of square miles. The need for speed is driving rapid growth in micro-fulfillment, a market that is expected to grow 30-fold by 2030, according to LogisticsIQ. This tactic employs networks of small warehouses that carry inventory that is the most in-demand in the region. Facilities may be temporary or housed in surplus space in warehouses or even office buildings. Managing a network of such facilities is exponentially more complex than stocking a central warehouse. Agile and technology-savvy 3PLs are making this a core competence, saving their clients' money while improving customer satisfaction.


Last-mile expertise. Delivery to the customer's doorstep comprises 53% of total shipping costs, according to Insider Intelligence. No less important is that the delivery experience is a critical factor in customer satisfaction. While not all 3PLs cover the last mile, those that do should be open to providing service level agreements that guarantee performance against on-time delivery goals. Those that don't should have robust networks in place with redundancy to ensure that they can route around any disruptions.
There has long been a perception that e-commerce companies have an advantage over their brick-and-mortar counterparts due to their low overhead costs. Experience has shown that costs aren't lower, just different. Surviving and thriving in this market requires agility, speed, and operational excellence. An expert 3PL is an important partner in success.
If you're looking for a fulfillment partner to help you meet growing ecommerce demands, look no further than Iron Mountain Warehousing and Logistics. With facilities and resources around the country, Iron Mountain is your agile 3PL partner with a legacy of trust.
Elevate the power of your work
Get a FREE consultation today!