11 New Year's business goals for 2024
Blogs and Articles
Setting business goals at the start of a new year allows for a clean slate and a chance to refocus on objectives that align with evolving market trends and strategies. Here are 11 business goals to set in the new year.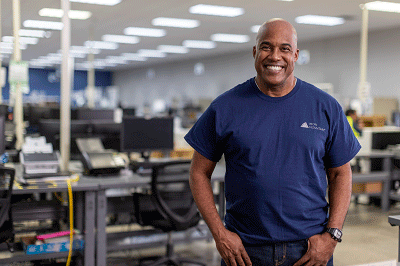 As the new year approaches, it presents an ideal opportunity to set fresh business goals. The transition to a new year naturally encourages reflection and renewal. It's a time to assess past performance, learn from successes and setbacks, and recalibrate the company's trajectory. Setting business goals at the start of a new year allows for a clean slate and a chance to refocus on objectives that align with evolving market trends and strategies.
What is a business goal?
A business goal represents a desired outcome or achievement that an organization aims to attain, whether in the immediate future or over the long haul. Business goals exhibit diverse variations, ranging from inspirational and motivational objectives, like enhancing customer service, to precise targets such as attaining specific financial milestones like revenue targets, net income, profit margins, or profit goals.
How to set business goals?
Setting effective business goals begins with defining a clear vision and mission, which serve as guiding principles. Break down this vision into specific, realistic SMART goals that align with company values. Engage your team in the process, and regularly review and adjust goals to stay adaptable. Don't forget to track progress and celebrate achievements to maintain motivation and focus.
Why is it important to set business goals?
Business goals are vital for various reasons that impact an organization's overall performance and achievements. They serve as a metric for tracking progress and direction, providing clarity to employees and fostering accountability. Moreover, they enhance decision-making by ensuring alignment with the company's objectives.
11 New Year's business goals to set in 2024
As your partner in all things records and information management, here are the top goals we recommend considering for your business in the year ahead:
1. Cultivate resilience from the outset:
Develop a resilient mindset in your team, starting from day one.
Strategic resilience can yield substantial benefits in terms of customer satisfaction, employee retention, risk management, and progress toward environmental, social, and governance (ESG) goals.
Encourage the formation of cross-functional teams to swiftly diagnose and respond to disruptions. Resilience should permeate every level of your organization.
2. Revamp records retention policies:
3. Efficiently manage legacy records:
Establish a streamlined process for organizing, digitizing, or securely disposing of legacy records.
While this process can be resource-intensive, it lays the foundation for digital transformation and more streamlined workflows. Consider partnering with professionals to expedite this project.
Related: What are your legacy records cleanup challenges?
4. Forge connections with supply chain partners:
Recognize the impact your sustainability efforts have on your chosen vendors and partners.
Regularly engage with your partners to discuss collaborative initiatives.
Integrate your partners' data into your sustainability reporting to demonstrate accountability and transparency in your sustainability efforts.
5. Embrace renewable energy solutions:
Investigate opportunities to transition to renewable energy sources, reducing or eliminating reliance on fossil fuels.
Prioritize energy-intensive areas such as data centers for renewable energy adoption.
Consider environmentally friendly alternatives like colocation offerings powered by renewable energy.
6. Proactively tackle data security threats:
Adopt a robust data protection strategy, such as the 3-2-1-1-0 approach, which includes multiple data copies, offsite and offline storage, and a no-errors backup for data recovery.
Implement a zero-trust network and multi-factor authentication to fortify your data security.
Vigilance is key to safeguarding critical systems and data, so be prepared for worst-case scenarios.
7. Enhance data and IT security:
Scrutinize your IT asset disposition process to ensure it's both sustainable and secure.
Safeguard sensitive data by securely destroying retired IT equipment while adhering to eco-friendly practices.
8. Embrace social responsibility:
Integrate environmental, social, and governance (ESG) goals and commitments into your overarching business strategies.
Collaborate with vendors and partners whose business practices align with your organization's values and commitment to social responsibility.
9. Evaluate your return to office strategy:
Recognize the evolving work styles of your employees and reshape your work environment accordingly.
Create workspaces that foster collaboration, innovation, and focused work, catering to the changing demands of remote and hybrid work settings.
10. Digitize your corporate mailroom:
Assess the volume of paper-based mail your organization receives each month and explore opportunities for automation through digitized or intelligent mailrooms.
Reducing paper-based mail can enhance efficiency and support the transition to a more digital environment.
11. Initiate digital transformation:
Unify your physical and digital data to improve productivity, efficiency, and business insights.
Follow a structured five-step plan for digital transformation that enhances support for both onsite and remote work environments.
By implementing these detailed strategies, your small business can position itself for success in the year ahead while addressing critical areas for improvement.
If you'd like to see how Iron Mountain can help you reach your goals in the coming year, explore our small business solutions.
Elevate the power of your work
Get a FREE consultation today!