Risk amplified: cultivating risk awareness across the organization
Blogs and Articles
How risk aware is your organization, and what can you do to cultivate risk management practices with your employees and partners?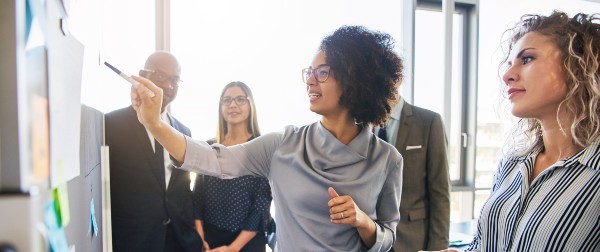 Conversations about risk, and actions taken to mitigate it, are not new. Reducing risk and cost have been top-of-mind strategic and operational goals for organizations-large or small, public or private-for decades. But given heightened and more complex disruptions experienced over the past three years, executives are taking a new look at how to anticipate, identify, and manage risk. And to be most resilient, senior executives must lead from the top to ensure that all employees are "risk literate"-because everyone is a risk manager.
We recently sponsored research conducted by Economist Impact that surveyed over 600 executives around the world. According to this research, 90% of respondents have increased the importance they assign to identifying risk since 2020. And 80% are now more sensitive to indicators that could have an impact on their reputation. They are also giving nearly equal consideration to operational, environmental, technology, and workforce indicators.
How risk aware is your organization, and what can you do to cultivate risk management practices with your employees and partners?
Consider how risk has changed for your organization
Risk has always been present in organizations, but the research confirms that risk management must evolve from a siloed function to an integrated and active part of your culture; risk awareness and its management is the responsibility of an entire enterprise, including its vendors and partners. In fact, 77% of respondents agree that risk management spans the entire organization, yet over half admit that their organization needs to improve cross-functional collaboration and only 46% have invested in the creation of enterprise-wide risk management teams.
Related: For more on this research, explore our risk and resilience resource center.
Disaster recovery and business continuity plans, staffing contingency plans, security protocols, and more are well-established in many organizations. Yet the toll of the global pandemic, geopolitical conflicts, changing economic conditions, significant climate-related crises, and the ever-evolving use of cognitive technologies have demonstrated that new methods for identifying and mitigating risk are required.
Build risk awareness from the inside and out
Based on the research, we have identified four areas that are critical to your ability to remain resilient and competitive. They are essential to your ability to anticipate risks while amplifying the role of risk management throughout your organization.
1. Digital transformation
Technological advances and the acceleration of digital transformation will compel organizations to improve their risk management over the next three years. The introduction of new capabilities can both compound risk as well as provide tools to anticipate it. Even now, 43% of executives report using cognitive technologies and artificial intelligence (AI) in risk management identification. On the other hand, generative AI models have exposed organizations to potential vulnerabilities related to misuse of private and confidential data, biases in output, plagiarism, and inaccurate content. Organizations will need to focus on creating guardrails to protect their organizations while utilizing them for good.
Did you know 43% of executives report using cognitive technologies and artificial intelligence in risk management identification?

As new ways of working continue to create massive amounts of data and produce less paper, require increasingly complex technologies, and demand hybrid work environments, 52% of respondents plan to invest more over the next three years in risk management practices that more directly align with their dependence on digital.
2. Data and IT security
As digital transformation continues to improve the way we work, it also brings greater potential for cyber security breaches and loss or misuse of data. To protect their reputations, organizations must focus their attention on governance, security, and data privacy to be in compliance with strict regulations. As a result, since 2020, 48% of executives have invested in cloud services/storage and ongoing monitoring and prevention of cyber risk and threats. Nearly half have increased their investment in disaster recovery/business continuity plans for their digital systems.
Related: Are you protecting your organization's data via your hardware devices?
3. Workplace evolution
The global pandemic has shifted how organizations approach workplaces forever. Even the most traditional organizations have accepted hybrid work scenarios in an effort to attract and retain talent. In line with this reality, 96% of research respondents report that their organization has developed new workforce management policies and procedures, including hybrid work. Over half are now relying on data to manage potential workforce risks.
With this shift, new approaches are being taken in managing real estate. And over 40% of executives indicated that improvements in facilities and physical workspace planning have occurred due to greater risk awareness.
4. Sustainability
More light has been shed on sustainability over the past years in reaction to the rise in increasingly extreme weather conditions and the risks that climate change presents to communities and global productivity. As more organizations pledge to take measures to reduce carbon output, just under half of survey respondents say they have dedicated more resources to environmental, social, and governance (ESG) initiatives and transparent reporting to stakeholders, including authorities.
Reputations are at risk if executives cannot fulfill the commitments made, and 80% of respondents agree this is a potentially significant vulnerability.
A global community of risk awareness
While this valuable research demonstrates that executives clearly understand how the consequences of risk-driven events can move throughout their organizations and the globe with disconcerting speed, they are still lagging in their ability to measure it. More than 70% agree that standardized metrics are lacking, which hampers their ability to invest in long-term risk awareness and management practices without impacting short-term goals.
There's no doubt that risk-related situations are no longer confined to specific localities. Our global connectedness is stronger than ever, increasing the need for organizations to raise their risk awareness capabilities and make risk management practices a fundamental operational requirement.
For more on this research and how to build a risk-aware and resilient organization, explore our resource center.
Elevate the power of your work
Get a FREE consultation today!