AIIM 2023 State of the intelligent information management industry
Whitepaper
A pivotal moment in information management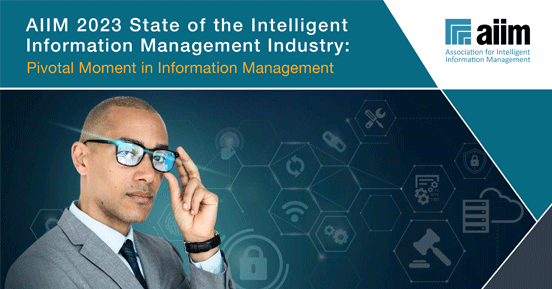 Every so often, a pivotal moment occurs in the life of an individual, a business, or an industry. Today, we are at such a moment within the information management space. For years, organizations aspired to realize the full promise of Enterprise Content Management (ECM) with its electronic document capture, storage, and processing — and many got there. More recently, those same organizations have been striving towards digital transformation to digitalize their businesses completely. COVID-induced market factors forced that shift sooner than expected. Yet, as we all emerge from the pandemic, organizations face new challenges, such as data privacy, cybersecurity, hybrid workforces, labor shortages, and advances in artificial intelligence. This places us all at a practical and philosophical crossroads: Where should we focus resources to get the best out of technology, processes, and people?
In this 2023 State of the Intelligent Information Management Industry report, AIIM used user-generated intelligence to uncover the realities of post-pandemic information management and its impact on current industry and economic forces. For the first time, their research has gone beyond the AIIM community to include responses from the wider business world. By combining the feedback from both the AIIM and non-AIIM audiences, they provide a clear picture of the information-driven direction that organizations are charting, the alignment (or lack of) across the organization with business goals/values, and what this means for the future of our industry.
Elevate the power of your work
Get a FREE consultation today!
Want to continue exploring?
Enter your information to access the full content.